About a year ago, I was on a plane reading the Max Brooks Zombie Survival Guide.  About halfway through the flight, the guy sitting next to me said he loved zombie fiction and asked how hilarious I thought the Survival Guide was.
I stared blankly into his face and asked, "What are you talking about? Zombies are real!" I then cast a wink to the 60 year old lady on the other side of me and then I went back to reading.
After the guy next to me hurriedly de-boarded, the lady to the right of me laughed and told me that she had seen zombies too. "They drive mini-vans," she said. I too have seen zombies, they are usually wandering around grocery stores after 5PM shuffling their feet, mumbling that they need to pick up cheese and milk.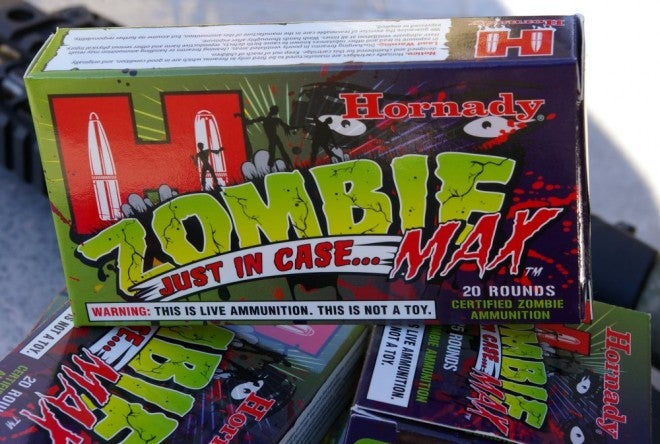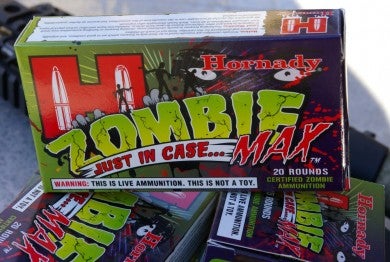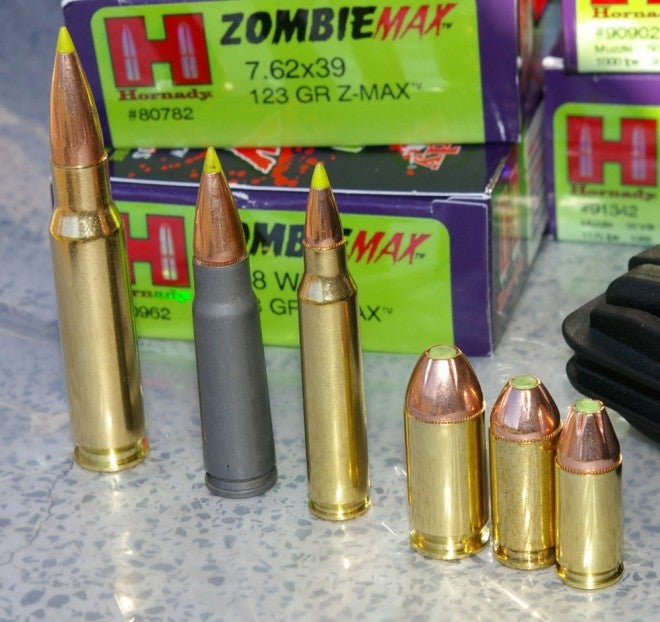 They say it could never happen — that mad cow could never mutate and that the Solanum virus would never surface, but today it's all over the news. They're coming for us, and they're hungry for brains.
For the zombie prepper there is only one choice for ammunition loaded with the proprietary Z-max bullets and buckshot proven effective on all zombie types. The one, the only, original, fully certified ZombieMax ammunition from Hornaday is the only ammunition proven to be effective on zeds.
Horandy's ZombieMax ammunition is loaded to specifications that ballistically similar to Hornady's top end ammunition. The distinctive green ZombieMax tips will assure you have authentic ZombieMax ammo when the walking dead come clawing at your door.
Hornady ZombieMax Ammunition is available in these popular calibers
380 AUTO 90 GR Z-MAX™
SKU: 900801 | 25/BX  MSRP: $25.85
9MM LUGER 115 GR Z-MAX™
SKU: 90262 | 25/BX  MSRP: $22.92
40 S&W 165 GR Z-MAX™
SKU: 91342 | 20/BX  MSRP: $25.91
45 AUTO 185 GR Z-MAX™
SKU: 90902 | 20/BX  MSRP: $27.15
223 REM 55 GR Z-MAX™
SKU: 83271 | 20/BX  MSRP: $24.53
7.62X39 123 GR Z-MAX™ STEEL CASE
SKU: 80782 | 20/BX  MSRP: $21.24
30-30 WIN 160 GR Z-MAX™
SKU: 82729 | 20/BX  MSRP: $30.57
308 WIN 168 GR Z-MAX™
SKU: 80962 | 20/BX  MSRP: $37.51
12 GA 00 BUCKSHOT Z-MAX™ 2-3/4″
SKU: 86247 | 10/BX  MSRP: $15.52
Function and Testing
My connections within the classified military operations community provided me with exclusive access to the Top Secret US Government Zombie Neutralization and Testing Facility (ZNTF) in Area 51, where trapped zombies are held for testing and research. In the facility we were able to test the effectiveness of both single and double taps to the torso and head. Single head shots to zombies with all calibers of the Hornady ZombieMax ammo stopped the zombies instantly, while single- and double-tap torso shots to zombie subjects incapacitated them and prevented them from further pursuit.
Firearms Used During Testing
Ruger LCP – 380ACP
Glock 19 – 9mm
Keltec Sub 2000 – 9mm
Glock 22 – .40 S&W
Ruger SR1911 – .45ACP
Black Rain Ordnance Fallout-15 – .223 Wylde, Millet 1-4 DMS scope, Geissele trigger
Del-ton DTI15 – 5.56 Nato
Spikes Tactical ST15 – 5.56 Nato
Century Arms 39 Sporter USA Made AK47 – 7.62×39
Thompson Center Contender – 30-30 barrel
DPMS AP4 – 7.63×51/308
Remington 870 – 12 Gauge
Final Thoughts
Based on our hands-on testing, the Hornady ZombieMax ammunition was the most effective ammunition against zombies even when compared to Mil-Spec M855 rounds which consistently over penetrated. These Zmax tipped hollow point bullets are devastating zombie stoppers. The 00 buckshot 12 guage rounds were stunningly effective at close ranges. Without question, the ZombieMax ammunition is a must have for your zombie preparedness kit. Don't leave home without them.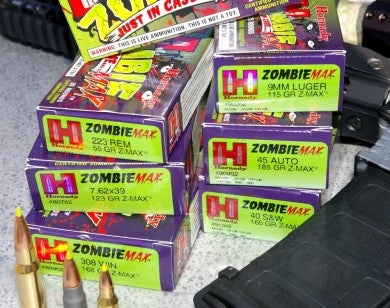 Note: Of course I was having a little fun here with a really unique product from Hornady for the zombie folks, but the ZombieMax ammo will perform very similarly to the Hornady TAP and Critical Defense rounds and is real live ammo. These are not blanks or stage props; this is premium ammunition. In fact, it shoots eerily similar to the TAP and Critical Defense ammunition in all my guns. Very good stuff.
Obviously I should note, from a legal perspective, probably best to keep this loaded in your zombie defense gun and not in your home defense gun. As an aside, the actor (Garrett) in the Hornady ZombieMax promo video was one of my instructors at Mako Defense. He was also a finalist on the TV show One Man Army, is a real Israeli Special Forces operative, and is also a really nice guy who would be handy in a zombie fight.