Force Production's 10/22 Barrel, Receiver, and Trigger
Major Pandemic 04.10.14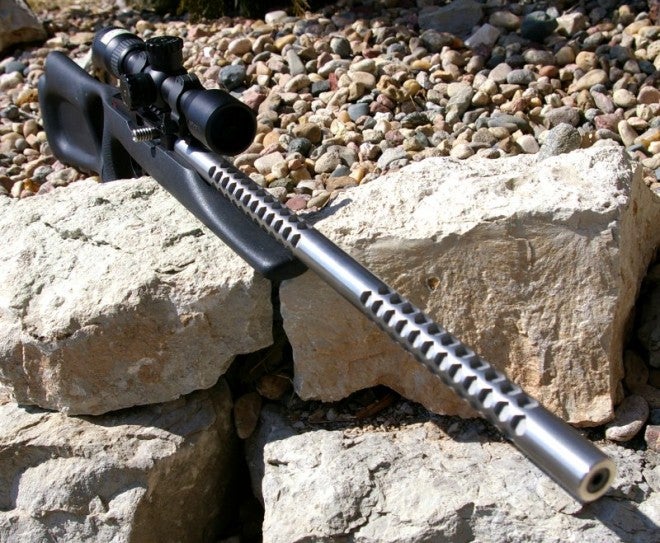 As I was online searching for ways to expand my 10/22 collection, the Force barrel stopped me in my tracks. I mean look at that thing. How amazing is that hex machined barrel? I had to have one.
Admittedly the looks caught my attention, but beyond the cosmetics the Force Production barrel offers more than a few engineering advantages. The company also offers every other main part of the 10/22 with the exception of the bolt, and all are custom level that deliver stunningly consistent accuracy and flawless functioning.
Force Production was started in 2007 by Charles Watson, the lead Engineer for STI (you know, the custom 1911 folks).
Charles had always had a small machine shop as a home business, and after an internal discussion at STI he decided to start a business dedicated to non-competing custom products such as parts for the Ruger 10/22 and custom gun barrels for a number of rifles from various manufacturers.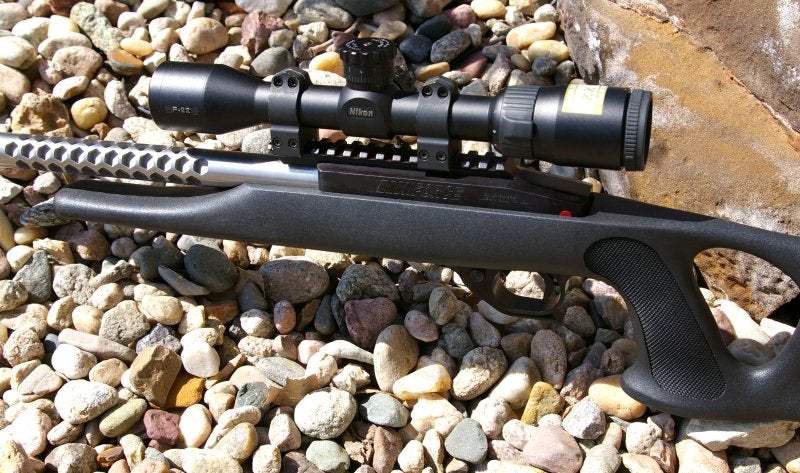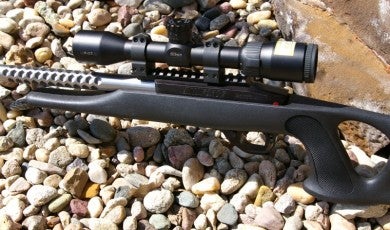 One day Charles was sitting around attempting to develop a better barrel fluting structure. He looked up and watched as a wasp entered its honeycomb, and then it hit him: the honeycomb design is the perfect natural structure. The design optimally breaks up harmonics, sheds heat, and delivers incredible rigidity without weight. As an engineer, he knew he had found the fluting he was looking for.
The honeycomb fluting yields almost a 30% reduction in barrel weight while maintaining the integrity and rigidity of the bull barrel design.
Build Specs
From my testing, the Force is head to head on quality and performance with Kidd, and reliability-wise does some things I like better. As we all know, premium parts rack up quick on 10/22, and this build came in right at $1,120 as equipped with the Nikon optic.
Barrel: $359.99 – My Force build features their proprietary 18" Honeycomb barrel made from stainless steel Lothar Walther blanks and finished with a target crown and match chamber. Force then applies its honeycomb design, which reduces the 20" bull barrel blank from 3.43lbs to an astounding 2.364lbs. This 17oz weight savings plays a bit of a mind trick on you as the barrel now weighs far less than you would expect. The beauty of the design is a much lighter barrel with the retained accuracy of a bull barrel design plus extraordinary heat dissipation and retention of the rigidity.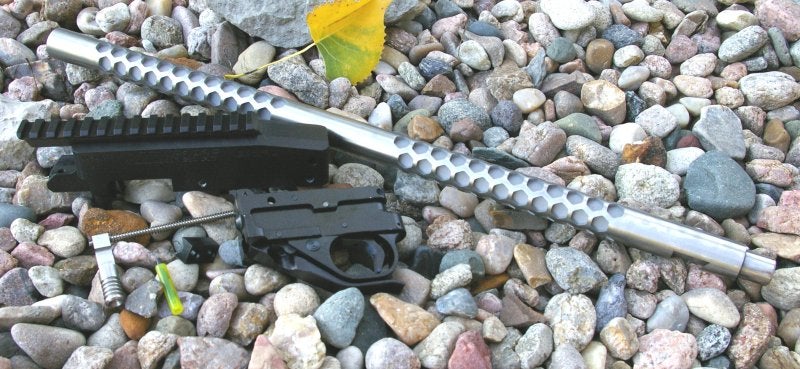 Trigger Assembly: $239.99 – Force has worked its magic on their trigger, and the result is an extremely crisp trigger feel of between 2-3lbs with an overtravel adjustment on the semi-flat blade trigger. This trigger design gives you more control and reduces the perceived trigger pull as well.
The trigger body assembly is machined from billet 6061 aluminum, and the hammer, sear, and disconnector are precision heat treated and EDM cut for the best precision possible. The trigger pull has been improved further with a cammed action, which also increases safety as well; the gun will not fire from normal dropping or bumping like some other match triggers will. The trigger is quite exceptional and breaks crisply, and it feels much lighter than its specs would allude to. The Force Production Trigger assembly also includes an extended magazine release that makes magazines drops fast and easy. Other features include an integrated bolt guide.
Receiver and Extras: Force also manufactures a precision billet 6061 10/22 receiver that fits a variety of barrels and also offers an integrated and extended top picatinny top rail. One of the things I really liked about the receiver was that the top rail extension extended a bit longer than other receivers; this is a nice touch to add a bit more stability to your optic. Force also developed a Tygon and steel bolt buffer, which significantly reduces both cycling noise and shock transmitted to the scope.
The simple and classy looking charging handle is one of my favorite parts of the gun. Other parts used were Force's precision barrel block and a Ruger stock bolt group.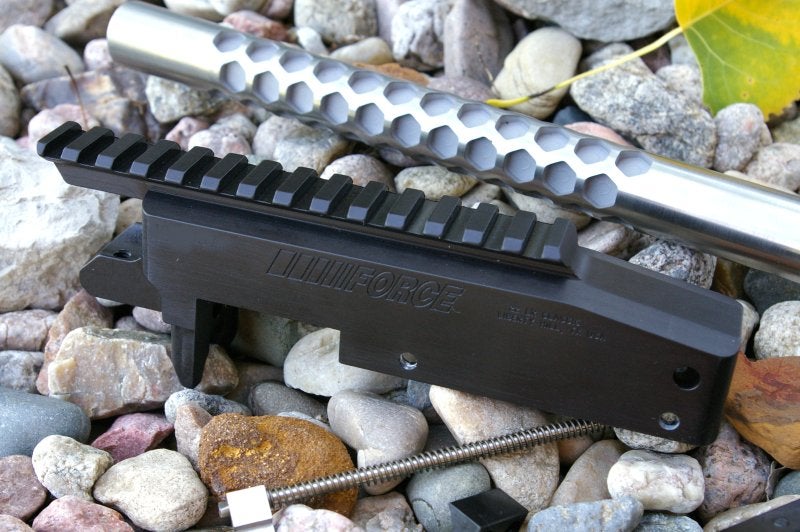 Scope: Nikon P-22 2-7×32 BDC scope. Although this scope lacks parallax adjustment, it is a blast to shoot with because the BDC (Bullet Drop Compensating) reticle makes it easy to start plinking at 100, 150, and even 200 yard targets. The optic is very clear, and the resettable zero turrets are simple and easy to use and were very handy when switching between loads. It is also $180 retail, which is an attainable price after you just spend your house payment on a custom 10/22.
Glacier Ridge Gunstock: Initially my Boyd Evolution royal purple stock was swapped over to this build for my initial testing, but I settled on a new Glacier Ridge 10/22 Stock from Magnum Research. This stock performed flawlessly on my MLR-22AT, and I thought it was just the stock for this build.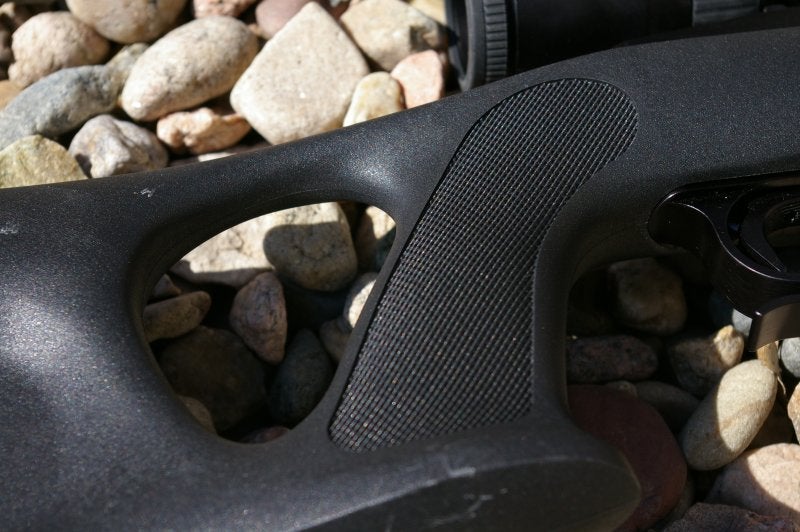 Fit, Finish, Feel, and Function
Force uses type III hard anodizing on all their black parts, and they finish to perfection all their stainless parts. The barrel is the coolest looking part of the build, and the Glacier Ridge stock shows it off appropriately, but a bipod is required for bench shooting.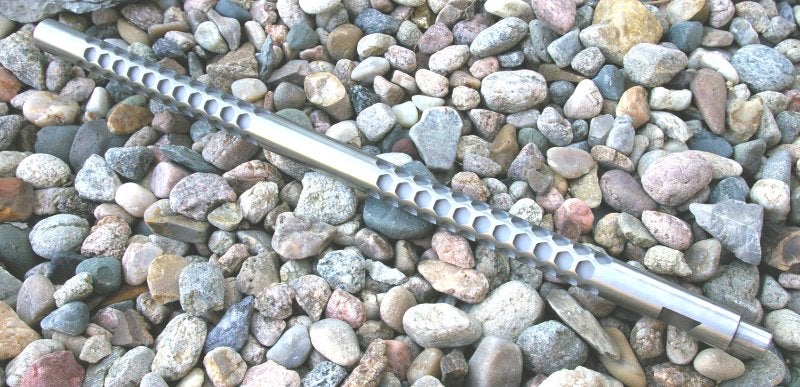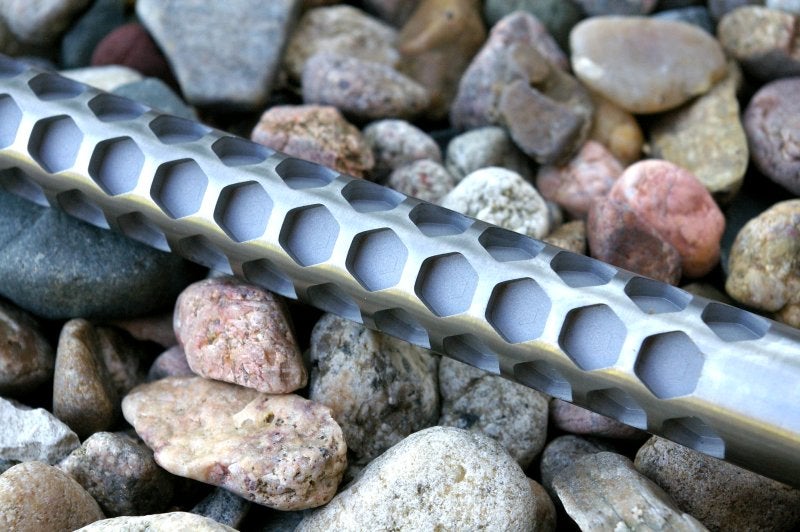 The Force build may not have pulled the lowest number, but it was using the lowest powered and non-adjustable objective scope and a stock bolt and was still only .05" from tying the Kidd build. It did produce the smallest Maximum group size at only .813". Force is my pick for the most consistent shooting build, all without so much as one non-ammo related feeding or functioning issue. It was also easy to charge, unlike the Kidd, and I liked the size and grip of the charging handle better than others I tested. The Force and Timney trigger felt very similar, with the Force being just a bit crisper but heavier.
Nikon has an expansive line of scopes and does have an adjustable parallax 3-9 model, but it lacks the target knobs and BDC reticle. If the Nikon P-22 was also available in 3-9X magnification model, with target knobs, BDC, and had an adjustable parallax adjustment, it would be the perfect 10/22 scope for target and field. The BDC is a big selling point because it allows another zeroing point for high velocity verus low velocity rounds.
Force needs to offer a threaded barrel option with the Honeycomb design and offer their own bolt versus relying on the stock Ruger bolt as I did on this build. With a more precise bolt and higher power scope, the accuracy would equal the Kidd, which is not surprising considering they are both using Lothar Walther blanks.
Functionally the Force has been an exceptionally reliable rifle and far less picky than other rifles I tested; it matched the Magnum Research in reliability, but was also far less picky about which ammo it shot well. In general, it shot all the ammo very well and was the most consistent shooting rifle of those tested in my Ultimate 10/22 Shootout.
Accuracy
From the first time I shot the Force to last weekend, the Force build has been one of my favorites. It would most likely be my chosen gun for a weekend of hunting because I know that even if I have to change ammo the gun will still shoot well and function perfectly.
It turned in a .25" grouping gun at 50 yards and it does it even with the less expensive quality ammo. During initial accuracy testing my best group was a stunning .214" group at 50 yards with Wolf ammo, and that is hardly expensive ammo. Even my worst group was only .816", and the 50-yard average of all rounds tested was .505". The most exciting group for me was the .305" 50-yard group from CCI Velociter; although not the smallest group during initial testing, it is a smoking hot round that allows 100+ yard hits on ground squirrels with half the bullet drop of the standard velocity Wolf round.
I have found that many times a rifle can shoot much better or worse from just a stock or part change. Most recently, I changed over to a Tactical Bluegrass Stock and a billet machined 10/22 bolt from the stock version. With this setup, I was able to manage a 4-shot (one flyer) single hole .16" group at 50 yards with CCI Velociter ammo. This is an incredible shooting rifle.
Final Thoughts
When we compare any of the premium 10/22s featuring Lothar barrels, we see they all deliver sub .25 performance, but the Force was more consistent from round to round and far less picky or finicky about digesting any ammo I stuck in the magazine than many others I have tested.
The Force groups did not move around as much from ammo to ammo either, unlike the other builds tested in my Ultimate 10/22 Shootout. Whatever voodoo Force has done with their barrel, I am sold because it works. I was able to accomplish really odd plinking feats such as hitting the 6" 200 yard gong 10 times in a row with cheap Winchester 555 bulk ammo. From the Force's ability to consume almost any round stuffed into the magazine to tiny little groups, this is without a doubt a top contender to put a trophy 10/22 in your cabinet.