Knifemaker Profile: Michael Andersson Custom Knives
Jon Stokes 04.21.14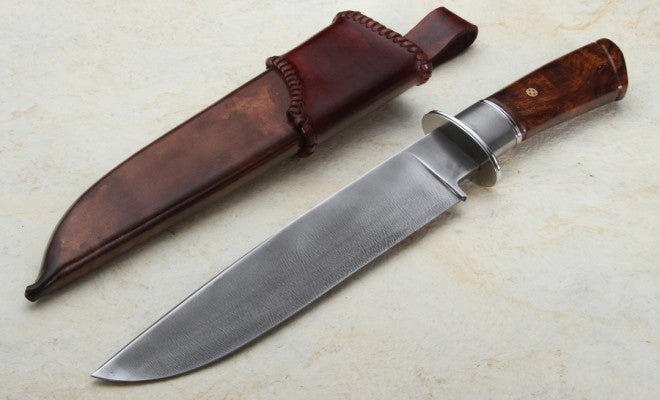 The bowie pictured above was the first knife by Sweden's Michael Andersson that I ever came across, and it blew me away. Andersson mostly works in Damascus steel, and the above knife has a beautiful temper line (hamon) that's more evident in some pictures of it than in others. This knife sold for $875 on the Arizona Custom Knives shop, a steal if you ask me, especially given that you can find his stuff listed for about 5 times as much elsewhere, although the much more expensive pieces are considerably more intricate.
You can find other examples of his work on his Facebook page, examples like the beautiful knife below: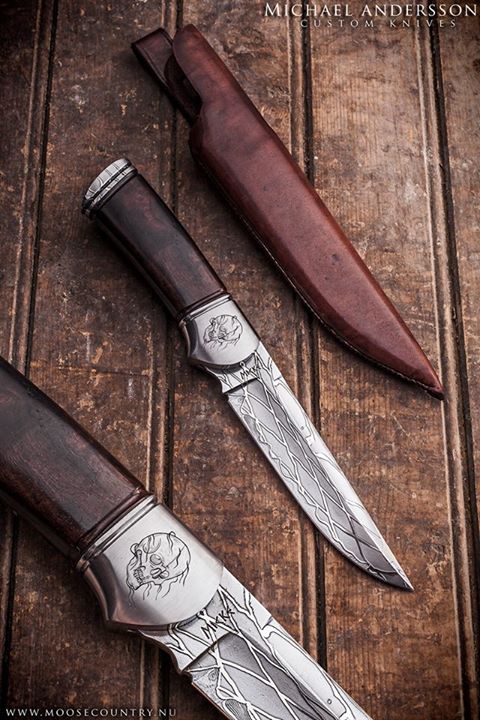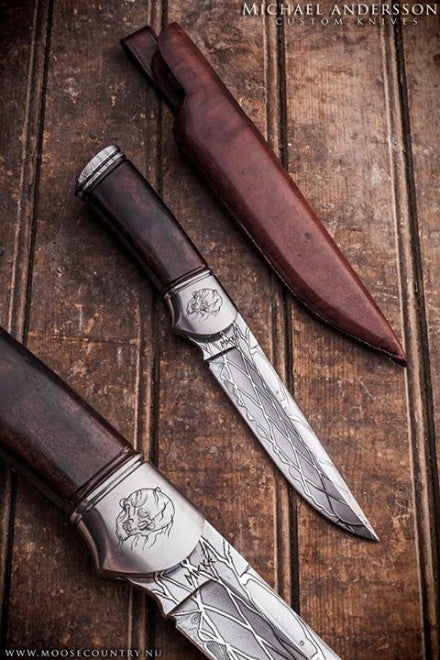 This knife was available at bladegallery.com for apparently all of a week, because though it was listed on April 12, it's gone now. Speaking of bladegallery.com, they've sold a ton of his stuff, so you can see other examples of his work there.
Here's part of Andersson's profile on knifeart.com:
Michael (Micke) Andersson was born in the Northern Sweden in 1959. He lives near the arctic circle with his family on a small farm he calls 'Forsnasvagen'. This farm is situated in a gentle rolling meadow and is bordered by a clear water stream with northern pike and Swedish bass.

His love of knives has been deep since childhood but developed significantly when he and his son took a knifemaking class lead by Roger Bergh. That learning experience developed into a long-term friendship and strong mentor/student relationship. He credits Bergh for his excellent advice and wide knowledge. Andersson's knives feature wonderful hand forged damascus and one-of-a-kind design. He especially enjoys making big knives in a style influenced by the American Bowie knife. His sole authored knives feature wonderful fossil mammoth ivory, hand stitched sheaths and exotic hard woods…

Michael's background is in automobile body painting and he teaches this skill part-time at a local university. In his spare time he also enjoys the American West, tatoos, Harley Davidson motorcycles, upland game hunting, riding his paint horses and fishing.
Modern Damascus isn't the most functional steel in the world, but you just can't beat it for sheer beauty.
That said, don't discount Damascus for a using knife, because heat treatment matters a ton. It's not just about the blade steel. For instance, Barry Dawson's knives are made out of straightforward carbon steels from bar stock, and they're famous for their durability and edge holding qualities, all of which comes from Dawson's proprietary heat treatment process. I have one, and I can personally testify that it's a beast.
Check out the gallery below for a few more examples of Andersson's work, pulled from various sources.