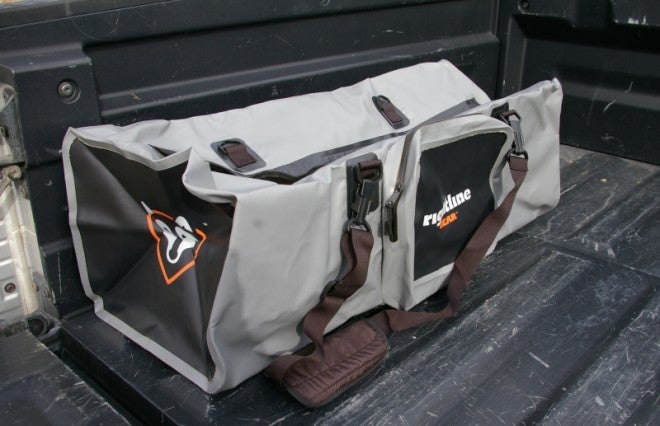 One of the most critical items you need to get you and your family out during a "Bug Out" situation is the ability to gather into one place all the stuff out you supposedly want to bug out with. A large duffle is one of the most flexible bags on the planet for this purpose, as it can haul firearms, food, clothing, shelter, and all manner of items.
Generally though, duffels are about as waterproof as your average pasta sieve. When I was at this year's SEMA trade show (Automotive Speciality Equipment Manufacturers Association), I saw a pretty neat item. Beyond the $40,000 Duck Dynasty trucks and branded accessories, $2,000 high polish rims, and $3,000 camouflage axles, I saw a great $70 product: a simple, waterproof, 36"x18"x13" duffle which could be mounted cartop.
Right Line offers a variety of external hauling carriers for cars and trucks. Among the many variations and models, they have a simple waterproof duffle that is perfect for almost any bugout purpose. 4.9 glorious square feet of storage space which will easily contain most AR-15s, plenty of ammo, food, tarps, a tent, and even a camp stove or two. There is a ton of room in this simple duffle.
Now here is the really cool part about the RightLine Gear Car Top Duffle: it's waterproof. Yes, okay, I think I already mentioned that. But the reality is that it is actually really waterproof. Pack it full of toilet paper and run it through a carwash and there is not a drop of water on the paper. The Duffle features welded seams, a urethane coated zipper, and a Velcro-close zipper cover.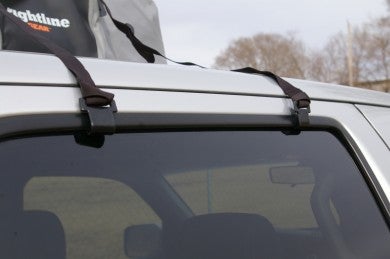 Unlike the giant strap on cargo options, this duffle can actually be lifted when properly loaded. You can pack it, strap it on, and then carry it when you need it. Beyond tossing the Car Top Duffle in the back of your truck bed, it can be locked down with the included straps to your truck's tie downs or rooftop on any vehicle with or without a roof rack with the supplied adjustable straps and rubber coated hooks.
Final Thoughts
Good waterproof duffles/sacks are far from cheap. In fact most are in the $125-$200 range for models far less than half the size of the RightLine gear Car Top Duffle. I could pick up three for the price of one of other comparable models, most of which were not equipped nor designed with tie down straps for cartop carry. The RightLine Car Top Duffle is not a revolutionary idea or terribly unique, but it's a stunningly great deal that can fill a critical need for those that want something for preparedness, the next camping trip, or just hauling all your kids stuff to college on a rainy day.
Specs
Capacity: 4.3 cu ft
Dimensions: 36" L x 16" W x 13" H
Designed for any size vehicle, WITH or WITHOUT a roof rack
100% Waterproof with welded seams, urethane coated zipper, and Velcro-close zipper cover
PVC Coated Mesh – a stiffer nylon re-enforced PVC
Includes: Car Top Duffle Bag, (2) nylon straps, (4) Car Clips and complete set up guide
Retail Price: $69.95
SHOP NOW