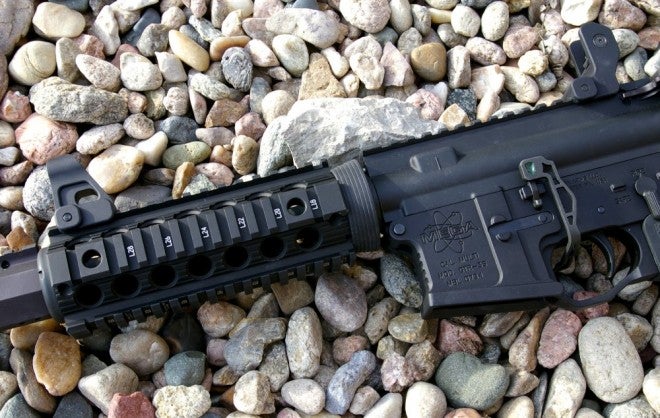 Like many, I recently found myself needing to extend the top rail of my AR for simpler optics mounting.  In this case, the hand guard broke on my DPMS Oracle kit. The Oracle kit has been featured in a number of previous articles, and honestly the gun gets the hell beat out of it on a regular basis. Apparently it cracked one of the 100 times I slammed it against a support. Although not a big deal, the last thing I wanted to do was pull off the gas block and remove the flash hider just to mount another handguard.
Troy Industries has been the leader in hard use aftermarket AR accessories for some time and has a solution with their Troy Drop In Quad Rail. The Troy Drop In Quad Rail allows you to replace your plastic hand guard with a rock solid, optics stable quad rail in about 2 minutes, all without removing your front gas block/sight and muzzle brake. Troy's Drop In Rail is a simple, professional strength, non-free floating direct replacement for all M4//M16/AR-15 carbine length plastic hand guards.
Fit and Feel
On the box Troy states it takes about two minutes to install this rail, and they're right on the mark. Replacement was as simple as disassembling the Troy Drop In Quad Rail via four screws, removing the old plastic hand guard, popping the Troy quad rail on, and screwing it back tight via the four screws.
The fit is exceptional and rock solid thanks to Troy's patented clamping system. I expected a minute amount of wiggle, but the Troy Drop In Quad Rail is an absolutely rock solid, zero play platform to mount everything from optics to lasers and lights to.
Features and Function
In addition to easy and quick mounting, the Troy Drop In Quad Rail provides the user all the standard features we have come to expect from Troy's free-floating quad-rails, including 1913 standard picatinny rails, full T-markings, and of course Troy's T6061 hardened aircraft aluminum and finished in MIL-STD Type III Hard Coat Anodizing, available in Flat Black or USSOCOM Flat Dark Earth. Unlike a lot of the "me to" brands that have come along, Troy Industries still makes all their products right here in the USA.
Also added during the upgrade were front and rear Troy fixed BattleSights because this rifle is used 99.9% of the time for shorter range drills and I felt deprived not having a good set of fixed iron sights. Now that I had a rock solid rail platform that continues from the upper receiver through the front of the handguard, the occasional 1-4X scope mounting involves simply mounting one scope ring on the receiver and the other on the forend instead of using one of those scope cantilever scope mounts.
Final Thoughts
For those with standard plastic handguards, this is a simple upgrade that provides free-float functionality with only a flat-head screwdriver. You will obviously not get the accuracy improvements of a free-float tube, but you will get all the other benefits of a solid optics mountable quad rail without having move, remove, un-pin, or unscrew anything other than your stock hand guard. For $150 this is a great AR upgrade.
Specs
7″ Carbine/M4 Drop In Battle Rail
$149.00
True U.S. Military Specification M1913 rails at 12-3-6 and 9 o'clock
Available in black or tan
Sizes – Carbine, Mid-Length, Rifle Length.