DSA Z Hawk: A Combination Tomahawk and AR-15 Armorer's Tool
billj 04.26.14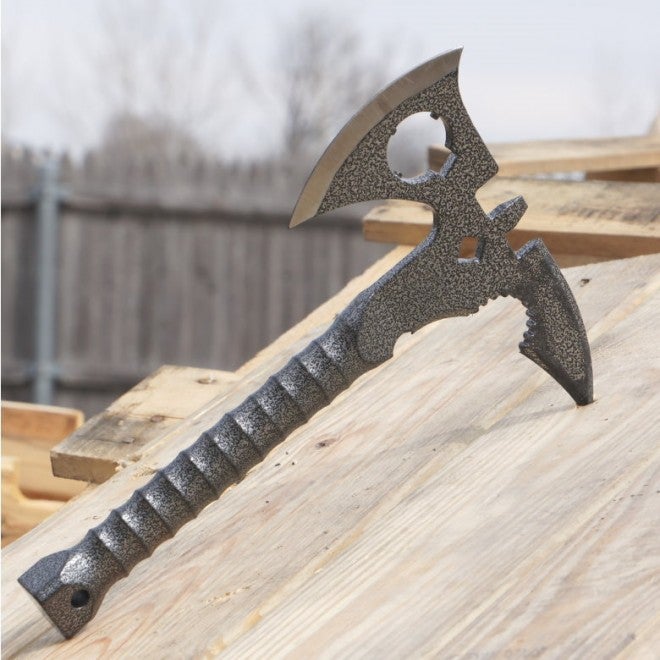 Reblogged from our sister site TFB, it's the Z Hawk from DS Arms. From a distance, it looks straight out of Weta Workshop — maybe an orc or goblin weapon from one of Peter Jackson's Tolkien movies. But when you take a closer look, you realize that it's a combination of a tomahawk and an AR-15 armor's tool.
Here's the summary from the DSA site:
The DS Arms Z Hawk incorporates the standard AR15 armors tools into one of the most already versatile tools on the planet, the tomahawk! The DS Arms Z Hawk enables you to perform a variety of gunsmithing actions to your AR15 rifle. AR15 based tools incorporated into the Z Hawk include the castle nut wrench, barrel nut wrench, flash hider wrench and A2 receiver extension wrench. The Z Hawk also accepts a ½ driver, has a bottle opener, base that can be used as a hammer and a lanyard loop. The Z Hawk is made from carbon heat treated steel and finished with an extremely durable powder coat finish.

Specs:

Length- 13″
Handle length- 8″
Thickness- 1″
Head- 5″
Width- 9.5″
Weight- 3.2 Lbs.
Nathan spotted this crazy thing a the NRA show, which TFB is covering (go check it out).
Looks like it's on sale now for $84.95. If you buy one, and you one day find yourself riding out the apocalypse with it, then be sure not to throw it at a bad guy. I realize 'hawks are for throwing, but you don't want to toss away your armorer's tool.