Busse Anniversary Straight Handled Battle Mistress (Pappy)
billj 04.28.14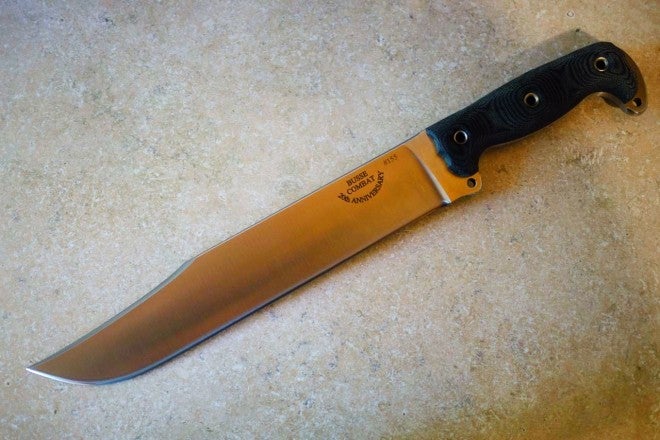 Busse and big knife lovers, your eyes do not deceive you. That is indeed a Busse ASHBM with a Bowie-style swedge. I call it the ASHBM Pappy, or ASHBMP, for short. When I ordered this knife, I had Busse run it through their Custom Shop, where Busse's Garth Reckner ground the swedge in.
Not only does it look amazing, but it feels light as feather despite its obscene size. The handles are hand-shaped black canvas micarta, which I intend to darken up a bit with some treatment that I'll detail in a subsequent post.
If you want one like it, you'd better hurry. Busse is out of blanks for the choilless model, but you can still probably get one with a choil in it.
I would've taken more pictures, but the camera ran out of battery power. I'll do another post with more photos and thoughts on the knife, soon.