3 Reasons to Shop at the Military Surplus Store
Ashley 05.03.14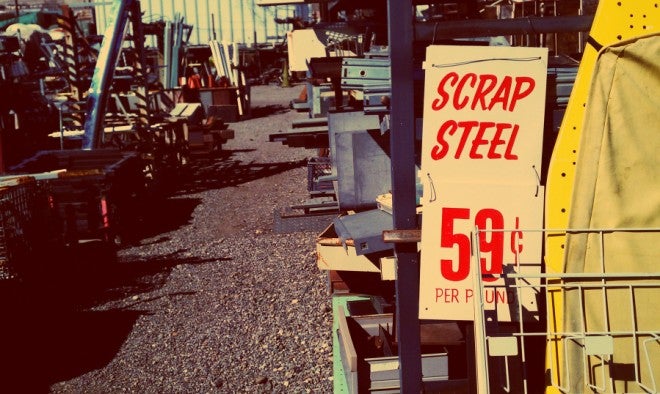 Military surplus stores–sometimes referred to as milsurps or army surplus stores for short–are some of the best places to get unique, high quality gear, clothes, tools, and outdoor equipment. This might be common knowledge to some of you, but for those who have never ventured into the world of milsurps, be prepared to develop a whole new way to shop.
There's usually at least one milsurp in every city; most major cities have multiple options, and even smaller towns tend to have one prominent store. Milsurps aren't unlike thrift stores in that sense. Some, like Twin Cities here in Reno, also have a large furniture/equipment yard in addition to their apparel and gear storefront. (Several items in my house are from that yard, including a great army trunk and a set of lockers.) If wading through a sea of OD green and dusty tools doesn't sound that appealing, here's a few reasons you should take a visit to your local milsurp.
Quality & Authenticity
Because milsurps are selling the surplus of gear made for military use (surprise?), the items available are generally of high quality. That means you're getting the best of the best when it comes to packs, clothes, shoes, and accessories. Many popular brands can be found at milsurps, often discounted if there's a product error (usually very minimal).
Uniqueness
I'll spare you the trials and tribulations of finding legitimate combat boots for my dainty women feet (kidding about the dainty part), but the best luck I've had is at milsurps because they offer specific items that are hard to find anywhere else. Aside from unique clothes and gear that you won't be able to find at normal retail stores, milsurps sell patches, paracord, and other survival items that may vary in style from what's currently popular. For those who like to mod or hack on a regular basis, the items you'll find at a milsurp store are great project starters.
Price
Quality gear isn't cheap, and if you want the good stuff, you usually have to shell out for it. But milsurps often offer discounted items, especially furniture, tools, and electronics. Compile a reliable first aid kit for much cheaper than buying products via Amazon, or compile a season's worth of camping equipment for half the cost of going to REI or Scheels.
Bottom line
Many military surplus stores are independently owned and operated, so you're supporting local businesses, and there's usually no shortage of experts or veterans around who are willing to share some of their knowledge with you. And at the end of the day, a trip to a milsurp is fun for those who enjoy the aesthetic of military garb, and it's a chance to get some hard-to-find gear you might not be able to find anywhere else.