Best Resources for Everyday Carry
Ashley 05.05.14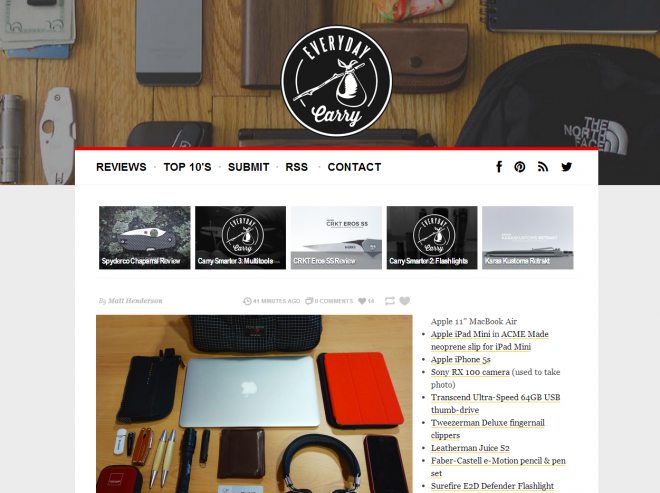 Everyday carry is hardly a new concept, but the culture is more popular than ever thanks to the popularity of zombie flicks, superhero stories, and "What's in my bag?" features across the web. So whether you're a newbie or an old hat at putting together your everyday kit, there's still plenty to learn and discover on the web.
In the next few weeks, we'll be sharing the best resources on the internet for everyday carry news, gear, reviews, networking, and more. This week, we've highlighted some of the most notable general sites that cover all EDC items and related culture.
Everyday Commentary founder and writer Tony Sculimbrene is also a guest writer here at AllOutdoor.com, and his expertise is often cited among knife aficionados. Sculimbrene covers most aspects of EDC and shares extensive reviews, philosophy, and insight on the gear industry.
Originally one of the most popular EDC websites, this site was on hiatus for a long time and has only recently returned. Although dozens of new sites were founded during the hiatus of Everyday-Carry.com, it still remains one of the most popular due in part to the large amount of submissions it receives. There's no shortage of great loadouts to peruse, and there are also reviews and brand profiles.
This website is regularly updated with submissions from EDCers around the world. What's especially great about Everyday Carry Blog is its menu system, which highlights brands along with individual items so you can filter what you want to view. This site is popular largely because of its extensive archives.
This web magazine's name has become a bit of a misnomer as they've expanded their content to cover cars, travel, and popular culture, but it's still a great place to go for passionate gearheads. They cover EDC items regularly and also produce excellent gift guides and annual features. Similar sites include Uncrate and Cool Material, which also showcase EDC items on the regular. (For fellow EDC gals like myself, I know that all of these specific sites specify that they're for men, but I've found that there's still plenty of cool stuff to read.)
Check back next Monday for sites that focus exclusively on one aspect of EDC such as packs, knives, multitools, and more.