Duds & Suds – Carhartt Teams With Michigan Beer Company for Celebratory New Brew
Russ Chastain 05.16.14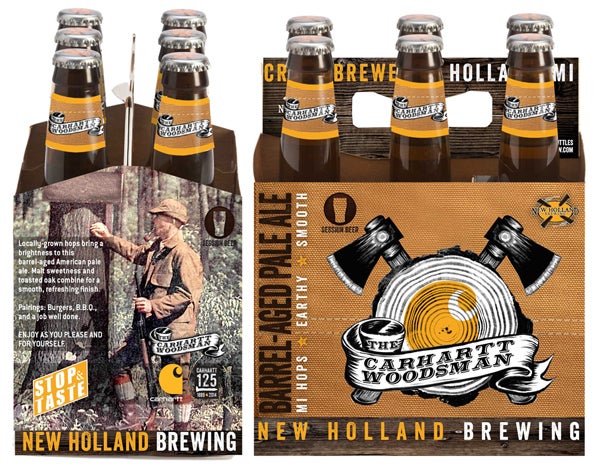 There are some brands that every outdoors enthusiast knows and recognizes. Only a few of them conjure up almost universally positive thoughts about their products, and even fewer of them have been in business for more than a century. Carhartt is one of those brands.
Founded by Hamilton Carhartt in 1889, Michigan-based Carhartt, Inc. employs more than 4,000 folks around the world. At 125 years of age, this "global premium work wear brand" is still managed by descendants of the founder. Not bad… not bad at all.
Hunters, fishers, and folks who work outdoors have long equated the Carhartt name with quality clothing, and a look at their website clearly shows that they're not simply relying on old favorites to keep their company moving forward. They offer many modern styles of clothing and footwear, and they take pains to make it rugged so it will last.
Naturally, 2014 is a year of celebration for Carhartt, and what better way for outdoors folks to celebrate than with a nice cold beer? To that end, Carhartt is teaming up with New Holland Brewing, another Michigan company that embraces artisan processes and quality craftsmanship.
Founded in 1997, New Holland is but a child next to Carhartt, but they seem to be a natural fit–plus 17 years ain't exactly young for a craft brewery. It'll be interesting to see what they come up with to honor one-and-a-quarter-centuries of quality outdoor wear.
The proposed name for the new brew is "The Carhartt Woodsman," and it's described as "an easy going, session-strength pale ale with a unique signature from barrel aging."
"This beer is not only a celebration of Carhartt's 125th anniversary, it's first and foremost a salute to hard-working men and women who deserve a refreshing reward after a long day's work," said Tony Ambroza, senior vice president of marketing at Carhartt. "A flavorful Carhartt ale from an authentic partner like New Holland is the perfect way to honor our consumers and the hard work they do each day."
Details are currently being worked out, with distribution planned for fall 2014. Hey! Just in time for deer season.