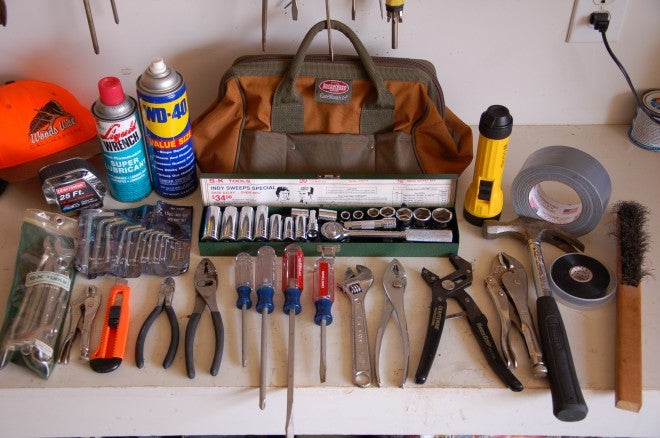 Every outdoors enthusiast needs a basic tool kit to carry with them on each adventure. Think back to how many times you were caught broken down or found something in need of repair when outdoors. Better build yourself a good tool kit and be prepared for anything.
It doesn't matter if you're a hunter, angler, camper, canoeist, hiker, birdwatcher, RV traveler, or any other sort of outdoors person that finds themselves away from their principal residence. These circumstances are the perfect time for something to break, fall apart, or need fixing.
As the designated "tool guy" at our hunting camp, I get umpteen requests during a hunting weekend for this tool or that. My only rule is "if you borrow it, bring it back (in same condition) and don't make me come find you to get it back." Sometimes I have to remind folks to return a tool, which usually happens when I need to use it.
So here is a basic tool kit for you to consider. It does not have to be a tool cabinet on rollers or a big tool box on the back of a pickup truck. It should be comprehensive enough to cover most any repair or building project, but light enough to toss into the vehicle or strap onto an ATV for use in the field.
A portable metal or heavy plastic tool box can work fine. So far, I have been able to squeeze all of my outdoor tool kit items into a canvas tote bag. It zips up secure and also has pockets around the outside for quick grabbing small tools. The inside has several pockets to hold various items. The bottom is big enough for a socket set and a hammer.
First and foremost I think you need a good selection of screwdrivers in both flat blade types and Phillips heads. Get at least four to five sized in each, one of which is really big. Don't waste time with the cheap ones from the "10 for $1" store. I prefer Sears' Craftsman tools generally, but there are other good brand named tools as well. Remember though, if you break a Sears tool, they will replace it.
Number two on the list is a whole host of pliers. These should include regular type pliers, but also needle nose types, expanding wide gap pliers, and a wire cutter. Add to these a couple different Vise-Grips® to clamp things together or to get a really tight fit on something to twist it off.
Now concentrate on a good complete set of open end and box end hand wrenches. Again, do not buy cheap with these. You'll need every "inch" and/or "metric" size there is from very small up to maybe as big as ¾-inch. These days you will be surprised at how many bolts and nuts are metric sized instead of the U.S. standard inch size. It is frustrating not to have the right wrench that fits securely on a nut to loosen or pull down tight. Also add 2-3 different sizes of adjustable "monkey" wrenches.
Just like the hand wrenches, buy a good set of sockets and ratchets, too. These come in ¼, 3/8, and ½ inch drives. I have all three and definitely use them all on a regular basis. Have some of the longer sockets for extra power. Make sure your kit has some socket extensions for long reaches. I keep three lengths in my kit. You can find socket sets that will include the full range of sizes for most all applications.
Other items that are often needed include a small set of hex wrenches in standard and metric. A hammer or two is a must; one must be a nail puller. Throw in a blade cutter or two. I have found many uses for a wire brush. Have a good flashlight in the kit, too. A 50-foot tape measure will see lots of use. Get a good quality hacksaw, too.
Here are more tools to consider, but perhaps not to carry in a portable tool kit bag. A wood saw often comes in handy, as does a ballpeen hammer. A crowbar can be very useful, too, especially the ones with a nail puller on one end. A mid-sized pipe wrench is a good idea.
Include in your tool kit some of the consumable products you use. These would include rolls of black electrical tape, duct tape, and masking tape. Put in a can of spray lubricant like WD-40® and a can of Liquid Wrench ®. That stuff is gold in a can. It will unstick just about anything and also makes for a Class A lubricant for virtually any material. You can slick up a sticking rifle bolt, a noisy fishing reel, or squeaky front end parts on an ATV.
A tool kit like this should put you in pretty good shape to handle most anything in the field. It is tricky to have every tool you might want, but keep the package down to a reasonable carry weight. You can always take out tools not used or add some new ones. Just don't get caught outdoors without a good tool kit.