Springfield Armory XD-S 4.0″ Single Stack 45 ACP Now Shipping
Russ Chastain 05.23.14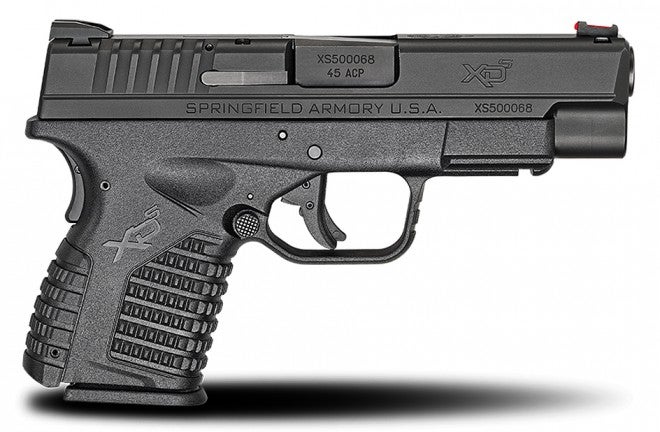 The latest version of Springfield Armory's popular XD pistol is poised to hit a gun shop near you before long–and it's smaller than its predecessors.
Springfield Armory has come a long way in recent years. Named for a former government armory that made many US military arms in past years, the private company is now often associated with the well-made and well-thought-of XD series of pistols. It's hard to believe it's been thirteen years since the first XD came out, but in my opinion that's what helped to bring respect to the Springfield Armory name.
Now, those who aren't detail-driven may look at it, shrug, and say, "Meh. Another pseudo-Glock." And there are similarities: Polymer frame. Squarish slide. Trigger with a safety lever. But in the end, the XD is another animal, which is why it's been successful.
But I'm not here to bore you with a history lesson. Let's have a look at the new XD popper. It may interest you to learn that, although Springfield Armory is an all-American name, this pistol is made in Croatia.
Here are some specs:
Caliber: 45 ACP
Weight (with empty mag): 23.5 ounces (24.5 with X-Tension™ magazine extension)
Length: 7″
Width of grip: 0.9″
Height: 4.4″ (5.4″ with X-Tension™)
Barrel: 4.0″ with Melonite® finish
Trigger pull: Rated at 5.5 to 7.7 pounds
Sights: Steel; Fiber Optic Front & Dovetail Rear
Frame: Black Polymer
Slide: Steel with black Melonite® finish OR stainless steel with satin finish
Magazines: Single stack, 2 included; 1 flush 5-round and 1 extended 7-round
Recoil system: Full length guide rod with dual springs
I've grown used to the size and weight of a subcompact 9mm myself, but if I were looking for a 45 to carry, I'd certainly give this XD-S a good hard look.