Spyderco Paramilitary 2: More Paramilitaries than Idaho
Tony Sculimbrene 05.26.14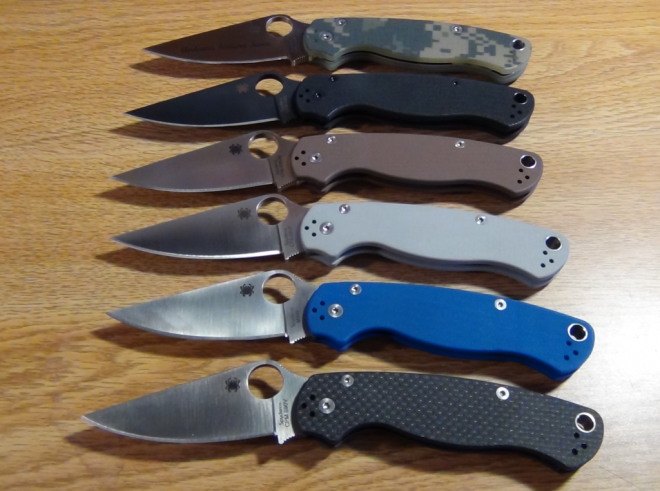 The Spyderco Paramilitary 2 is the hottest production knife in the world right now. It's so hot that most places don't even have the regular model in stock. The reason is simple–this is a damn good knife. I loved it, and my voice is part of a large choir of fans around the knife world. It can do a lot of different kinds of work quite easily. Thanks to the amazing compression lock, it can soak up beatings like a punching bag. Yet, the genius of the design is that flat ground blade and the half-and-half finger choil give it enough precision to do small cutting chores. There is very little the PM2 can't do, and with a blade around 3.5 inches, it is a lot of folks' ideal EDC.
There is a whole array of choices when it comes to the PM2, even in the stock model. You can get the plain jane version with black G10 and S30V blade steel. That is a world class knife, and it's just the beginning. You can get the blade in a blackout version, with black hardware and blade. There is also a G10 camo handled version, again with satin and black blade options.
As great as the regular PM2 is, the limited edition or sprint run versions of the knife are truly awesome. Some were straight limited editions and others were exclusive to certain retailers. Most have upgraded steel from the stock version and all of them sell for a premium. The most sought after PM2 sprint runs routinely sell on the secondary market–eBay and the forums–for close to $600. The sprint runs are usually produced in small numbers 500 to 1,000 pieces. After extensive research I think I'm able to list all of them, below. The prices are nothing official, just guesstimates from forum, show, and eBay sales.
Stock models
Stock PM2 (C81G2)
Black out PM2 (C81GB2)
Camo PM2 (C81GCM02)
Camo Black out PM2 (C81GCMOBK2)
Here is the not quite up-to-date version of the Spyderco Source page.
Sprint Runs
Orange PM2 (C81GPORG2)
Steel: CTS-XHP
Availability: Cutlery Shoppe exclusive; sold out on primary market
Current Secondary Market Price: $200-$250
This is, perhaps, my favorite of the sprint runs. Not only does the knife have one of my favorite new steels, CTS-XHP, it also has orange handles. They do get dirty but they also make the knife very hard to lose. If you drop it outside and it lands in the leaf litter, you can instantly find it.
One of the guests on my gear podcast was an adventurer and strongly prefers bright colored handles for hard use knives. Having dropped my racing green Dragonfly II outdoors, I know why. Also, for whatever reason (perhaps the decidedly non-tactical handle scales), this is one of the cheaper sprint runs, though that is, as you can see, a relative term.
Blue PM2 (C81GPBL2)
Steel: M390
Availability: Bento Box exclusive; sold out on primary market
Current Secondary Market Price: $275-$425
Price-blind this would be my choice, as I like blue better than orange and M390 tends to look better after hard use than CTS-XHP. But, the blue PM2 comes at such a huge premium on the secondary market that I can't justify the difference in price. Still, an M390 PM2 makes me do that Homer gurgle. So cool.
Gray PM2 (C81GGY20CP2)
Steel: CTS-20CP
Availability: Non-exclusive sprint run; sold out on primary market
Current Secondary Market Price: $250-$300
CTS-20CP is supposedly very close in performance and make up to S90V, a favorite hard use steel, so it suits the hard use ethos of the PM2 well. The gray handles get dirty very fast, but again, this is a knife not your Easter suit, so who cares? I guess if you are bothering to collect PM2s you probably care.
Earth Brown PM2 (C81GPBN2)
Steel: S35VN
Availability: Non-exclusive Sprint Run; sold out on primary market
Current Secondary Market Price: $175-$200
This is the "value" choice of the PM2 sprint runs. It seems, though it's virtually impossible to confirm, that this sprint run had the largest number of pieces. Either way, the steel is very good, even among the super steels found on PM2 sprint runs. It may not be as exotic as others, but it is a darn good performer. The earth brown handles make it disappear in the woods, so be careful.
Dark Green PM2 (C81GPGR2)
Steel: CTS 204P
Availability: Knifeworks exclusive; sold out on primary market
Current Secondary Market Price: $200-$275
Very few, if any Spydercos with dark green handles stink. This knife is no exception. Lots and lots of people liked the CTS 204P steel on the Southard, including me. It works supremely well in hard use tasks and it polishes up nicely. Supposedly the Carpenter equivalent of M390, CTS 204P is a great steel and this is sweet blade.
First CF PM2 (C81CFP2)
Steel: Solid S90V
Availability: Non-exclusive Sprint Run; sold out on primary market
Current Secondary Market Price: $450-$500
This is hallowed ground. Before the release of the second CF PM2, this model, with is peel-ply carbon fiber handles and the very rare, very expensive, and decidedly hard use S90V steel was the king of PM2 sprint runs. It commands huge prices on the secondary market, routinely selling for more than $400. These aren't "dumb" collector, eBay prices either. Even on forum BST boards, this knife easily sells for that much. If you REALLY want one, be prepared to drop north of $500. Its crazy to spend that much for a production knife, but this is one of the grail PM2s.
Second CF PM2 (C81CFPE2)
Steel: Composite blade of 154CM/S90V
Availability: Non-exclusive Sprint Run; sold out on primary market
Current Secondary Market Price: $450-$600
The new king of the PM2 collectibles. Released and sold out so fast that its debut on video at Spydercollector's channel both launched the knife and practically announced it was sold out. After the success of the first CF PM2, collectors and speculators were sitting and waiting for this one. Little more than two months after its release, it was already selling for more than $500. Composite blades are rare for Spyderco, so this one has that something extra that makes me think it will go even higher in the coming months. If you want one, buy it now.
The Spyderco Paramilitary 2 is a great design. It is a great working knife. With better steel, the sprint run versions are super star performers and insanely hot collectibles right now. The knife's status in the market is really undeniable at this point.
There are even secondary market parts–handle scales and pocket clips. John Grimsmo did a run of titanium handle scales that look amazing, and Allen Putman's CNC masterpieces are truly great. STR and a few others make very good, over-the-top pocket clips.
In short, the Paramilitary 2 has become the Corvette of the knife world–a chase item and world-class performer at bargain prices. And like the Corvette, the real fun can be found in the special editions and aftermarket products. If you're in the market for a hard use folder, consider the PM2 and any one of its many sprint runs–they won't let you down.
One more thing–if Spyderco is reading this, how about a red handled version in CPM 3V.  It'd be hard to lose in the woods and who doesn't like 3V?  Sal, you reading?