Best Resources for Everyday Carry
Ashley 05.26.14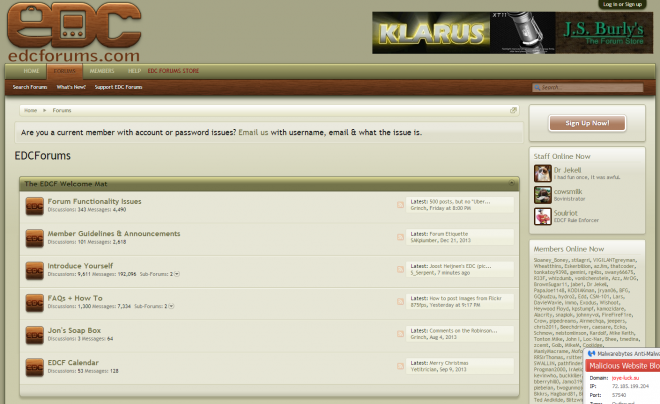 In our previous installments of this series, we covered the best general EDC sites and some sites that cover specific types of gear, but once you've familiarized yourself with these resources, it's nice to know that there are others who want to share their knowledge and opinions about EDC. Social networks and forums are an excellent way to learn about items you've never seen before or to get a new perspective on popular products. Here are some of the best EDC communities online.
Redditors use this forum to share pictures of their EDCs and generally include demographic info in the title (age, gender, location and profession). This makes it an interesting look into how people around the world use gear in their day to day life. This forum is active and features several new posts every day. The community is also always willing to discuss particular items and share information as necessary.
Tumblr has a reputation for being a site focused on pop culture, but it also has a dedicated gear/outdoor community. Several big EDC sites are Tumblr blogs, including PackConfig and Everyday Carry. But there are also plenty of individuals who post pictures and descriptions of their EDCs–all you have to do is type in "everyday carry" into the search feature, and you'll get hundreds of posts tagged accordingly. Making a Tumblr blog is free and simple, and you'll quickly find others who share your interests (readers here might enjoy the Gunblr community, which consists of firearm enthusiasts on Tumblr).
Any EDCer worth his or her salt should be on the EDC forums. Not only is the community active and friendly, but there are subforums dedicated to nearly every aspect of EDC, even the more obscure items. People share pictures and custom builds, and there's no shortage of information on where to get hard-to-find items.
Because Instagram is an image platform, this has made it into a natural place for gear lovers to share images of their EDCs. As a result, the #everdaycarry tag always has dozens of new posts every day. There are also many popular EDC Instagrams, like Everyday Tactical, that host giveaways and contests to people who post certain types of photos (often around a theme). This is a fun way to share your gear and check out what others have. Instagram makes it easy to browse by tag, so check out the tags for specific items, too (like knives or watches). Fellow gear-loving women will also enjoy the #womenofEDC tag, which features some great EDCs by women around the world.
Check back next week for part 4 of this series, where we'll share some of the best places to buy EDC gear online. To get caught up, read part 1 and part 2.