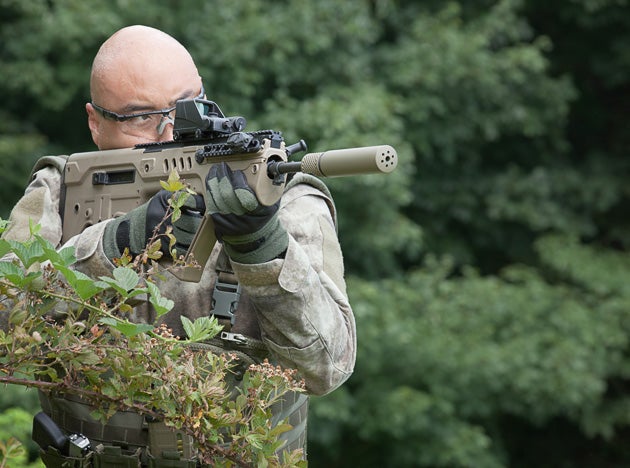 Introduced less than two years ago, IWI Tavor took the US gun market by storm, quickly becoming the country's best-selling bullpup. I don't think anyone was surprised; the rifle is based on the well-regarded Israeli military weapon. Michael Kassnar was able to produce the guns quickly and with excellent quality control, and aftermarket support has been strong. Steyr's A4 AUG variant was one of the victims of Tavor's success, with sales tapering off sharply once the competently promoted Pennsylvania-made competitor became widely available.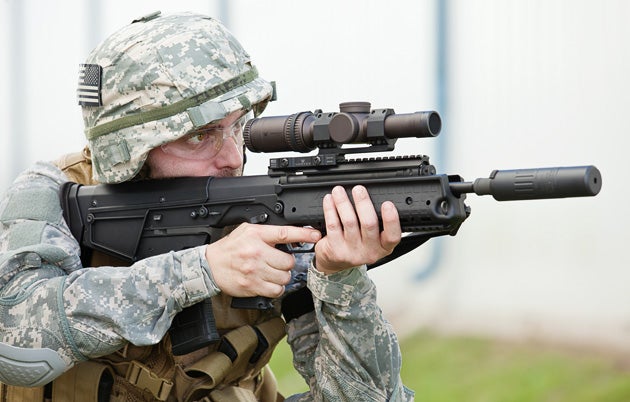 By Fall, the Kel-tec RDB announced at SHOT Show will become available. Designed to be mass-produced quickly, RDB has been substantially re-designed since the initial introduction. The charging handle no longer reciprocates on firing, the gas system got changed from long to short stroke, and some controls have been fenced against accidental activation. On the whole, RDB is very similar to Tavor in intent while quite different in the details.
I've been able to shoot the RDB and M43 prototypes back in December 2013. I also had loaner Tavors from various sources for most of 2013. The following comparison is based on my limited but first-hand experience with both.
OVERVIEW All of the sample guns I've used are in .223. Tavor may be set up with a 9mm conversion kit that saves ammunition cost but doesn't reduce the recoil, while RDB will eventually be available in 6.5Grendel. In the long run, M43 variant of RDB will be available in 7.62×39 and I also hear rumors of 300 Blackout conversions in the works for Tavor. For the first year, at least, the comparison will be .223 to .223.
PRICE Tavor MSRPs for $1,999 and seems to retail around $1,800 out of the door. RDB also MSRPs for the same amount but it's unlikely that discounts would be available at first. Plus budget a few bucks for backup sights and the slight advantage goes to IWI.
WEIGHT Tavor with 16.5″ barrel is close to 8 pounds, with 18″ is right at 8. RDB with a 17.4″ barrel comes in at 7lbs, not counting a quarter pound for the sights. Advantage, Kel-tec.
SIGHTS Tavor comes with built-in folding sights hidden within the Picatinny rail. They work well but are quite obviously backups. RDB doesn't come with sights, but you can add them at any position around the barrel, including offset for use around scopes. Draw.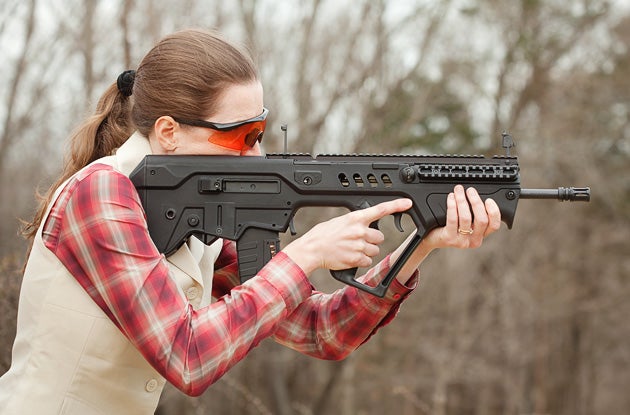 TRIGGER Tavor trigger is its main down side: the pull is heavy enough to affect accuracy. Fortunately, Geissele and Timney make aftermarket trigger packs that install easily. I have not tried Timney but Geisselle was excellent. The triggers come at a price–Super Sabra model retails for $350. RDB trigger was crisp and reasonably light out of the box, improving even on the aftermarket Tavor options at no additional cost. A definite point to Kel-tec.
RECOIL Tavor has a very soft recoil. RDB's kick is barely noticeable. Kel-tec wins but both are among the most polite .223 rifles in existence.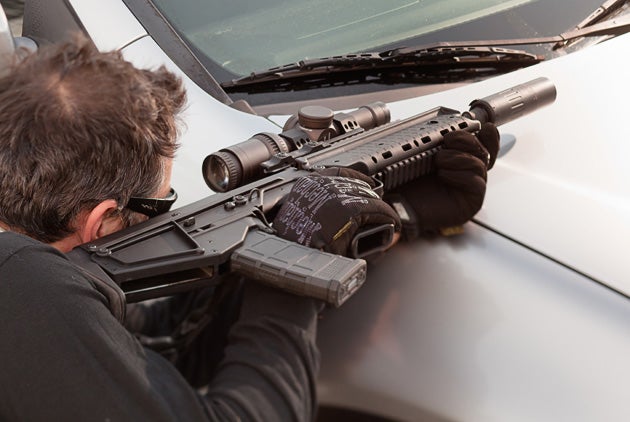 EJECTION Tavor can be configured with left or right hand bolts (which should be factory headspaced) to eject to one side or another. Currently, the 16.5″ model is available in left hand from the factory at no extra cost, and the 18″ can be retrofitted. You'd have to buy another bolt. RDB ejects down behind the magazine, so left and right handed users use the same gun. Downward ejection requires a modified hold for deliberate long-range aiming from a bipod or a sandback, but it also allows firing under or over obstacles with minimal exposure. Some people like bottom ejections, some don't. FN P90 does fine with it. Draw.
FEEDING In my experience, Tavor has been 100% reliable, but RDB may have an edge in hard use because its bolt is designed to overtravel the back of the magazine. The bolt moves faster when picking up a round, and has greater residual momentum when ejecting the empty. The same approach enables the famous Ultimax 100 machine gun to feed cleanly from tightly wound 100-round drums.
CONTROLS Both rifles have Ambi safeties, midline magazine releases, and reversible non-reciprocating charging handles. Tavor bolt catch is mid-line, RDB is ambi, but overall the two are quite similar.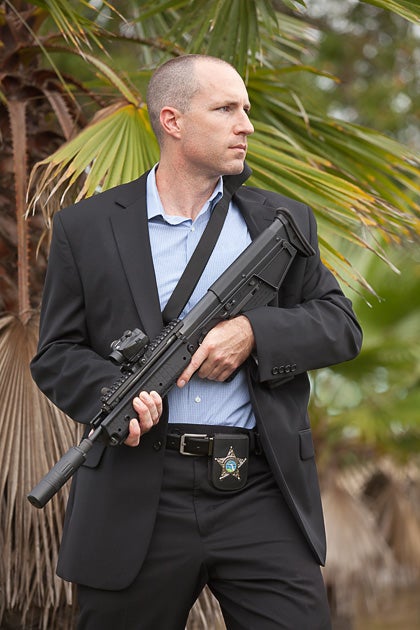 GAS SYSTEM Tavor is fixed, RDB is adjustable. Both worked well with sound suppressors. No blow-back from either.
FIELD STRIPPING I am only familiar with the original long-stroke RDB, so I can't comment. Tavor seems a bit quicker than the Keltec prototype, but RDB offered greater access once taken apart.
ACCURACY Tavor is a 1.5MOA rifle, which is fantastic for a combat bullpup. The prototype RDBs I shot were even more accurate than that, but the production performance remains to be seen. Certainly the excellent trigger will be a help in maximizing practical results.
BALANCE An empty RDB is slightly more front-heavy than Tavor. The actual in-use balance depends on the accessories attached and the amount of ammunition in the magazine.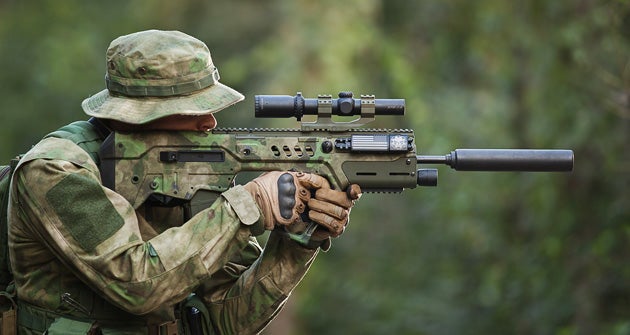 Aftermarket support for Tavor is very strong already. For example, the Gearhead Works forend allows internal light or laser installation.
SUPPORT By the virtue of getting to market sooner, Tavor has very extensive aftermarket support. Because of its military background, the training and maintenance doctrine is more developed as well. While RDB is a completely new design, it draws on the existing types like the Ultimax 100 LMG and AKM for its inspiration. Development of the manual of arms has been going on in tandem with the technical development of the rifle itself. Still, Tavor is ahead here.
CONCLUSION? Tavor is the proven performer and the RDB may become one. Coincidentally, I received my own 18″ Tavor last month and hope to see the pre-production RDB before July. I like both enough to use them side by side.