Ultimate SSAR-22 Kit Review: SlideFire for Your 10/22
Major Pandemic 06.19.14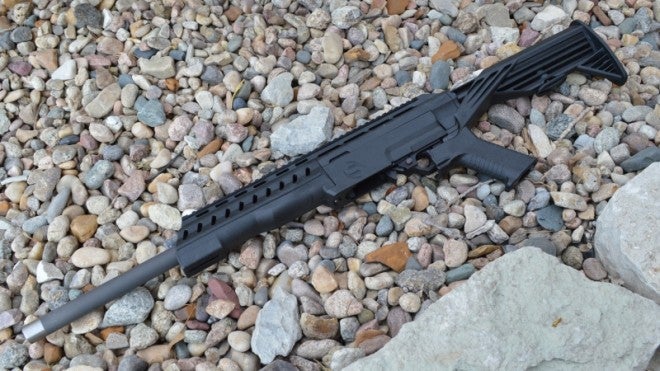 Full automatic (machine gun rates) of fire are fun, but practically and tactically speaking, they're not especially useful beyond a putting a giant grin on your face.
In most states, owning a full auto machine gun is legal with the right paperwork and fees, but the biggest hurdle to ownership is the overinflated  $12K in cash for a pre-ban full auto firearm. And the pesky BATF/NFA paperwork can take upwards of a year to receive approval on.
SlideFire is a legal, BATF approved technology that requires no special licensing or registration for law abiding citizens and enhances your ability to fire very fast. It's so fast in fact that it sounds and feels a lot like full auto gunfire. I tested the AR-15 version of the SlideFire Stock a few years ago and now the company has a 10/22 Kit version that makes the .22LR chambered 10/22 rifle a whole lot of fun while transforming the gun to an AR-15 style feel with high rates of fire.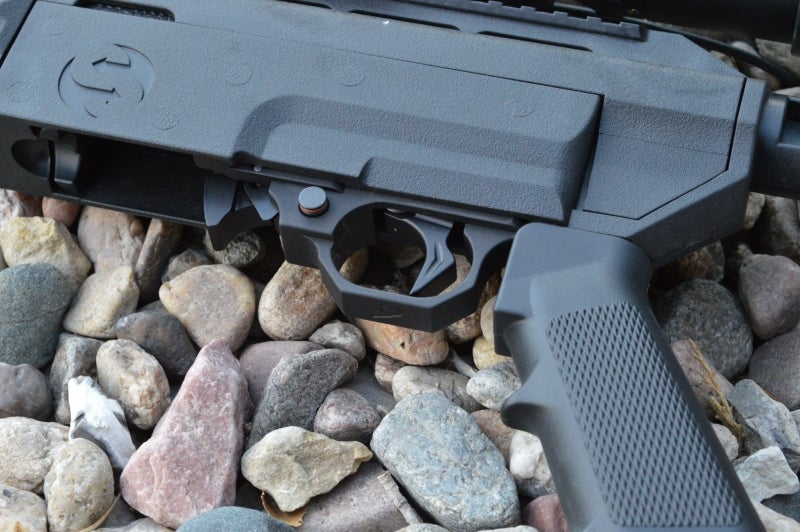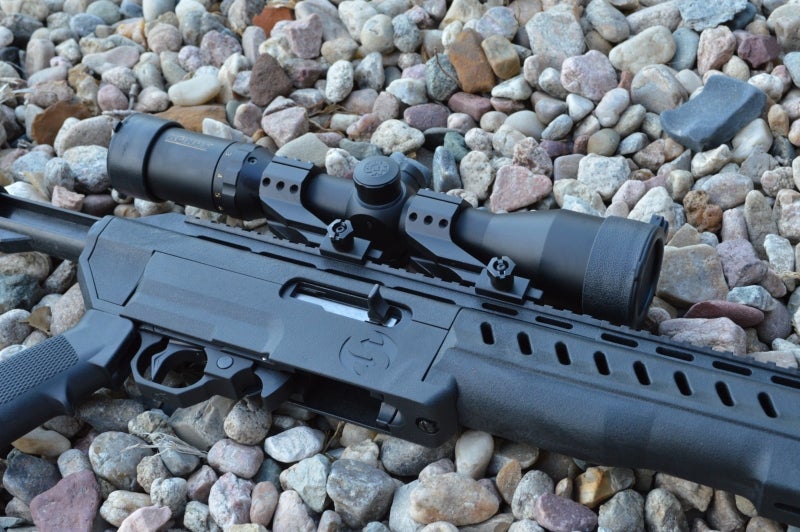 Build Specs
I had recently acquired a stock 10/22 Ruger rifle that was waiting for a fun project like this to find a home. Magnum Research was nice enough to provide one of their Ultra-light Graphite 16.25" 10/22 Match barrels as an upgrade for the build. This allowed me to test the build with both the stock  barrel and a MR lightweight barrel.
For accuracy testing I used a Konus Pro 1.5-5 optic to take advantage of the accuracy for the Magnum Research barrel. This optic also sports an illuminated reticle for late night critter work. Everything else from the Volquartsen trigger, chassis, grip, Carbine style buttstock, and SlideFire stock was included in the Ultimate SSAR-22 Kit.
About the Kit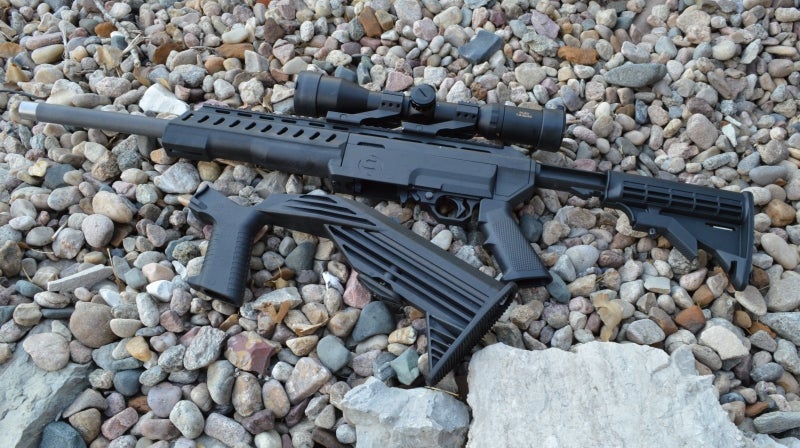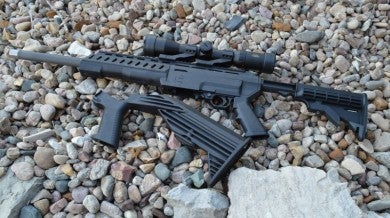 Beyond the simple bolt on Ruger 10/22 Chassis, which simply replaces the stock Ruger chassis/stock, SlideFire also includes a Volquartsen lightweight match trigger to improve high rate fire reliability even with lighter recoiling rounds. SlideFire also has made its own optional optimized recoil enhancer for .22LR chambered AR-15s to increase recoil and improve reliability for those that want to stick with lower velocity rounds or a stock trigger.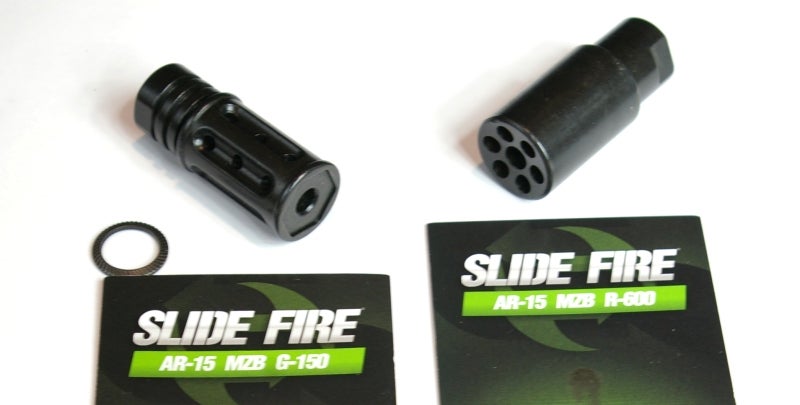 You get a lot in this $450 Ultimate SSAR-22 kit, which includes the Volquartsen trigger, SlideFire 10/22 Chassis and SlideFire stock, but many will baulk at the price. I would say that it not a bad deal. SlideFire's regular AR-15 stock is $300 alone. Add in the $225 Volquartsen trigger and 10/22 chassis and the Ultimate Kit becomes a very good deal if you intend on doing the conversion anyway.
Functions
How does the Slide Fire stock solve a complex and legal problem which is heavily government regulated? Simply put, the SlideFire stock is not a full-auto transformation. It just enables you to "bump fire" the gun from the shoulder, and bump firing is not illegal.
Traditionally, bump firing is done by placing the side of the rifle on your hip and hooking your thumb inside your belt loop and then pushing the gun forward with your support hand on the stock. This pushes the trigger forward into your finger and after the first shot, the gun recoils and as it returns forward from the support hand forward pressure, your stationary finger pulls the trigger again and again very quickly, generally around 300-350 rounds per minute. It is not a new concept.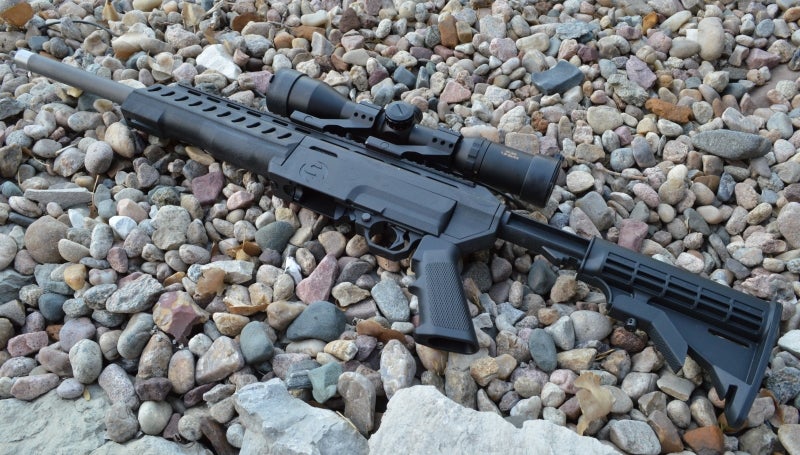 An original pre-ban and very expensive tax stamped M16 has a rate of fire around 650 rounds per minute depending on the weight of buffer used, so 300-350 rounds is still a mighty fast rate of fire.
SlideFire has taken exactly the bump fire concept and developed a grip and stock that will provide that functionality at the shoulder. Why is this legal? It is really tough for the government to outlaw things like gravity and inertia and according to the ATF, if your finger pulls the trigger each and every shot, then it is just technically "shooting really fast." The result of over two years of development is a reliable select fire AR-15 stock that can deliver around 400 rounds a minute while making no modifications to the AR-15, and they even include a letter from BATF approving the stock.
This kit includes a version of the original Slide Fire SSR15-SBS Stock Kit (AR-15 version) plus bolt on chassis and match grade trigger. On this kit you can either use the standard AR-15 style grip and multi-position stock or swap out the grip and stock for the SlideFire bump fire stock version for high rate shooting.
To convert over to the SlideFire stock with the kit, the AR grip and standard multi-position buttstock are removed, and the Slide Fire grip block is screwed on. The SlideFire buttstock/grip is then slide on the buffer tube and keys into the grip block. Once in place, the buttstock's semi-auto only lock is disengaged so that the entire buffer tube to muzzle unit can slide back and forth inside the Slide Fire buttstock/grip assembly. Place your finger on the grip's finger perch and press the support hand forward until the gun starts firing rapidly from your finger continuing to hit the trigger.
Simple concept, works great, fires really fast. After seeing a few rounds fly as though you are Jerry Miculek, simply pull back with the support hand to stop firing. With this push and pull support hand control, you can provide single semi-auto fire, controlled bursts of 2-X rounds or let it rip until the magazine is empty. It will put a HUGE smile on your face, and with a .22LR. the impact in your wallet will be lessened.
Fit, Feel, and Features
The Slide Fire SSAR-22 Kit is made from the same high quality firearms polymer we see used on other stock designs throughout the firearms industry. The whole point of the Slide Fire stock is its ability to slide easily back and forth for operation, so it is a little loosey goosey fit. Even when swapping back over from the SlideFire buttstock to the standard AR-15 grip and stock the stock was a little rattly.
If it was a super tight fit, the stock would not work and would also have fitment issues with Mil-Spec vs Commercial buffer tubes. The result of that sliding design requirement and the unique grip required by the design is that when shooting semi-auto, the stock does not feel very solid or particularly comfortable. It feels rather uncomfortable and rattly. Honestly, who cares? In this kit you have both options to swap from the stock AR-15 style stock and grip to the SlideFire stock.
The bolt on polymer 10/22 chassis delivers the ergonomics of an AR-15 with a high rise top rail and free-float rail system. The chassis bolts down fairly tightly and delivers a little flex due to the the polymer construction, but no more flex than any standard Hogue 10/22 stock would.
Shooting
The SlideFire stock proved it lives up to the hype. There is a lockout on the stock so you can use the stock in semi-auto mode only, but for some reason, I seemed to use that feature rarely. Surprisingly single shots, two, three, and four round bursts were quite easy to do after you get the idea of pushing your support hand to fire and pulling to stop firing. Muzzle rise was non-existent in the .22LR format.
With both my stock 10/22 barrel and the Magnum Research version, reliability was very good on 10 and 25-round magazines with a variety of ammo. Much of that reliability credit goes to the 3lb Volquartsen trigger included with the kit. A heavy stock trigger will not deliver the same reliability without using all hyper velocity rounds.
The bolt on replacement chassis/stock for the 10/22 is a nice and fun option on its own with AR-15 ergos and free-floating barrel. Its top rail also holds zero for those who want to add an optic such as the Konus optic I used for testing. The Konus Pro optic was a bit much for this lightweight build, but it was what I had available and worked perfectly.
Final Thoughts
The question I get often at the range is whether the SlideFire is practical beyond the fun factor. Well, I really have had more of a blast with the 10/22 chassis than I have had with my AR-15. The chassis and match trigger included in this kit can deliver a big performance upgrade alone, but I think we all know that the real intent of the kit is to swap out the grip and stock for the SlideFire stock–and that 2-3 minute conversion is where the real fun begins.
The Slide Fire stock may have limited scope of use, but oh what a blast of scope of use it is. I will likely just drop a red dot on this build and convert it over every other month to annihilate a bunch of tin cans.
Specs
The SSAR-22 Kit Includes:
SSAR-15® OGR Rifle Stock: Black. (Right or Left Handed)
3 lb. Volquartsen Trigger
Chassis System
$449.95