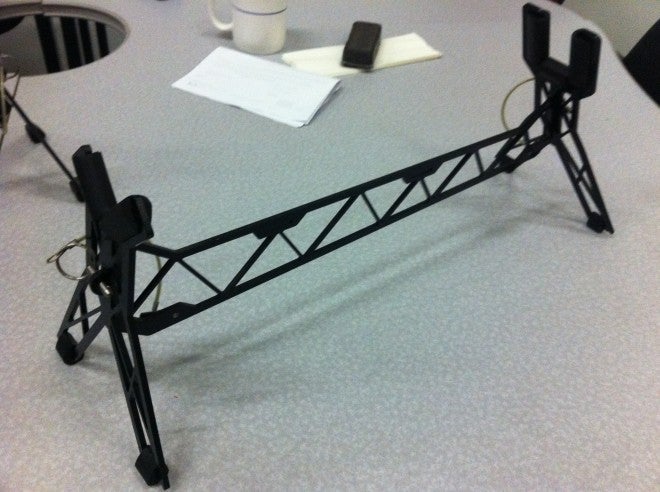 An outdoors publication editor asked me once "How many ways can you describe how to kill a rabbit?" His meaning was that some topics are just plain beat to death in outdoor magazines and there is rarely any new information to be offered about such topics.
Likewise there are some neat products out there available to shooters, hunters, campers, etc. But just a paragraph or two can fully describe everything you would want to know about the item without stretching it. Accordingly, here is a combined review of three great products from a very innovative company by the name of Montie Gear.
For a bit of background information, you have to check out the Montie Gear web site to get the real story on this unique engineering and manufacturing company from North Carolina formed by owner Montie Roland. They are particularly proud to advertise that all their products are "Made in the USA and are of Heirloom Quality."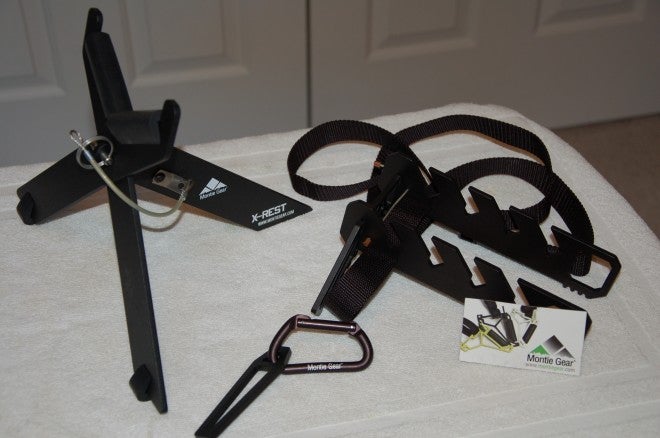 Montie Gear designs and makes numerous products for shooters, hunters, campers, tree stands, archery, paintball, and other outdoor pursuits. Trust me when I say that every product is a very unique item thoroughly engineered with the end user in mind.
The AR Cleaning Rest is a desk top rifle cradle that is easily assembled and locked together with pins tied to cables so the pins don't get lost. This arrangement is a sort of trademark design by Montie Gear used in several of their product designs. There is a regular model and a skeletonized lightweight version both made of aluminum finished in a rugged black anodized finish.
The unit only weighs 1.1 pounds is 22 inches long and 10 inches wide when set up. The three component pieces lay flat for easy storage when disassembled.
The AR Cleaning Rest holds the rifle upright to permit easy, quick positioning for cleaning or light gunsmithing tasks. An adapter for traditional hunting rifles is included. Non-slip EPDM rubber guards helps keep the rifle from sliding around on the rest without scratching it. This cleaning rest can easily be used on the home workbench, work area table, or at the range bench.
The Montie Gear AR-Rest is a tripod of sorts, but it does not attach to the rifle. When assembled like the AR Cleaning Rest, the rifle is propped up on the rest held in place by the front piece topped with rubber guards. The feet on the three components are also rubber guard protected. This helps keep the rifle from slipping around say on the target bench or other steady rest.
This rest is very lightweight, assembles in seconds and is locked together with a pin arrangement. The rest puts the rifle about 9.5 inches from the top of the surface it is set on. It can be easily used with a variety of weapons from rifles, to shotguns, to handguns. The three points of contact maintain good stability.
The AR Rest only weighs 18.5 ounces and stores easily when taken apart and collapsed. It is manufactured with a 3/16 inch water jet aluminum frame and finished in a rugged powder coat material.
The final Montie Gear product in this review is the extremely unique Camp Rack. If you camp a lot, then you probably wish you had a place to hang kitchen pots, pans, large utensils, and camp towels for dripping dry up out of the way.
This rack straps around a tree or post when assembled. It is designed to hold a pot, lid, serving bowl, spoon, and other items up off the ground so that it can drip dry after being cleaned. The Camp Rack can also be used to hang up towels, swimsuits, shoes by shoestrings, jackets, or other such items.
I suspect the Camp Rack could also be strapped up around the tree above your hunting tree stand seat to suspend gear items like binoculars, calls, or a back pack.
The Camp Rack is made from aluminum and offers four angled slots, two carabineer holds, with a nylon strap, and a quick release buckle. The whole unit is protective coated to weather the elements of the outdoors. The whole rack only weighs 11 ounces.
These three short reviews of Montie Gear products are far from all the offerings that this company makes. You just need to take a look at their web site to appreciate all of the unique gear items manufactured by this cutting edge company.