5 Leather Field Notes Covers
Ashley 06.30.14

A a true writer will take whatever she can get to scribble on when a brilliant idea strikes, but we're especially fond of Field Notes, the simple little paperback notepads that have somehow hit the spot for creatives across multiple disciplines. As we covered recently, there are plenty of great paperback notebooks on the market, but Field Notes has the form factor nailed down, only offering a few awesome variations of their standard design. As such, other companies like Word., have followed suit. If Field Notes are a staple in your EDC, it's time to invest in a cover or wallet to keep your notebooks in good writing order. Because their size has essentially become a universal standard for paperback notebooks, there are plenty of covers to choose from. But if you want the best of the best, here are a few of our favorites.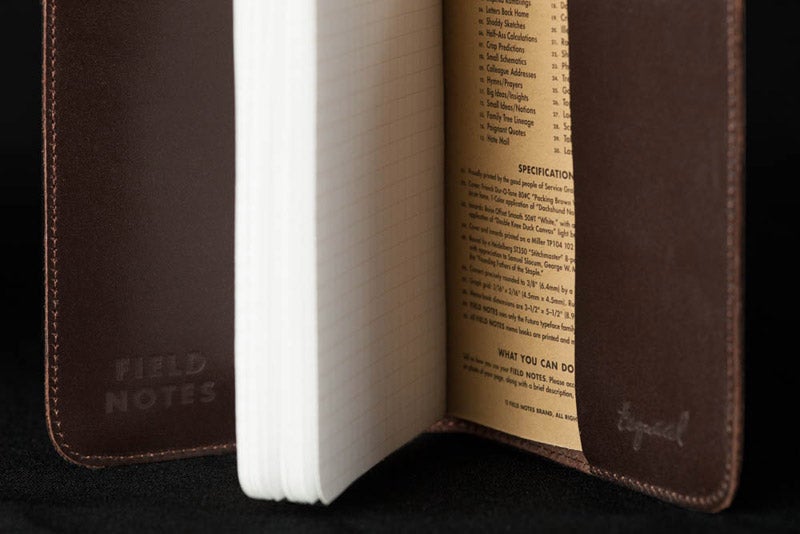 Field Notes Brand Gentlemen's Memo Cover
It's worth noting first that Field Notes brand makes their own leather cover specifically for their notebooks. It's quite nice looking, but it comes at a steep $95.95. This is recommended for die-hard Field Notes fans only. There are plenty of well-designed but less expensive options on the market.
Hellbrand Leatherworks Chromexcel Cover
If you like options, you're in luck. Hellbrand Leatherworks' beautiful Chromexcel covers come in four shades. Plus, at $45 it's half the price of the official cover with the same quality and fit and it's custom-made for the Field Notes notebooks.
Inkleaf Leather Field Notes & Moleskine Cahier Cover
If you're anything like me, you might use notebook brands other than Field Notes (I still like my Moleskines), which makes this purchase an appealing option. It's made for both Field Notes and Moleskine Cahier notebooks. The soft leather works well with rugged EDCs, complementing wood tones and textured metal. $65.
Colsen Keane No. 410 Field Notes Cover
These are the cheapest on this list at $40, but the quality and unique design certainly rivals the others. The design of this cover also brings something new to the table. A string, rather than cover flaps, is what holds the notebook snugly to the cover. A snap also adds security, preventing the notebook from slipping out. Four leathers are available, although some selections cost an extra $10, and you might as well go all the way and get your initials imprinted on the leather for an additional $15, right? This makes for a classy, custom piece perfect for a great gift (although you'll be tempted to keep it for yourself).
Gfeller Casemakers Notebook Covers
Minimalists will appreciate the slim covers from Gfeller Casemakers, who also make cases for other items like smartphones or other notebooks. The cost for their English Kip leather cover is $65–average for a high-quality cover–and the round corners give it an edge (no pun intended) over other designs. You might as well get a case for your iPhone and your passport while you're at it, and you'll have a nice leather-clad EDC.