Hunting Photo Nixes Axelle Despiegelaere's L'Oreal Contract
Russ Chastain 07.14.14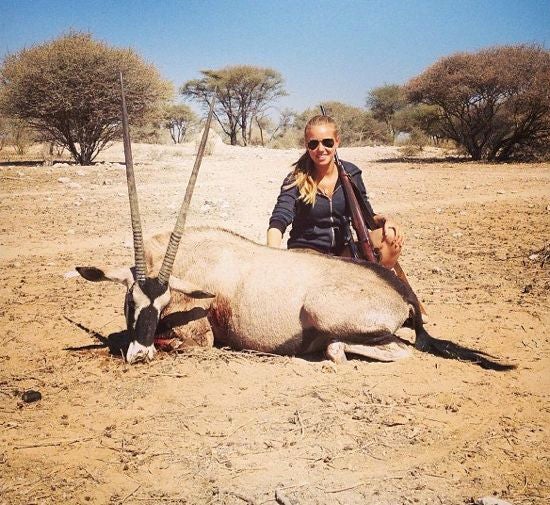 What is wrong with the world today?
I know that question could easily apply to dozens of wonky things in the current state of our planet, but this time I'm talking about people. People who pass judgement on a pretty girl because she goes hunting. People who fire the same girl for that reason.
Young Axelle Despiegelaer was recently "discovered" at a World Cup game and signed a modeling contract with L'Oreal. Her Facebook page had more than 30,000 likes. She was young and beautiful and about to get paid for that.
Then she posted a picture of herself on Facebook–with a rifle and a dead gemsbok. The caption under the photo indicated that it had been taken about one year earlier, and expressed the idea that hunting is crucial to her: "Hunting is not a matter of life or death. It's much more important than that." The caption also made a sports-related joke (fitting, since she had come to notoriety at a soccer game): "Ready to hunt Americans today haha."
Crybabies around the world recoiled at the reality her photo portrayed, for to actually see an animal becoming meat can be deeply offensive to folks who prefer to think that somewhere, there is a farm that grows burger patties alongside garden patches of lettuce, tomatoes, and sesame seeds–near legendary fountains of special sauce.
And for reasons defying all logic, bunny-huggers equated this young lady's private, pre-modeling-contract hunting excursion with allegations of animal testing on the part of L'Oreal.
Never mind that hunting and animal testing are vastly different things, and that people should be allowed to make up their own minds about whether to hunt on their own time. Nay, that matters not to those noble-feeling do-gooders who must interfere with others in order to feel good about themselves.
Perhaps saddest of all, L'Oreal has apparently caved in to pressure from these people. Her contract is kaput. Naturally, L'Oreal won't confirm or deny the reason for dropping her… but when asked about it, they didn't hesitate to distance themselves from accusations of animal testing.
Again I ask: What is wrong with the world today?