X-Ray Guns: Beautiful Prints of CAT Scanned Firearms
Dr. John Woods 08.06.14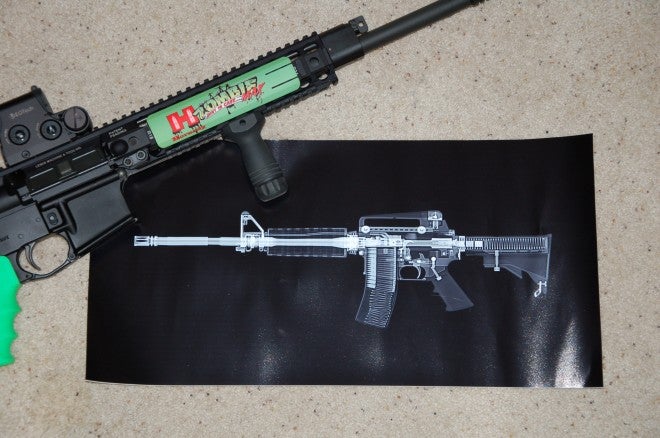 Looking for a really special Christmas present this year for a firearms enthusiast? This is the ticket then. A local physician (radiologist by profession) is not only an active Class III firearms shooter and gun collector, but has also developed a unique hobby and sideline.
Dr. Houston Hardin does CAT scanning images of guns and sells the scans on his website. With medical imaging being his professional business and shooting guns his favorite pastime, I guess he decided this was one way to combine the best of both worlds. Turns out his work with producing CAT scan "prints" of various guns is pretty darn neat.
He recently sent me several samples to review. I got one for the M-1 Garand, an AR-15, Kimber 1911 pistol, a Mossberg shotgun, and a super duper SCAR-17 assault rifle. He has completed the scans of dozens more models of various firearms and continues to add to his catalog listing of prints for sale.
So, how do you think Dr. Hardin got started with this idea? "Several years ago I had a firearm frame returned from a repair. I was out of the office the day the package came, but the delivery man mused that it must be golf clubs. I don't play golf and my staff knew that, so they got the idea to scan the package to see what it was. What they got was the first image of a gun receiver. That sent off a light bulb in my brain. I was on my way," says Dr. Hardin.
"I began experimenting with various CAT scanner parameters to optimize the image quality. Each gun requires its own special settings. Next I worked with a graphics design specialist to clean up the background artifact junk in the scans like the scanner table. None of these prints are photo shopped in the least." They are real CAT scans of real guns.
"Moving forward with the idea I had to create several generations of the scans to produce a really good black and white image to make prints. At first I was just making prints for friends or personal use, but it eventually turned into a full blown project to produce finished prints for sale."
Dr. Hardin continued, "So far I have scanned about 75 various firearms including all original WWI guns through numerous modern arms widely available today such as the Kimber 1911. Each firearm goes through a 3 month process from an initial scan to the production of the final prints."
Houston also told me that others have produced "x-ray" prints of guns, but nothing compares to these CAT scans created on a $750,000 CT scanner. "It's been an interesting mixture of my work with my primary hobby of collecting guns. I only wish I had started on the project sooner as there are vastly more firearm models than I could create prints for in a whole lifetime," says Dr. Hardin. Indeed, what a unique hobby.
On the prints that I was sent, the internal mechanisms of the firearms are really the first thing I noted. It is amazing to see all of the mechanical parts inside of a gun and how they fit together. In a sense it is like seeing the "skeleton" of a firearm.
"As a collector of M1 Garand WWII or Korean War rifles, I was absolutely blown away at the detail shown by these scan prints. It is amazing. I finally have gained a whole new perspective on how all the intricate parts fit together. It has created a whole new realm of understanding of my favorite rifle for me as a collector," says Larry Coleman, a retired police chief, an avid gun collector and shooter.
So, if you collect guns or have a shooting room, den, or office where such a unique scan could be added as a piece of art, then these firearm CAT scans make a great conversation piece. More details and print ordering information can be found at Hardin's site .