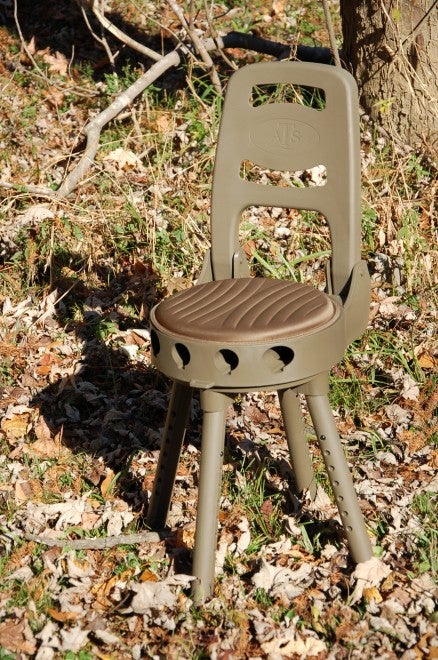 It may seem odd to call a camp seat an All-Terrain product, but then the Quake Industries All-Terrain Seat comes as close to anything I can imagine. As a connoisseur of hunting camp seating equipment, I have found the Quake Stag a superior version of the common seat to have around the camp, in the hunting blind, shooting house, duck blind, or just blinded up out in the woods behind some natural downfall or brush.
The Stag All-Terrain Seat starts as an obviously innovative design in the manner in which the whole package self-stores itself. The four legs slide into holding sleeves molded under the seat and are held there tight so the rig can be carried around, strapped to the rack of an ATV, or packed in a vehicle. The seat back folds down flat onto the top of the padded seat.
The whole rig is exceedingly lightweight for the durability it affords. Scaling at only six pounds, it is no issue to tote in the woods. As mentioned the four independent legs can be quickly retracted from the seat storage and installed into the leg inserts under the seat or just as quickly taken apart if the deer or turkeys happen to move elsewhere as well.
The round, padded, waffle cushioned seat can be swiveled 360 degrees. There is no noise emitted from this swivel action either. With your feet firmly planted on the ground the seat can be turned easily in the direction of game. Adding a Primos Trigger Stick to the mix would provide a stable shooting arrangement for any type of game hunting from a fixed position.
Another feature that some may miss is the fact that the bottoms of each leg are affixed with a round foot pedestal with a flat surface. This helps prevent the seat legs from sinking into the
ground.
Uses abound for the Quake Stag seat. I have seen them used for dove hunting in the fall and shooting can actually be done from the seated position. There is no need to jump up for every shot. This seat is great for a deer hunting shooting house or ground blind as well. With a good cover blind or screen, it would be ideal for bow hunting as well.
The Stag seat works just as well fishing off the dock or landing or alongside a stream. And when you get the campfire blazing, you can relax with back support enjoying the fire and fellowship in camp.
If you need a lightweight, but sturdy camp seat or a hunting seat for use out in the woods or afield, then check out the Quake Industries Stag All-Terrain Seat. See their whole line of outdoor products at www.quakeinc.com or the parent company at www.BPIoutdoors.com.