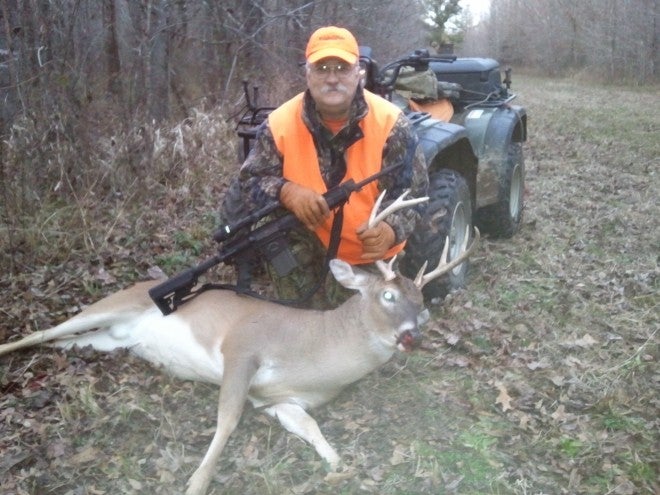 I am an unabashed fan of the AR rifle platform. I wasn't always though. I grew up on lever actions and bolt guns as a hunter. I killed my first white-tailed deer with a Winchester Model 94 in 30-30 I bought from J. C. Penney in Columbia, Mo for a whopping $66 new in the box back in college in 1971. I wish I still had that rifle.
Sighting in a hunting rifle was a trip back then. Basically it was go out back, set out a cardboard box at some unknown distance and see if you can hit it. That was good enough for all the other hunters in my group.
Many, many deer hunts have come and gone since those early days, and I have managed to graduate up to a number of much more sophisticated deer rifles, including several different Remington 700s in various calibers, a couple Browning's, a selection of Ruger M77s, including a recently found rifle chambered for the nearly gone .358 Winchester. It is a real thumper. I have even taken up deer hunting with handguns, which is another whole adventure I should write about some day and likely will here in this venue. I have to admit that handgun hunting certainly adds a new dimension to the challenges of deer hunting. If you have not tried it, then you definitely should.
But in the past five years, I have been bitten by the MSR (Modern Sporting Rifle) bug. The "MSR" moniker was devised to be "PC" on the part of the firearms industry to camouflage the fact that hunters are actually using AR rifles to hunt. I'm okay with that because much of the stupid press in this country upon seeing an AR in a hunting photo or video assumes the firearm is a machine gun and comments negatively about it. We know better.
My first successful deer hunt with an AR came in Oklahoma on a whitetail hunt at the Chain Ranch sponsored by Smith and Wesson. We used their model MP-15s decked out for hunting in .223 Remington. Though some may think the .223 is not enough for deer, we were using special ammunition manufactured by DRT. I proved it was plenty to take down the largest racked buck I had ever harvested with one shot. Others were equally successful on that hunt, taking some big bucks and several huge wild hogs.
So, to say that I was hooked on the MSRs would be an understatement. Since then I have been hunting with a wide variety of ARs. These rifles have been in various configurations, from standard fare to highly accessorized versions with copious add-on features, including tactical electronic optics or high powered scopes, various sling options, and other user friendly components.
After all this AR utility, I got the urge to upgrade my power in the field. I think I saw my first Rock River Arms rifles at the annual SHOT Show in Las Vegas. Since then and after considerable research, I acquired a RRA rifle configuration known as their RRA-LAR-8 Elite Operator. This is an upscale model with many added features that seemed desirable. I was right.
Hunting with the RRA-LAR-8 Elite Operator
From the Spec Sheet, the RRA Elite Operator is chambered for the .308 Winchester, offering both substantially more terminal power than the 5.56/.223 but also heightened terminal ballistics on white-tailed deer or larger game. The .308 is the "bomb" for long range accuracy, but even in a short action AR platform, this cartridge is a reliable, proven round for hunting.
The RRA-LAR comes complete with the RRA Advanced Half Quad Free Float Handguard with three ladder rail covers. The lower receiver is forged and the upper is forged A4 with forward assist and port door. It has a 16-inch chrome moly HBAR barrel with a 1:10 twist and is cryogenically treated. The gas block is combined with a RRA flip front sight. The rear rail can accommodate any variety of optical or electronic sights or even an open flip-up rear sight.
The trigger is a two-stage with a Hogue® rubber pistol grip. The buttstock is the RRA Operator CAR stock. Its angled side panels are very comfortable against the cheek. The rifle weighs in at 9.1 pounds and the overall length is 38 inches. It is fairly compact with the collapsible buttstock, but it is not a lightweight firearm. Keep in mind it is a .308 platform. Add a scope and a full magazine and well, you get the point. It is heavy.
The rifle ships in a RRA plastic case, broken down into its upper and lower units, one magazine and the owner's manual. Go online immediately and order some additional magazines including a 5 or 10-round hunting mag. I think the new "plastic" magazines are available now.
In practical use terms, I have both hog and deer hunted with the RRA-LAR. The weight of the rifle tames any harsh recoil off the bench, but be sure to wear good ear muffs. I use a Vero Vellini® wide top neoprene sling on this rifle and it carries well with it. I had to move the flat rail cover forward to protect the sling material from the sharp edges of the side rail from cutting into the sling and fraying it. The neoprene of this sling softens the carry of such a heavy gun in a first class manner. I highly recommend the Vero Vellini® slings on all hunting rifles.
This is a very accurate rifle using common .308 hunting ammo. I have tried Remington, Winchester, and Hornady ammo, and it performs well with all three. It is still open to debate whether to run this action wet or dry. All I can say is if you run it dry, in my case, the action hangs up consistently. A couple squirts of a good tactical lube, cycle the bolt a couple times to coat, and it is off to the races.
You'll get a laugh from this, but do not drop a loaded mag on the ground. On one of my hunts, the mag slipped from my hand and landed in the white sand of the gulf coast area. That stuff sticks like glue. Despite blowing and wiping down each round separately before reloading, the sand still got into the action. Yes, it was a mess. It cleans up well with a proper kit.
Carrying the RRA Elite Operator on a first deer hunt, it performed exactly as my expectations anticipated. I was hunting from an enclosed shooting house ten feet off the ground, which is a favored mode of deer hunting here in the south.
At near dusk a doe walked into the food plot I was overlooking and fed for half an hour. Later a small buck jumped out of the woods line and the doe bolted away with the young stud in tow. Almost immediately a nice 8-point stepped out of the same gap in the woods, walked away a few yards and began making a scrape and licking an overhead branch. That was his last.
Both the RRA rifle and the Winchester Silvertip ammo did their jobs. The mark was made much easier via the use of a Trijicon ® AccuPoint 1-4×24 scope with yellow illumination. I call this a tactical type hunting scope, but it is perfect for mounting on an AR platform. Once that reticle point gets on the target zone of a deer, you are definitely dialed in and ready for venison steak.
Is there anything about the RRA-LAR-Elite Operator I don't like? Not really. It is heavy but I accept that. Again the Vero Vellini® sling comps its weight. It is an extremely sturdy rifle, and it's geared for hunting or other more serious work as well.