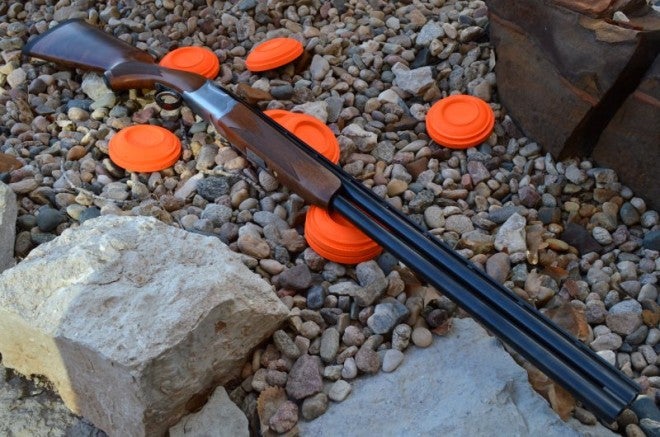 A few years ago, Ruger gave me a scare. Just about the time I had scraped together enough cash to pick up a Ruger Red Label shotgun, they suddenly discontinued the line. There was little information from Ruger as to the reasons for the discontinuation other than a nonspecific answer of "due to re-tooling and production capacity." Luckily, the affordable Ruger Red Label is back again, this time loaded with additional features and accessories for the avid hunter and sporting clay shooter.
After my wife and I both enjoyed a sporting clays event, we decided it would be a fun family activity to do together. I picked up the Red Label because I wanted an affordable option to get into Sporting Clays. Ruger's recently reintroduced Red Label shotgun features a reasonable street price of around $1,200, and it fit the bill perfectly for what we were looking for in a shotgun that was sure to get knocked around during air travel and would also be a great upland game gun.
Fit, Finish, Feel, and Features
The original Ruger Red label was definitely a value in the market, but Ruger has updated and packed even more into this very well appointed, over-under shotgun. The fit and finish are definitely a higher grade than what you will find on most of the Ruger line. Not that Ruger does not do a nice job with finish work, but usually finishes are more "field and defense" grade. On the Red Label, the checkering is sharper, the finish has a higher degree of perfection, and the metal-to-metal fit is also very tight and well finished. It is a higher grade of Ruger than we are used to.
The Red Label is available in a couple barrel configurations including 26", 28", and 30", but I choose the 28″ barrel as a compromise between something maneuverable for sporting clays and real field work, but long enough to be competitive with the longer barrel skeet/trap guns. The new Ruger Red Label is similar to the old model, but there were extensive changes. There were so many changes, in fact, that it's a completely different gun. I was lucky that my FFL dealer has just done a transfer for another customer on the old 12 gauge version, so I snapped a few side-by-side comparison pics with my phone to show the difference. The quality of these pics may be a little off from my usual images, but it definitely conveys the differences.
The old Ruger Red Label used screw in chokes as does the new version, but the new version has a higher barrel bore line, a straight versus angled receiver to stock union, a higher grade finish, softer recoil buttpad, a stainless steel "action lever," a slightly different trigger guard, and a higher profile vent rib on the barrel.
Beyond those differences, the trigger was also significantly upgraded on the new Red Label to a much cleaner feeling trigger break. At least comparing these two shotguns, the new Red Label used a higher grade American Walnut used on the stock than what I saw on the older version.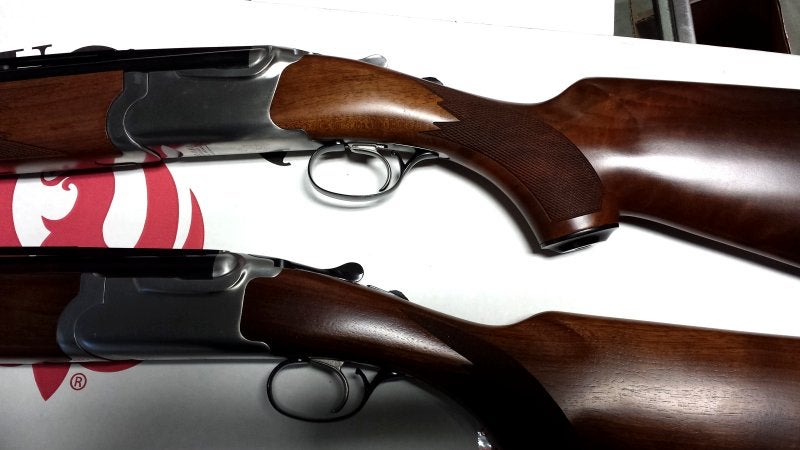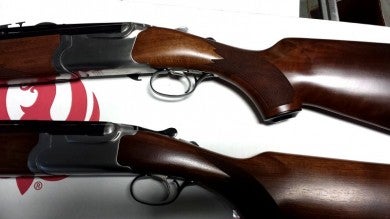 The new Ruger Red Label receiver is finely polished stainless steel, which contrasts nicely with the blued cold hammer forged alloy steel barrel. The shotgun features a standard 3″ 12 Gauge chamber with combo tange safety/barrel selector. The Red Label auto cycles with each trigger pull to the next barrel, but the shooter has the option to decide which barrel they would like to be first in the firing order. This allows shot setup for sporting clays stages where the initial target may be a short or long shot.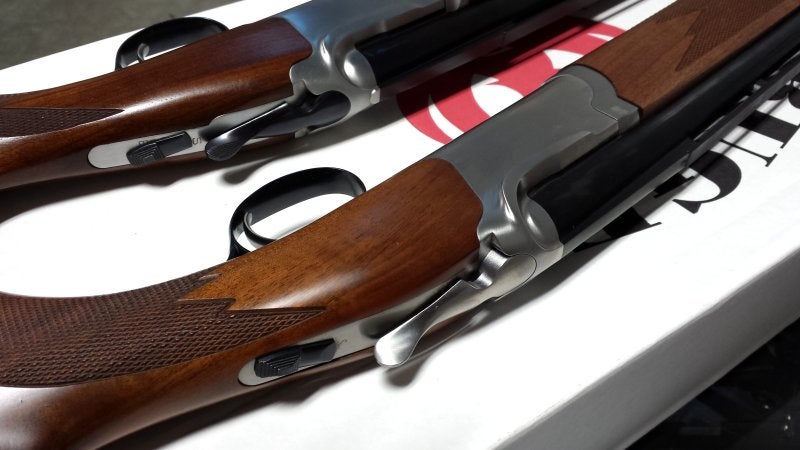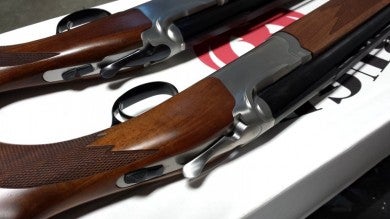 It used to be long ago that double triggers were the standard for sporting double barrels, but single mechanical triggers have become so good and fast that you really see very few competitive shooters using double triggers on any over/unders outside of the expensive $10,000+ Italian spaghetti skeet guns. Like all Ruger products, the new Red Label is a value in the market delivering all the features noted above all at an MSRP of around $1,400 and a street price of around $1,200.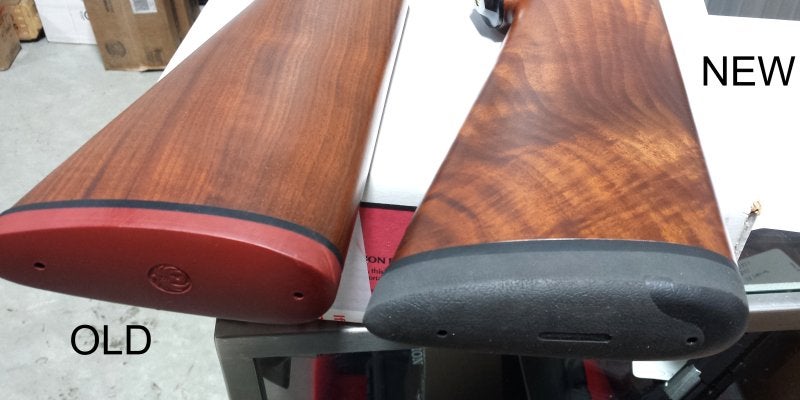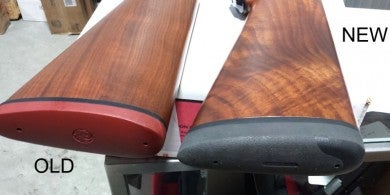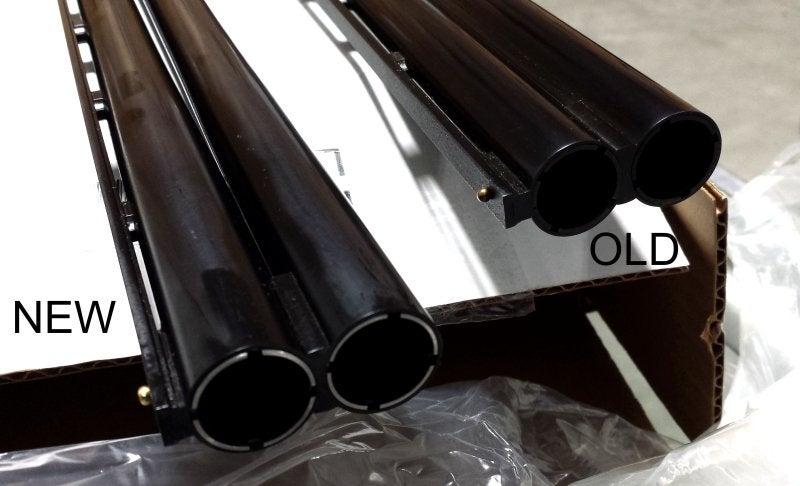 Ruger also equipped the Red Label shotgun as a kit that delivers everything a shooter needs in a very nice custom molded semi-rigid soft sided case. The zippered case is basically a stiff soft sided case with custom internal foams to accommodate the shotgun in disassembled state, the five steel-shot compatible screw-in Briley chokes, and Briley Premium choke tube wrench. The chokes included are two skeet chokes and one full, one modified, and one improved cylinder choke. Beyond providing a full array of standard screw-in chokes to get the shooter started, Ruger also backbored the barrels for reduced recoil and more uniform patterns. They even went the extra step to stress relieve, hand fit, and silver braze the vent rib to the barrel.