KnifeTests.com Glock 81 Field Knife Destruction Test
Ashley 08.19.14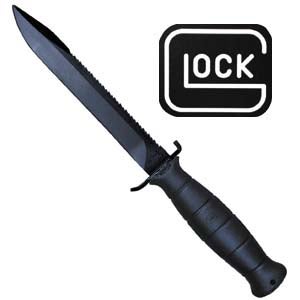 This week's KnifeTests.com destruction test features the Glock 81 Field Knife, which retails for about $30 online. The knife is a little over 11 in. total, with 6.5 in. taken up by the blade. On Amazon, one user remarked, "Like all things Glock, it is well made."
For a $30 knife, the Glock 81 does pretty well during the test. First Noss slices through webbing and hacks some notches into wood. He also slices into wood with the knife, which it does impressively even with a smooth edge.
Noss continues to bore holes in metal, chop through wood, slice wood, chip away at concrete and more throughout this 80 minute long test. Yep, you read that right. There's about 80 minutes of knife-whacking goodness to watch below. The knife eventually succumbs to pressure–literally–when Noss conducts a weight test, and the blade snaps from the handle.
Check out the full destruction test playlist below, and catch up past videos at KnifeTests.com.
SHOP NOW