Braven BRV-X Weatherproof Wireless Bluetooth Speaker Review
Russ Chastain 08.29.14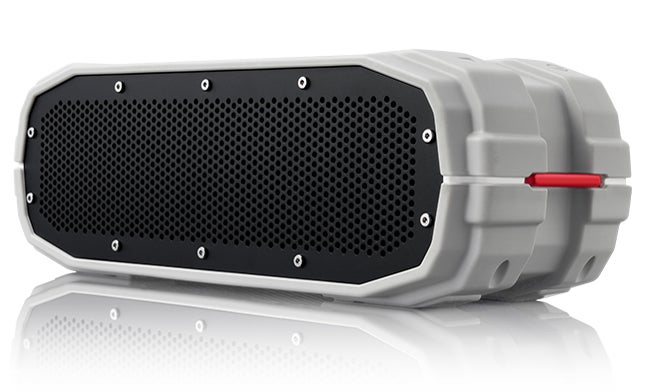 I have always loved music, and in recent years I've become increasingly addicted to the convenience of carrying a bunch of music around in my smart phone and playing it on whatever speaker system is handy, whether it's my truck stereo, a portable speaker, or whatever. And the wireless capability of Bluetooth beats having to tether my phone to anything.
I've tried a number of Bluetooth speakers in the past and have usually found them wanting, whether it's in sound quality, volume, durability, range, or battery life. But this time I've finally found a winner.
The Braven Model BRV-X is powerful, versatile, tough, and cool. A speaker like this can eliminate the need for different sound systems in your boat, UTV, camper, workshop, reloading room, etc. Just fire up this little jewel and play the music you've got on your phone or other MP3 player. Especially in Outdoor mode, it's plenty loud.
As I unpacked this speaker, I felt like I was unpacking a quality item. They took care to create a good package for the BRV-X, and the speaker also feels well-thought-out, unlike so many products these days that seem only half-developed when they hit the streets.
Description:
HD Weatherproof Wireless Bluetooth Speaker.
Mine says its weatherproof rating is IPX5; Braven website says IPX7.
Includes a wrist strap ("hanging lanyard?") and a tie-down strap.
Rubber overmolded on high-impact plastic housing helps make it shockproof.
Has indoor and outdoor sound modes.
Can be paired with another BRV-X to provide true stereo.
Accepts audio signal via Bluetooth or 1/8″ stereo aux plug.
AC adapter (transformer) included; charges via a round plug (12 volts, 3 amps).
Includes 4 different types of "prongs" for the AC adapter (for international use).
I don't think you can charge it with USB.
Has a USB out plug so you can charge other devices with the BRV-X.
Omnidirectional passive bass radiator.
On-speaker controls can skip forward or backward, turn volume up or down, play or pause the music, toggle power on and off.
Can be used as a Bluetooth speaker phone with built-in noise-canceling microphone.
Bluetooth range listed as 33 feet.
Supports assisted pairing through NFC.
Has non-skid pads on the bottom.
Weighs 1.8 pounds.
9″ long, 3″ top to bottom, 3-3/8″ front to back.
Made in China.
MSRP: $229.99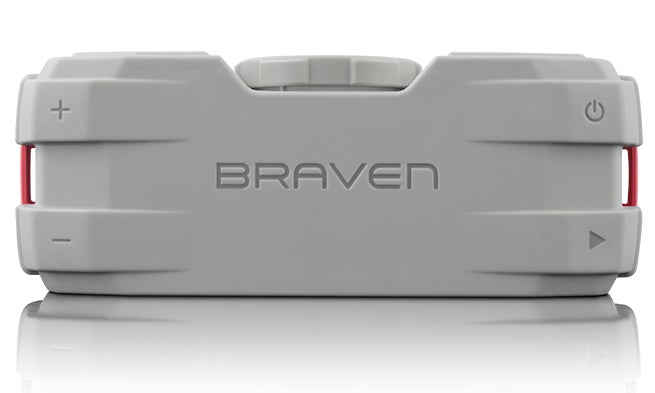 You can operate the BRV-X, including turning the power on or off, without having to remove the cover. This keeps it waterproof so you can crank it up or shut it down in the rain without worry. I like that, because I listen to music in all kinds of conditions and weather.
I've used this speaker for hours at a time in my workshop, in the yard, in my Polaris Ranger, in the shower, etc. It goes where I go, and usually serves well.
My only complaint is that the Bluetooth signal often breaks when I'm well within range of the speaker, but that is a Bluetooth problem; it's plagued every BT speaker I've used. The BRV-X does Bluetooth as well as any I've tried, and better than some.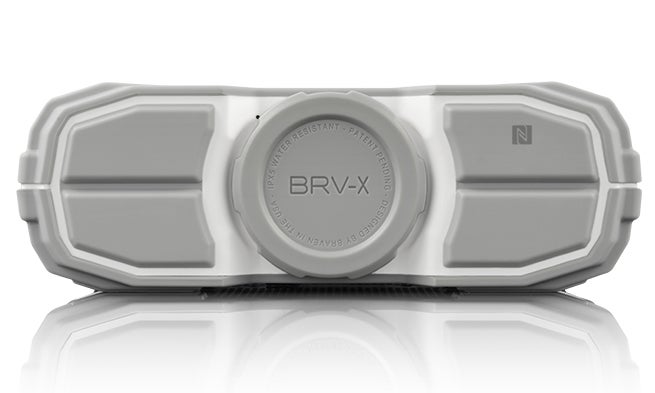 SHOP NOW
On the rear of the BRV-X, there's a round cover. With the cover in place, it's waterproof. If you remove the cover (you do so by twisting it counterclockwise), it's no longer waterproof.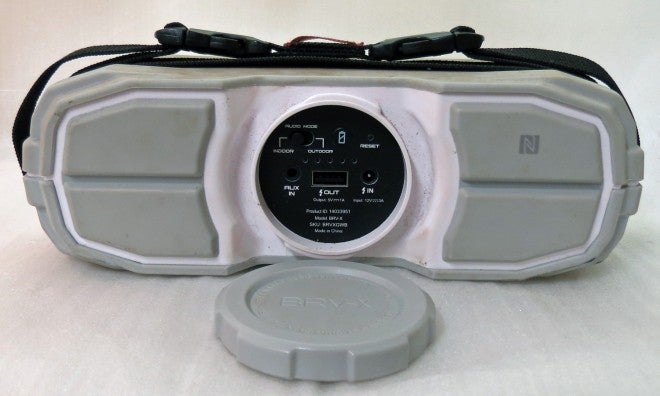 With the cover removed, you can use the toggle switch at the top left to switch between Indoor and Outdoor listening modes. Outdoor is louder and does a better job of projecting sound outside. Indoor mode sounds better inside and isn't as loud. In my experience, Outdoor mode takes more juice than Indoor so it will kill the battery faster.
Speaking of the battery, if you push the little battery button next to the Indoor-Outdoor switch when the speaker is on, it will indicate the battery charge state via the five lights that are partially under the word "outdoor" in the accompanying photo. But I found I can't always trust them; after a day's use, the lights said I had 4 out of 5 left, so I didn't charge it that night. After about 3 hours if listening the next day, it was down to 1 light and beeping a low-batt warning.
So don't trust the battery lights. I've never had it give up during a day's use after charging it that night, though.
The Aux in plug is 1/8″ stereo, and a three-foot-long cord is included so you can connect non-Bluetooth devices to the BRV-X. USB out allows you to charge your phone or other device via a USB cord (not included). And the power in plug is for charging the BRV-X using the included AC adapter.
I kinda wish the removable cover had some kind of loss-preventing tether on it to tie it to the speaker body.