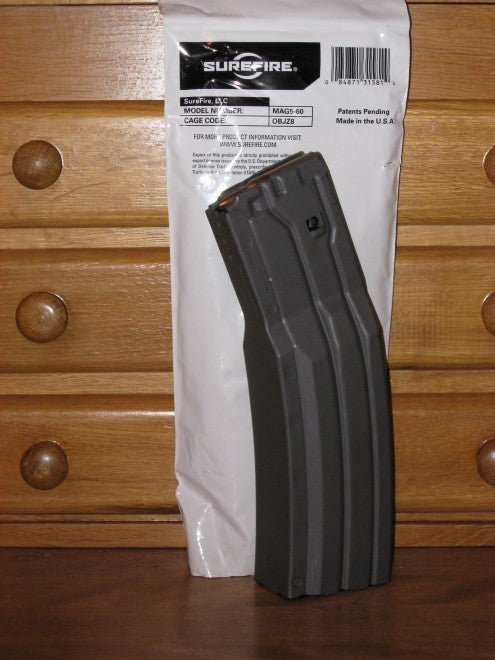 Whatever SHTF scenario plan you have devised, whether it is a classic, well prepped Bug Out escape or an Alamo standoff on the home front, more than likely there is a firearms component written into the flowchart. Having reviewed many forums for some time without being compelled to engage any longer, I do know that firearms and their use are a huge concern for a lot of preppers. The fears and paranoia are justified.
Many preppers have settled on a weapons offensive and defensive system that they hope will prove effective if ever pressed to deploy it. I suspect the majority have selected at least one component of a weapons approach to be fulfilled by one of the many options of an AR rifle. Given everything we know or can learn, the AR proves to be a pretty darn good choice for a SHTF rifle, all else being equal. There are other viable choices, too, but there are more AR options, accessories, and ammo choices.
When it comes to feeding the AR via lower unit magazine insertions, the traditional modes are mostly of the 20 or 30 round standard steel, aluminum, or polymer magazine types. Without a doubt these work, some better than others, so be careful what you buy and test out thoroughly anything you plan to rely on to defend yourself and your family. Buy as many as you can afford to stock and keep them loaded.
For a company with lots of bright ideas and a well known reputation for their line of high quality flashlights, it is even more refreshing to see such an outfit bring out something like their new AR high capacity magazines for the common 5.56/.223 round. The use of these 60 or 100 round magazines are growing in use in military and law enforcement applications, so why not for survival applications as well. They can solve a lot of problems for preppers.
Known simply as their 60-/100-round High-Capacity Magazines Models MAG5-60 and MAG5-100, these Surefire magazines certainly have a different look and feel coming out of the plastic slip package from the factory.
I have had one of the 60-round mags for field tests, and it has a quality feel as one handles it. Upon examination, the hard-anodized aluminum body is a solid, well built piece of equipment. The seams are smooth and well finished out. Surefire uses 6000 series aluminum in their magazines.
The spot welds on the front and rear body parts are clean and smooth. The floor plate is well finished as well. These Surefire magazines are totally compatible with all M4/M16/AR15 rifles and variants.
These magazines have earned a reliable and durable reputation in fighting fields all around the world. They feed smoothly and reliably due to its optimal geometry, non-binding coil springs, and its nesting polymer follower. Lubrication is not required in the use of these magazines. Being reliable and low maintenance are two good reasons for having Surefire mags in the Bug Out gun bag.
Surefire magazines can be ordered on line at their web site at www.surefire.com. The 60-round mag retails for $129.00 while the 100-round version goes for $179.00. Shop the net to look for better pricing from some sources.
This may be a personal preference issue for any AR user. The typical AR configuration with either a traditional fixed buttstock or a 6-position collapsible stock handles about the same with a standard 20 or 30 round magazine installed for carrying, shooting, security, or hunting purposes. The weight and ease of firearm manipulations are roughly the same. Most AR users are familiar with this, especially out in the field
Now add on a single magazine that can hold 60 rounds at a time. Believe it or not the weight pulling down on the rifle actually enhances rifle control. Sure the 5.56/.223 doesn't muzzle jump, but some models of the AR can be fairly light. Having this little extra bit of heft can make the rifle more stable for more accurate shooting. So equipped they work great off of shooting sticks as well.
I often see AR hunters with 2 regular mags clamped together with various kinds of magazine coupler devices. In my opinion this is awkward and far less suitable than a single high capacity mag like the Surefire. The major point of course is that the one mag holds up to 60 rounds at a time without having to change out a magazine. That's a plus in my book.
So, if you feel inclined to load your AR prep rifle at daylight in the hopes that the one mag will get the job done for an extended period of time, then this Surefire High-Capacity Magazine is the way to go. If not, then you could always get two of them or the 100-round model. Either way the Surefire magazine will keep you reliably in service for quite a while. Think this over as you plan further for equipment buys for your prep, home, ranch, business, or personal protection.