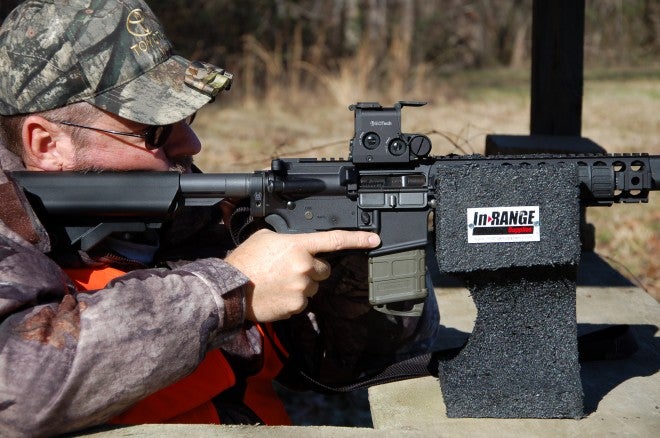 The new In-Range Sight Bloc is perfect for shooters and hunters. The In-Range Sight Bloc is manufactured from a specially patented rubber composite with built in U-V protection. It will not break down even under extreme atmospheric conditions. Water does not soak into this material as it is dense by design and simply will not absorb moisture. Freezing temperatures do not affect it.
Out of the box the first thing you note is the smell of fresh rubber like new tires, but this rubber has been recycled. The feel is grainy with a gruff sort of texture. It is easy to grasp, but its density and thus weight is more than what one might expect. This adds considerably to its stability on a range shooting bench or a portable table. It does not tip over with normal use.
The unique part about this In-Range shooting block product is that it can be rotated to different positions to accommodate three different shooting heights, including 4 inches, 7 inches, and 9 inches. The 9-inch height can be used with an AR-15 type rifle with a 30-round magazine installed, and the magazine will not touch the bench.
In practice we used this In-Range Bloc to try out a variety of long gun rifle set ups including AR-15s, Ruger 10-22s, bolt action hunting rifles, and handguns. It truly is a universal shooting bench tool. For casual shooting and informal target shooting, the bloc is completely stable. All you need is a decent shooting bench and a good folding chair or bench seat.
For a quick and easy trip to the range before hunting season, the In-Range Bloc is perfect for shooting off the bench to make sure your hunting rifles are on target. It would be ideal, too, for patterning a shotgun for turkey hunting or waterfowl hunting. The key is that the shooter can easily hold their firearm steady in one of the sighting bloc 'U" shaped grooves. Again, heights can be altered by rotating the bloc to different positions.
This would be a great product to stick in the back of the truck for ranchers, or farmers, or predator hunters. Set the Sight Bloc on the hood or bed rail and shoot away with stable precision. It could also be used to carry around on the ATV or UTV as you do work around your hunting property for when targets of opportunity present themselves.
Hop out of the seat, prop up the bloc, and start popping that coyote out in the field or turkey nest egg stealing bobcat. The same principle could work as well for many forms of big game hunting where legal. Most states simply require that forward progress be stopped when shooting off any type of vehicle.
The In Range Sight Bloc is a neat little piece of equipment. It is well made and should easily last a lifetime even if you leave it out in the weather. Be sure to check this one out. For more details, exact specifications, additional information, and ordering procedures, dial in their web site.