Keltec CMR30 Carbine Nears Public Release
Oleg Volk 10.20.14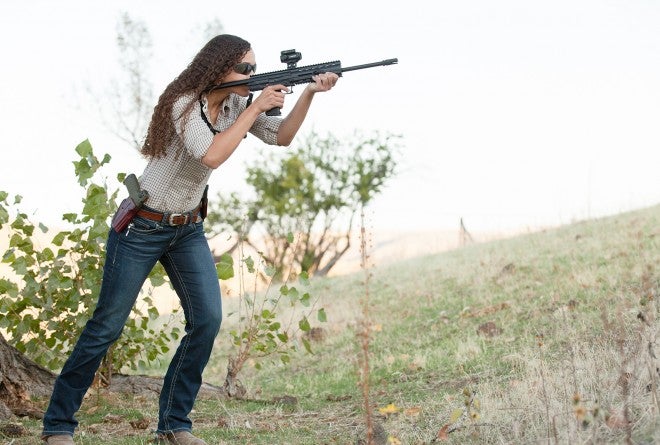 While PMR30 rides in a Jim Ryan custom holster, CMR30 topped with a Lucid M7 red dot is in action. Between the pistol, the carbine, and one magazine pouch, the shooter has 90 rounds available.
The long-awaited companion carbine to Keltec's 22WMR pistol is finally nearing public release. Sensitive to the charges of releasing only trivial numbers of new products, Keltec is preparing to ship several thousand CMR30s late this year. The carbine was originally introduced as RMR30, but the name was changed because of Trijicon's opposition (they manufacture a small red dot sight called RMR).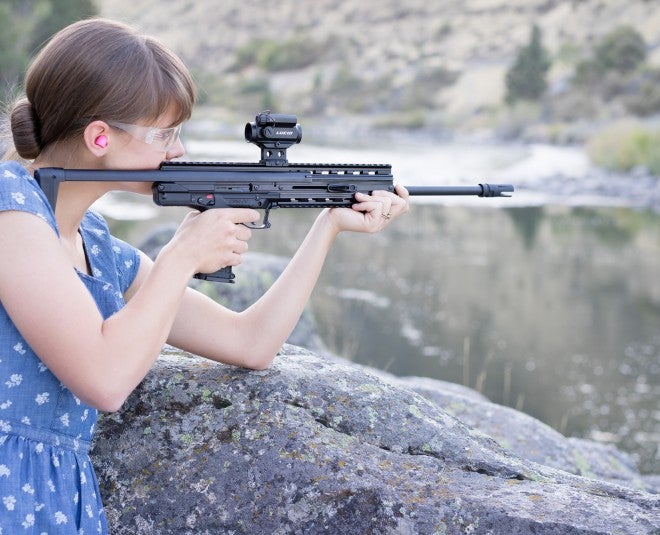 This carbine is extremely lightweight, just under 3 pounds. The four-position stock can be collapsed flush against the back of the receiver. Unlike the hybrid blowback/delayed blowback mechanism of the PMR30, it's pure blowback, but with slow enough operation to make for smooth and reliable extraction of the long 22 Magnum cases. It uses the same magazines as the PMR30, making it easy to carry ammunition for both. The main advantages of the carbine are the much increased muzzle velocity (2000fps vs. 1250fps with standard 40-grain loads) and great accuracy. All samples of CMR30 I've tried were about 1MOA with CCI Mini Mags. Muzzle energy matches FN PS90's 5.7×28 round, and 22WMR is more available at half the price per round.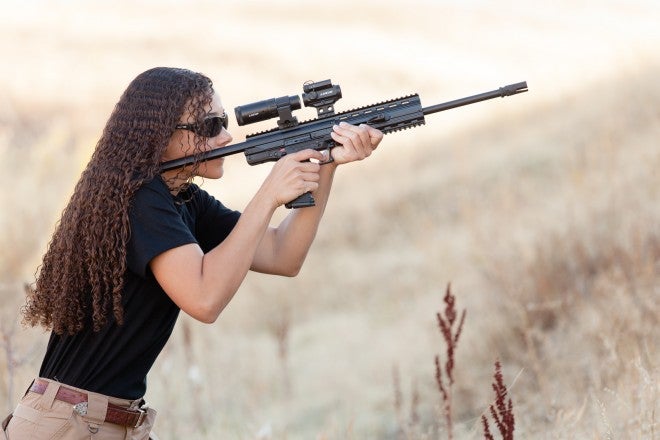 The impressive accuracy of this lightweight carbine is the reason for "overscoping" it with the 4-16x Lucid L5 optic. Below is a group I shot two years ago with a prototype RMR30, firing all 15 rounds in about as many seconds.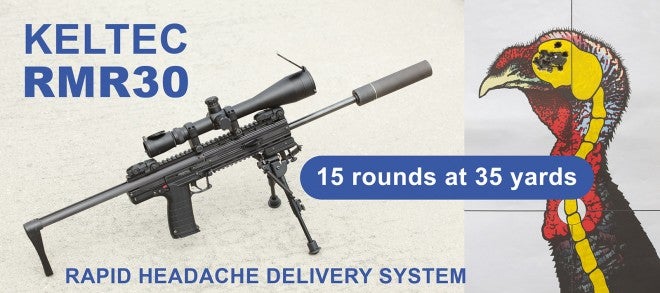 We got similar results with the L5 scope, and its mildot reticle enables drop and drift estimations past point blank range. 22WMR stays supersonic out to 175 yards, making it a good choice for rural varminters. 30-round magazine can last for a while, making additional magazines optional.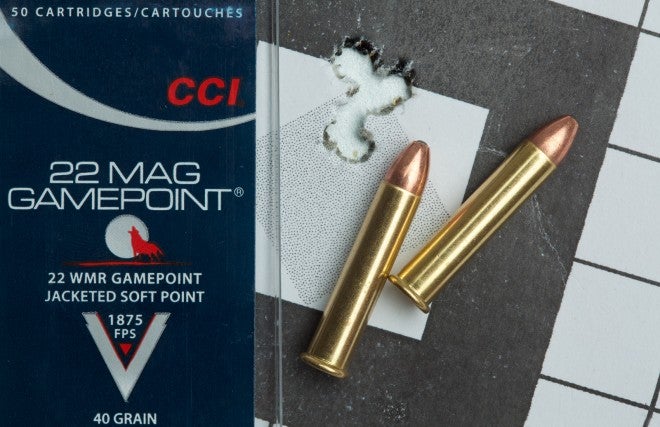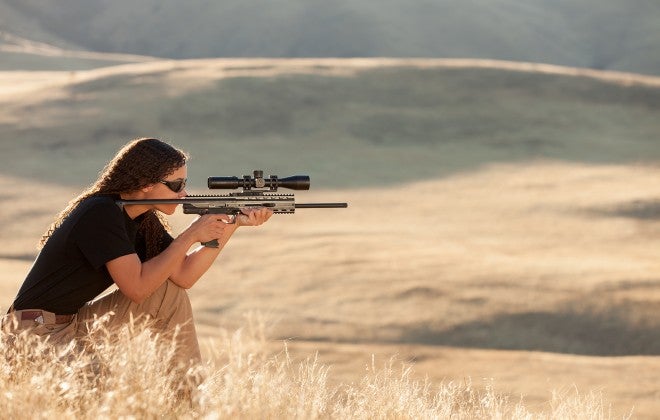 Safety levers, stock adjustment levers, and non-reciprocating charging handles are ambidextrous, but the manual bolt stop/release lever is on the left only. Felt recoil and muzzle rise are negligible, so impacts can be easily observed through the scope. The carbine is well balanced and can be fired one-handed with ease.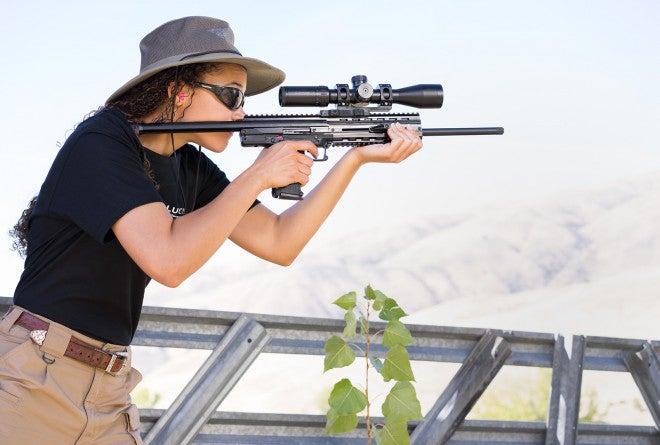 Maintenance is quite simple: pull one pin in the back of the receiver and the pistol grip comes off. The bolt, guide rod, and spring come out for cleaning; no further dis-assembly is needed. So far, I have found two minor limitations in this design. One, the stock is not very robust, an understandable problem for the super light, non-military design. Fortunately, if it's ever bent or broken, the gun remains functional, and the replacement takes a few seconds. Second, the sling loop is fairly small and requires using para cord for attachment. The carbine has plenty of rail space forward and back, so Magpul rail mounted sling eyelets work well to fix that.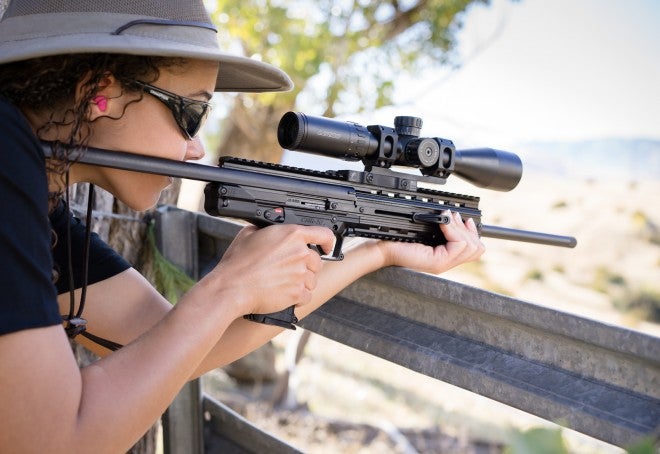 In my experience with the prototypes, they run best with some semi-viscous lubricant, such as Liberty CLP. I actually never cleaned CMR30 as my prototype ran reliably for the few hundred rounds I put through it. Jacketed ammunition makes 22WMR run a lot cleaner than 22LR, and the quality of priming appears to be higher as well. Based on my RMR30 experience, CMR30 got re-designed charging handles, wider and with a bit of a hook on the front to keep fingers from slipping off. Thanks to the light weight, excellent balance, and accuracy, CMR30 has been enthusiastically received by everyone who tested it. I think it makes a terrific hunting "long kit gun" and can be pressed into service for defensive use if need be.