SAF and Others File Illinois Concealed Carry Lawsuit
Russ Chastain 10.24.14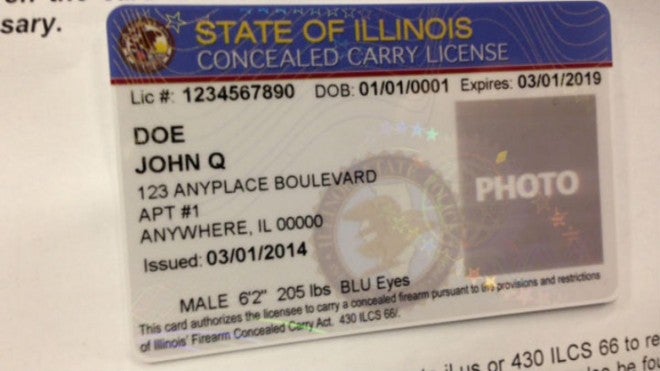 Illinois – The Second Amendment Foundation (SAF) joined forces with ten individuals and two Illinois gun rights groups to challenge Illinois' restrictive concealed-carry policy.
Here's an excerpt from SAF's statement:
"The Second Amendment Foundation today filed a lawsuit in federal district court in Illinois, challenging that state's concealed carry statute that restricts otherwise qualified non-residents the rights and privileges of carrying concealed firearms based solely on their state of residence.
"Joining SAF in this legal action are the Illinois State Rifle Association, Illinois Carry, Inc., and ten individual plaintiffs, all residing in other states and who are licensed to carry in those states. Under the restrictive Illinois statute, only residents from states with 'substantially similar' requirements to obtain a carry license are allowed to apply for non-resident licenses."
Illinois currently recognizes just four of 49 states as falling under the "substantially similar" description: Hawaii, New Mexico, South Carolina, and Virginia. None of the ten individual plaintiffs reside in those states.
SAF founder Alan Gottlieb noted that individuals such as the plaintiffs in this case have submitted to background checks and other requirements to obtain concealed carry licenses or permits in their home states, but they must surrender their rights to self defense simply by crossing the state line into Illinois.
David Sigale, the plaintiffs' attorney, said, "This lawsuit is brought because it is unfair that otherwise qualified people from states outside Illinois, who work and travel in Illinois are barred from obtaining means to defend themselves in public solely based on their state of residence. We expect to correct that."
Gottlieb alleged discrimination:
"We're asking the federal court for a declaratory judgment on equal protection and due process constitutional grounds. It makes no sense at all for Illinois to enforce such a narrowly-defined law that seems to recognize the rights of some non-residents, while dismissing the rights of most other non-residents. We can't allow that kind of discriminatory situation to stand."