Michigan School District Plans "Lockdown" on Open Carry Parents
Rob Reed 11.07.14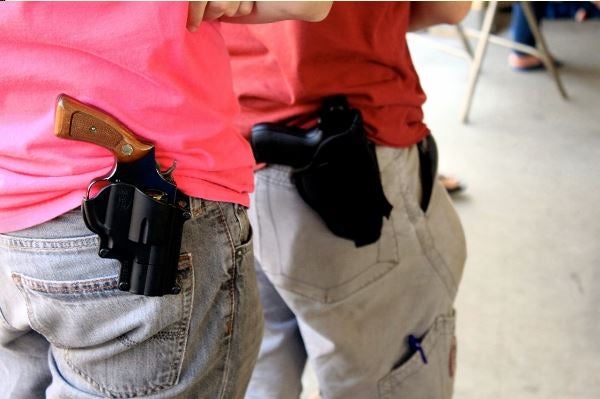 A Michigan School district plans to call police and put schools into "lockdown" mode whenever anyone legally open carries a handgun into school property.
According to a story posted on the Hometownlife.com site, the announcement was made at a Huron Valley School Board meeting on Monday, November 3rd. The statement was part of the board's reaction to state laws that allow for the legal open carry of handguns by Michigan Concealed Pistol License (CPL) holders.
Although concealed carry is banned in schools under Michigan law, a quirk in the law does allow open carry if the person has a valid Michigan CPL. Those who do not have a CPL are still prohibited from both open and concealed carry.
Huron Valley School Board President Rebecca Walsh was quoted in the story as saying the district will activate its emergency plan whenever someone brings a weapon onto campus. This includes putting the building into "lockdown status" and immediately calling 9-1-1 "…So law enforcement can make a determination of the status of the person with the weapon." She added that, "This is essential because the district has no way to know who is violating the law and who has a valid permit and fits into the exception."
Rob Harris, a member of the Michigan Open Carry, Inc., board of directors, was quoted as saying, "The policy to do a lockdown every time a parent open carries in school seems awfully disruptive to me. You're going to call the police every single day, on a parent you know is lawful?"
The school board plans to continue to discuss the issue and evaluate its emergency plan to see if any changes are needed.