The Foursevens Mini MA is a Great EDC Flashlight
Rob Reed 11.21.14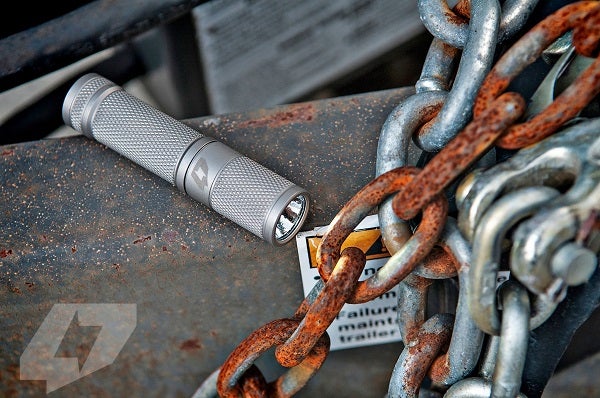 I've loved flashlights since I was a kid. My collection has grown since then to the point where my wife jokes that I have a "Flashlight museum and visitor center."
Of all the lights I own, from mid-range to high-end, the one I carry every day is my Foursevens Mini MA.
The Mini MA is a single AA light made of hard-anodized aluminum with an optical grade coated glass lens and CREE XP-G2 LED emitter. The light is 3" long and .7" in diameter. The three standard settings for the current Gen3 version are Low (produces 3.2 lumens for 60 hours), Medium (produces 30 lumens for 8 hours), and High (produces 108 lumens for 1.3 hours). The light also has special modes, including Strobe, SOS, and Beacon. To access the modes switch through two cycles of Low/Medium/High within three seconds. The special outputs then go Strobe (4 hours), SOS (12 hours), Beacon High (20 hours), and Beacon Lo (100 hours). The Mini MA comes with a lanyard, split ring for key chains, and an extra O-ring.
I've owned my Mini MA, which is the previous Gen2 version for over two years. The only difference is that my light is rated to produce slightly less light due to its older LED emitter.
In the time I've owned it, my Mini MA has lived on my key ring. The small size of the light was originally the reason I purchased it. I'd found with my previous ARC AA light that a 3" light is the longest I could comfortably use as a key ring and wanted to upgrade from the older (and much less bright) ARC product to a newer and brighter light.
I haven't been disappointed. In use I tend to skip over the lowest setting. I find the Medium setting works well when I need a light indoors while the High setting is often more useful outdoors. I use it for everything from navigating through my house to keep from waking up my wife by turning on a light to finding my car in a dark lot to camping. I've even changed a tire on the side of a pitch black road with the light in my teeth. (I took off the ring first).
In addition to its small size and good output another great thing about the Mini MA is that it uses a common AA battery. These can be found in any gas station, grocery store, or drug store, and can even be scavenged from some other electronic item in a pinch. The choice of the AA battery contributes to the slim package. While another battery, such as a CR 123, might have produced a light with a brighter output or a longer run time, it would also be noticeably larger and bulkier.
The Mini MA isn't a sexy "Tactical" light. It's not even the brightest or smallest keychain light. But its combination of size, performance, and convenience makes it the perfect light that you will always have with you when you need a light.
The Foursevens Mini MA is currently available at Amazon.com for $32.50.



SHOP NOW