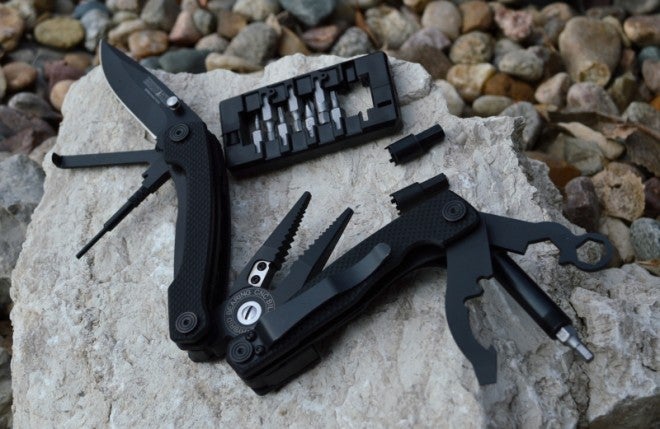 Often times I find myself at the range testing a newly built AR-15 or an AR that needs a little tweaking, tuning, or tightening, and I am without the right tools to bring the gun back into adjustment. Usually, this means begging for tools up and down the firing line, but when out in the field far from someone you can conveniently ask, "Hey can I borrow a…?"  that can be an issue and make for a challenging day.
I ran across the MultiTasker a couple months ago on TopSpecUS.com and it has been far handier than the tool would seem from a distance. TopSpecUS.com shipped quick and effeciently answered a few pre-purchase questions about the tool for me.
Fit, Finish, Feel, Features, and Functions
The Multitasker picks up where the other multi-tools leave off. Most of the other multi-tools focus on either resolving some functional issues afield or are simply just multi-tools with a wrench in the belt pouch.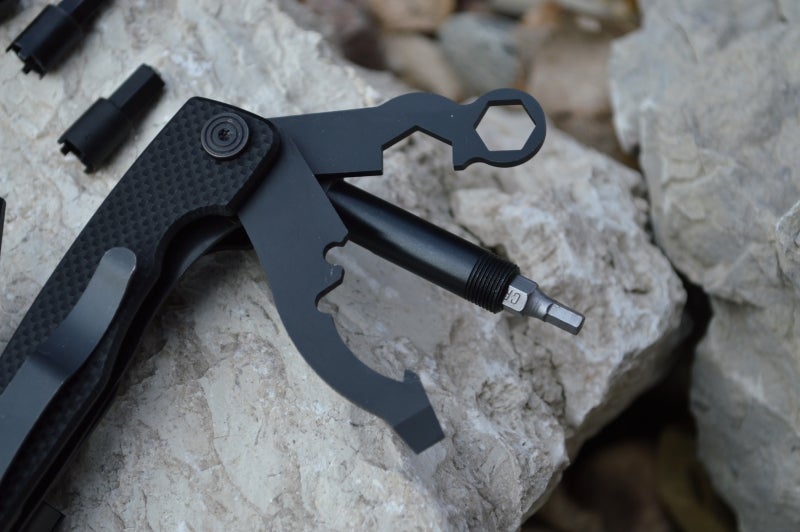 The MultiTasker offers all the tools required to assemble and AR with the exception of a barrel wrench tool. So even if you find yourself with a loose buffer tube castle nut, the MultiTasker has the tools to get everything tightened just as you would back in your shop. Recently I had the opportunity to use the MultiTasker for two separate ground up AR-15 builds.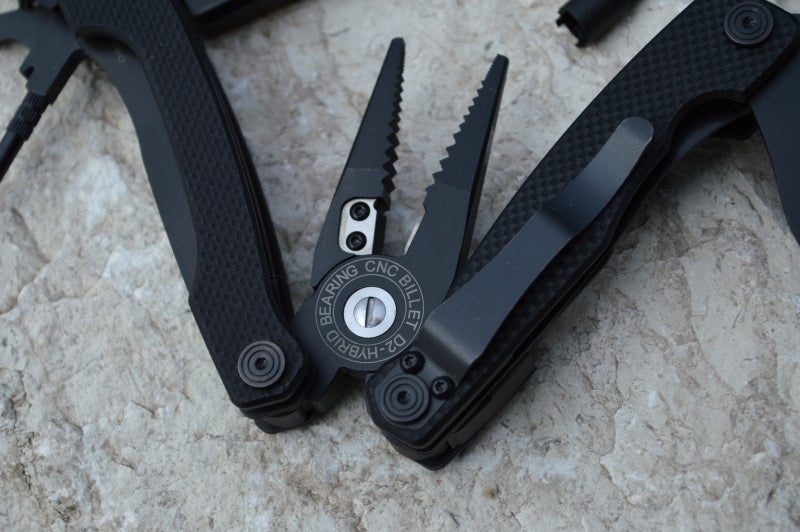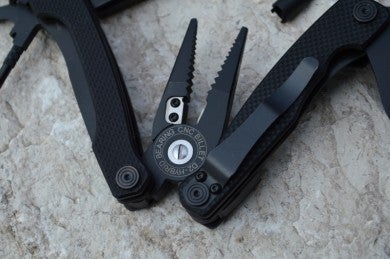 All the tools are extremely high quality and not "Chinese knock off." The Pliers are CNC machined pliers (D2 tool steel) – Not investment cast, the grips are non-slip G10 scales (available in Black or Tan), 3/8" hex wrench for LaRue mounts, 1/2" hex for scope rings, Dual lug M4 castle nut spanner wrench + screwdriver, 3/32″ pin punch with 8-32 male thread for OTIS cleaning kit compatibility, Radiused tip carbon scraper, 3″ D2 tool steel knife blade – Plain edge or partially serrated, Pocket clip (removable), and 1/4″ magnetic bit driver with M16A2 FSP adjuster. Each and every part is high quality.  Separate non-integrated ¼" hex shaft No.1 Phillips, 3/32 Slotted, 3/16 Hex, 9/64 Hex, 1/8 Hex, 7/64 Hex, 3/32 Hex, T10 Torx, T15 Torx bits are included in a bit carrier, but you can swap out any of your typically used bits in the carrier.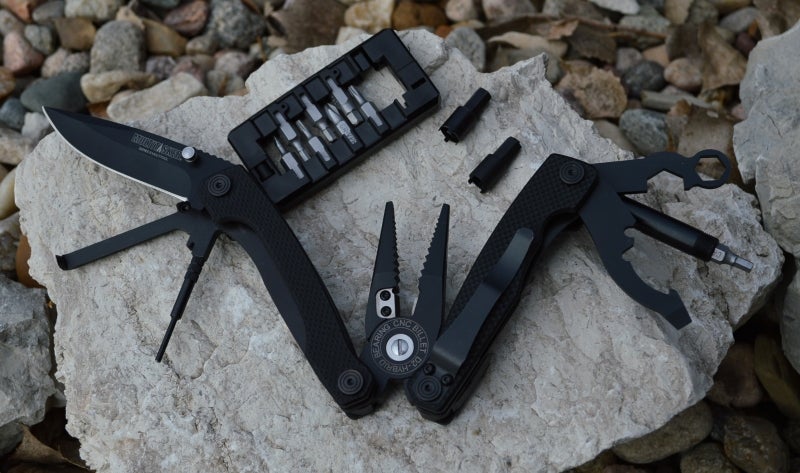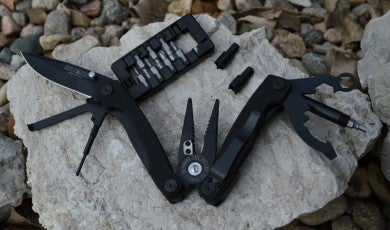 Generally the blade and blade geometry suck on tools like this, but the MultiTasker features a 3" D2 tool steel blade in either plain or partially serrated edges.
Final Thoughts
The MultiTasker is a great tool and delivers all the tools required to service your AR-15 or other similar rifle/pistol in the field, including aggressive carbon removal and support of Otis Cleaning systems. The price on the $180 MultiTasker may seem steep, but the quality of this fully CNC (non-cast) tool set and high end G10 grips deliver a supreme, top end multi-tool with quality above even the top end of name brand MultiTools. If you have an AR-15, then you need the MultiTasker to resolve nearly any problem that could occur in the field with the exception of a muzzle brake coming loose. It's an outstanding tool that will not leave you to hoping the guy's tool box next to you might possibly have the right tool to get you up and running.
Specs
CNC machined pliers (D2 tool steel) – Not investment cast
Non-slip G10 scales (Black or Tan)
3/8" hex for LaRue mounts
1/2" hex for scope rings
Dual lug M4 castle nut spanner wrench + screwdriver
3/32″ pin punch with 8-32 male thread for OTIS cleaning kit compatibility
Radiused tip carbon scraper
3″ D2 tool steel knife blade – Plain edge or partially serrated
Pocket clip (removable)
1/4″ magnetic bit driver with M16A2 FSP adjuster
Includes these commonly used hex bits and a convenient bit carrier: No.1 Phillips, 3/32 Slotted, 3/16 Hex, 9/64 Hex, 1/8 Hex, 7/64 Hex, 3/32 Hex, T10 Torx, T15 Torx
MSRP $179.99