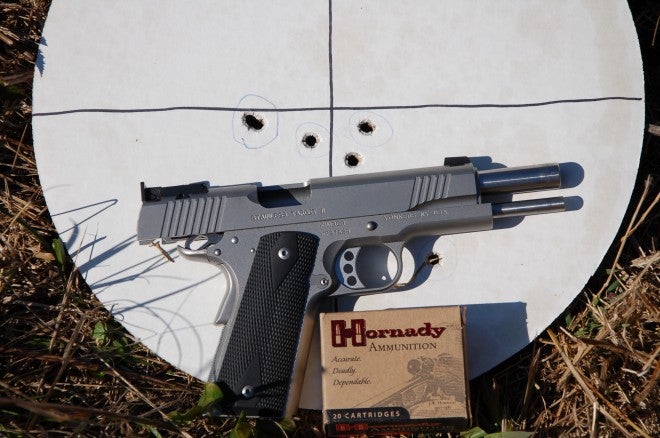 Kimber pistols are the quintessential 1911. If you can get your hands on a Kimber factory catalog, for a pistol shooter it is like getting the old Marshall Fields Christmas catalog when I was a kid (or in my childhood home town, the Christmas flyer from the local Western Auto).
There are so many models in so many different optional configurations and calibers that it boggles the mind. This includes 13 categories of 1911 models and 86 individual specific 1911 pistol models. Top that with sizes, calibers, finishes, and multiple feature options. That's a good thing.
Kimber currently is the No.1 supplier of 1911 pistols. That is in a marketplace with over 50 different manufacturers making the famed semi-auto handgun. Kimber owns over 40 percent of the total market, which is a tremendous achievement for any gun maker these days.
I recently acquired a new-in-the-box Kimber Custom II-Stainless Target II in 10mm for a project. I want to take a deer with it out of a ground blind over a lush green food plot where deer come in as close as ten to twenty yards. I am not kidding, either.
We have over a dozen planted wildlife food plots with multiple types of stands available for deer hunting: ladder stands, tripods, and shooting houses. I also use a couple of different pop up tent type hunting ground blinds. Especially in the evenings the deer file out of the woods and nearby overgrown habitats to take advantage of the green wheat, oats, clovers, and brassicas we plant. From a ground hide it is not unusual to have deer walk within yards of the blinds.
This makes for a perfect opportunity to take a deer with a handgun from a comfortable seated position using a Caldwell DeadShot FieldPod, a Primos Trigger Stick, or even conventional shooting X-sticks from inside the stand. You can actually sit back into the rear wall of the stand in the dark where deer cannot see you, yet you can see out both side and front windows. That is the plan anyway.
After considerable research for a semi-auto pistol to accomplish this plan, I pretty quickly narrowed my list down to just a few models. Two where Kimbers, and one was the older Colt Delta model, all chambered in the 10mm cartridge.
In a search at local gun dealers and after working three or four gun shows, the only 10mm semi-auto I could find was a Glock. I know this pistol is a good firearm, but it just does not fit my hand like a 1911 version. Also, the Glock had fixed sights, which I did not want for this task.
I discussed this mission with another friend of a friend gun dealer, and they looked into ordering one. I was told 10 weeks minimum for the Kimber. That would have put my fall hunting plans out of the envelope of development time I needed. I continued the search.
And by the way, I have no clue why getting a specific Kimber model might be so difficult. It might have been more like a car dealer just wanting to sell what is on the car lot, not having to be bothered with ordering one.
I finally gave up a Saturday morning a few weeks ago to travel to another well stocked gun shop some 40 miles away. To my surprise, the dealer had both Kimbers in stock, including two of the Stainless Target II models. I determined earlier from the Kimber factory catalog that the other model under consideration also had fixed sights. The Stainless Target II did come equipped with the excellent adjustable rear sight. That's the one I wanted for deer hunting.
The one Stainless Target II gun in the showcase had some handling scratches on it, and I am particular about buying a new gun thinking it should be pristine. The sales guy pulled the other one from stock and it was 100%. I did a little old fashioned arm bending, drooling, begging, and crying to get the retail price down just under $1,000. That makes this Kimber one of the most expensive handguns I have ever purchased. That guilt and my high expectations were hoping for a positive outcome.
Specification wise the Custom II-Stainless Target II is pretty much a standard sized copy of the original specs of the age old Colt 1911, only modernized in many ways. The gun's height is 5.25 inches, length is 8.7 inches, width 1.28 inches, weight 38 ounces with an 8-round factory magazine with an 18.5 pound recoil spring (which is why this model is a bit tough to hand cycle the slide).
The pistol sports a brushed satin silver stainless finish with black rubberized synthetic grip panels. It is a very attractive pistol. The 5-inch barrel is ramped with a 16 left hand twist rate. The slide front is serrated for an easy grip. The trigger is an aluminum match grade version with three holes drilled for weight reduction factory set at Kimber's standard 4-5 pounds.
The black adjustable sights are Kimber's own. They are of heavy duty construction with large adjustment screws for elevation and windage. There are easy to read arrows etched for the proper direction to rotate for adjustment. The rear sight has a square notch to match up with the front post. These are well defined adjustable sights that are easy to sight down range.
Some may ask appropriately about why I picked the 10mm for this project. Simple. In a 1911 type pistol configuration the 10mm is just about the most powerful cartridge available. It well outperforms the standards of 9mm. 38 Super, and 45ACP for purposes of hunting.
With factory ammunition loads of 170-180 grain bullets at just around 1,200 feet per second velocity, or the lighter 155 grain at 1,350 fps, the 10mm is well suited for popping game-sized animals from coyotes on up to white-tailed deer at appropriate ranges. It is much more powerful than the 45ACP but is also considerably more flat in its trajectory, which is important for hunting ranges. In some circles the 10mm is compared to the .41 Magnum in terms of terminal energy ratings. That I am not sure about.
For my little project Hornady sent me two boxes of their excellent Custom handgun ammo in 10mm with their 180 grain XTP or eXtreme Terminal Performance bullets. Paper ballistics on this round include a muzzle velocity of 1,180 fps with 1,077 at 50 yards and 1,004 at 100. Muzzle energy is set at 556 foot pounds with 463 at 50 yards. That would be my maximum practical range for shooting a deer out of my ground blind.
In prep for some range shooting, sight adjusting, and such, I completely cleaned and lightly lubricated the pistol. At the range I initiated shooting the "out of the box" gun at ten yards into a white pizza pie cardboard insert target upon which I drew black crosshairs. You can see this hopefully in the supplied photo. This was just to see where the pistol was hitting.
After an entire box of ammo expended with several sight adjustments mainly all to the right, I was finally getting into my standard of "shots inside a 10-inch circle," or the prospective kill zone of a white-tailed deer. I also set up a highway construction stand to shoot off of at 20 yards to repeat this level of acceptable accuracy.
I have to say, I do think this pistol as with most others I have "broken in" needs to be shot a lot more to be so-called loosened up. I plan to buy some standard hardball ammo just to run a hundred rounds or so through the gun before I go back with the hunting ammunition.
The trigger is very smooth with a great let off. There are no problems there with me at all. The gun is very hard to cycle by hand, and the slide release is extremely hard to release. I am used to 1911 slide releases letting go of the slide simply by pushing the release lever down. In this case I had to slightly ease the slide back from the muzzle to get the release to let go.
Thus far, my only other issue with the Kimber and ammo combination was that several of the XTP bullets hung up in the ramp upon feeding from a fully loaded, fresh magazine. I did not experience any hang ups when firing the pistol. Again, I think this situation will work itself out after more rounds are shot through the gun.
So I am nearly at the end of Phase One of this project. I have acquired the appropriate handgun, quality hunting ammunition, a sight in session, and a ground blind set up to move to Phase Two. With any luck at all, I hope to prove out the results of all this in the coming days of the Mississippi white-tailed deer hunting season, which runs through the end of January. I will keep you posted on the progress and hopefully the successful conclusion with meat on the pole.