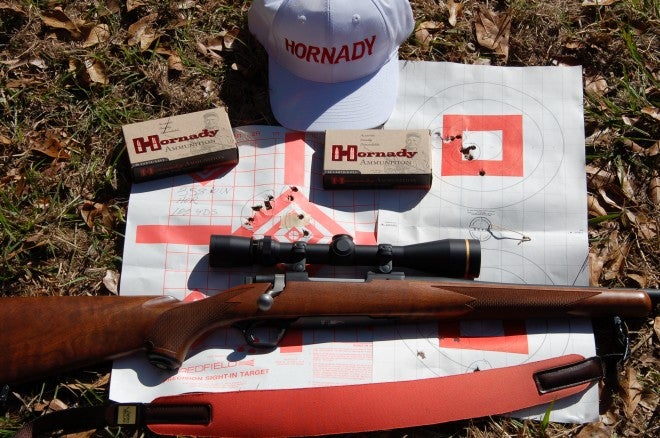 Sometimes fulfilling an item on the bucket list takes time. It took me forty years to lay my hands on a rifle chambered for the venerable old .358 Winchester. I actually did find one at a gun show once, but the walnut stock still had the halftrack tread marks all across the wood. I passed.
So, the idea of owning a .358 Winchester languished in the back of the file until about four years ago when Sturm, Ruger announced a run of .358s in their new line of Model 77 Hawkeye bolt action rifles. Hooray! A quick call to my local dealer buddy and he found one in Arizona and got it coming my way. One more dream come true.
The .358 was one of a list of older cartridges dubbed as a "brush buster." This moniker was attached to a number of rounds used by hunters in the Upper Midwest in states like Minnesota, Michigan, Wisconsin, up state New York, Maine, and big woods places like that where deer hunters were still wearing red plaid wool coats and heavy leather knee boots.
It was touted as a round that would penetrate the thickest thicket. The big round bullets moving at moderate speeds were said to bust right through a limb and still hang together long enough to reach the vitals of any bruiser buck. I liked that.
The .358 Winchester has been described as a short version of the .35 Whelen, though based on the .308. It was introduced in 1955 by Winchester and chambered in their Model 70 rifle as well as the Model 88 lever-action. It was later offered in the classic Savage Model 99 and may still be available in the Browning BLR. Though I got my Ruger in .358, I note the "run" was short lived as it is no longer in their catalog.
Originally the .358 came out in two factory loads using 200 and 250 grain soft point bullets. They sported a muzzle velocity of 2250-2490 fps with a muzzle energy of 2753-2810 foot pounds.
The real kicker to the story of my finding a rifle chambered in the .358 was that I could not find ammo. It had not been made for years and existing stocks were virtually non-existent unless one wanted to pay $50-75 for an old box of Winchester loads. I kept waiting for something more reasonable.
Lucky me, Hornady must have seen something in the .358 that no other ammo makers saw. They started producing their .358 ammo in 2012 and I got five boxes as soon as it hit the shelves. The load in their Custom line uses a 200 grain soft point bullet flying out of the muzzle at 2475 fps. If sighted in 2.9 inches high at 100 yards it will be zeroed at 200 and 12.6 inches low at 300. It is a short-range affair in my opinion, but it is very effective at reasonable ranges on white-tailed deer.
With a good Leupold 40mm scope secured in the factory Ruger scope rings, I bench boresighted the .358 dead on. At the range, I started at the 25-yard range to "hit paper." It was right on. With less than a half box of ammo I was punching holes at 100 yards roughly three inches high. I felt confident I was ready to put the Ruger .358 to the test during the Mississippi whitetail deer hunting season.
Toward the end of last season's final December gun season, I picked a lone tripod stand on the north end of a city sewer pipeline that traversed our hunting camp property, which sits on the edge of a huge cypress and buck bush swamp. The only trick was the entire stand was surrounded by nearly a foot of water from recent rains. I had to ride my ATV in earlier than usual to let the area "cool" off before the evening haunting hour when deer began to move about.
At about 5 PM, a solitary doe tiptoed through the water, revealing her location. I readied the .358 for a trial case. She popped out just over a hundred yards south of my position. When she turned broadside, I centered the crosshair and took the shot.
It was early so I stayed to see what else might appear. Within fifteen minutes a small 8-point buck typical of our property came out and I repeated the event. As we cleaned the two deer, it was evident that both the .358 and the Hornady ammo were up to the task. If you're the least bit nostalgic when it comes to rifle cartridges, try the .358 Winchester.