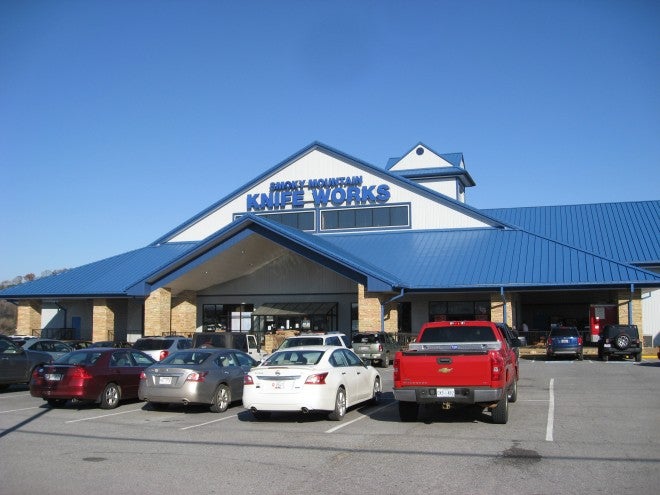 Here's another one for your AllOutdoors bucket list. If you get anywhere near the Knoxville, Tennessee area for business or pleasure, let me highly recommend this side trip to a super unique, definitely one-of-a-kind retail store. Furthermore, if you are a dyed-in-the-wool knife person, either for practical use or as a collector, then a visit here is an absolute must.
Smoky Mountain Knife Works is located just south of Interstate 40 east from Knoxville, down Highway 441 south ten miles to Sevierville. Just as you come into town, the big retail complex is on the right. You'll see road billboard signs coming in on the highway, plus it is pretty hard to miss the building. Look for the blue roof.
These directions should sound familiar if you have ever visited Pidgeon Forge or Gatlinburg, Tennessee. This is a very popular tourist attraction for a myriad of reasons I could also share, so if you're looking for a cool place to visit during the holidays or just to get away into what I call the "foothill" mountains, this is the place.
Walking up the huge front steps to the Smoky Mountain Knife Works store immediately gives one the impression that this is going to be something special. First of all, it should be understood up front that this store is the largest retail knife outlet in the world. Yep, it's that big, and it's that well stocked.
I am not sure how many total square feet the establishment is, but it is huge. Also there are several floors or partial floors as the sales floor(s) is broken up into many separate walking-shopping areas. There is one main set of stairs inside, but once you go downstairs, you'll find other mini-levels as well and another set of stairs coming up back onto the main floor.
First and foremost Smoky Mountain is a knife store. They handle virtually every major brand of knives, blades, and other cutting tools available in this huge worldwide marketplace. Upstairs the areas are divided up by knife brand name. So, if you are looking for a specific brand and model, you can look overhead for the product identifying named banners and go right to those knife cases to shop the brand names you are most interested in, but you'll want to shop them all.
Downstairs is a whole section with modern kitchen cutting knives, tools, and utensils plus much, much more for the chef or cooking enthusiast. I do the cooking at my house so I could easily spend an hour or more just looking at handy kitchen gadgets and other food prep tools.
Just to highlight only a small selection of the name brands offered for sale at Smoky Mountain, they include Case, Bear and Son, Boker, Buck, Cold Steel, Colt, Esee, Frost Cutlery, Gerber, Helle, Hen and Rooster, KaBar, Kershaw, Leatherman, Marble's, Mora, Remington, Browning, Schrade, Victorinox, and many others.
Trust me, this just barely scratches the surface. Other related items for sale include collector boxes of all kinds to hold and display knives, including some very nice oak and walnut cases. There are multiple "celebrity" knife collections for sale, too, including the likes of the Boy Scouts, John Deere, Harley Davidson, John Wayne, Carhart, NRA, Bear Grylls, Bill Dance, Ford, Duck Dynasty, Larry the Cable Guy, Turtle Man, and Riders of the Silver Screen.
Other knife interest product areas include woodcarving tools, throwing knives and stars, swords, plus all manner of knife sharpening tools, stones, and knife sharpeners. Knife related gift ideas abound. There is a whole wall of decorative signs and tins. These are really cool.
There is a huge war surplus section, including multiple displays of World War knives, tools, individual soldier gear, and fully dressed mannequins in uniforms. This section contains many items of military surplus for sale as well. It is a bit of a historical review just to closely inspect these display areas. War buffs will really enjoy this section of the store.
And speaking of dioramas, one of my favorites was a full sized frontier scene with a couple of buckskin dressed mountain men in an old canoe trying to traverse a river. The whole recreated scene is very realistic, depicting what very well it could have been like to explore this country in the early days.
Scattered around the store in nearly every nook and cranny are old knife collections, some in original display cases. These are mixed in with a myriad of antiques of all kinds. You have to look up, down, and all around this store or you're going to miss something. I only spent a little over two hours in the store and could easily have spent twice that much time.
Another section in the store is for the knife makers. All the parts, pieces, blades, handle materials, and tools are available to get a knife making hobby started. Many knife making books are available to buy as well. This section also held large selections of ready-made knife sheaths of all kinds and materials, and leather sheath making kits, too.
Downstairs is another section of nothing but old antiques of all kinds. This area included old bottles, medicine containers, tin boxes, tobacco tins, old advertising items, and much more. These folks must have been collecting these items for decades and some of it is for sale. It was fun just pointing out to my youngest daughter some of the old product brand names on the old boxes and bottles.
Once I made the cursory walk around the entire store, I settled into some serious knife shopping. I am somewhat of a neophyte collector of knives, specifically Remington's. I found a good selection, but I could tell the holiday shopping frenzy had already hit the in-store stock. There are even more to be found online at the store's website.
I was able to inspect the new 2015 Remington annual Limited Edition Bullet Knife known as the "Cliffhanger" model, a twin bladed pocketknife with amber jigged bone handles. That was a good one to add to my collection in advance. I also found the 2013 model Bullet Knife "The Forester" for my collection.
In the Remington knife case I also found a series of their inexpensive wildlife scene pocketknives. I picked up one with a running white-tailed deer on it and two with buffalo on them, one being a present for a hunter friend to remind us of the Kansas buffalo hunt we shared together just a few years ago.
So, truly if you love knives of all kinds or just specific brands like the Case knives, then go ahead and add a trip to the Smoky Mountain Knife Works to your travel bucket list. If you can't make the trip, then go online to see their extensive offerings of knives and request one of their excellent catalogs. It's the next best thing to actually walking around the store.
Oh, and did I mention new to the store is a complete, well stocked gun store with all the associated accessories and goodies? Better make it two days for a visit to Smoky Mountain Knife Works.