Spike's Tactical Pure Estrogen rifle
Oleg Volk 12.15.14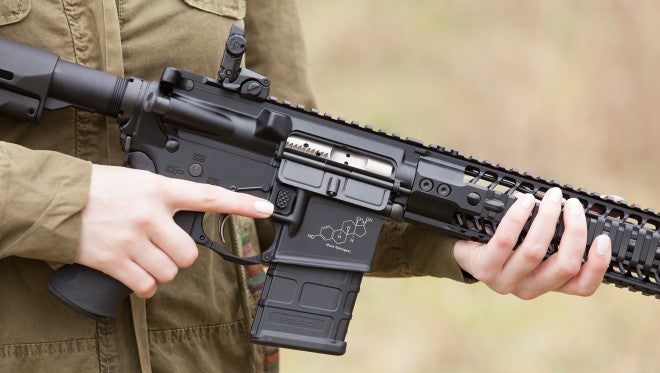 What comes to mind first when you read "a rifle designed for female shooters?" Pink furniture? With some gun companies, that would have been a good guess. With Spike's Tactical Pure Estrogen model, the color is anything you want, as long as it's black. It does have other worthwhile features to compensate for the absence of colorful hotness: an enhanced trigger pack with anti-walk pins, a thoroughly skeletonized free-float forend with full-length rails and QD receptacles front and back, Magpul telestock, and Ergo grip. Recognizing generally shorter stature and lesser upper body strength of the typical female shooter relative to men, the barrel is 14.5″ with a permanently affixed, highly effective compensator. That, combined with a mid-length gas system, gives this carbine fairly mild recoil at the full-up weight around 6 2/3 pounds.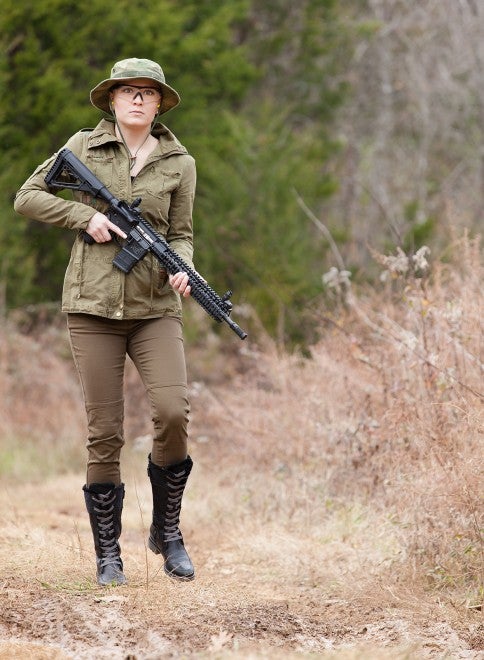 Relatively light weight comes in handy on hunts, but even more so when holding up the rifle for extended time in competition or a defensive situation.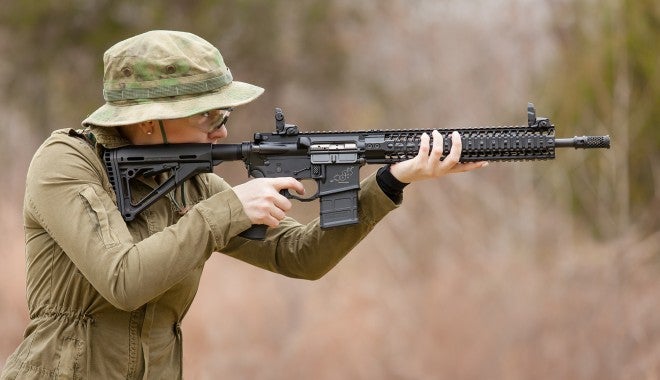 The rifle comes with Magpul flip-up sights and boasts of a respectable sight radius thanks to the long rail. Because the rail is machined away not just on the sides but also at the top and bottom, the barrel enjoys excellent air flow, and the rifle does not feel front-heavy.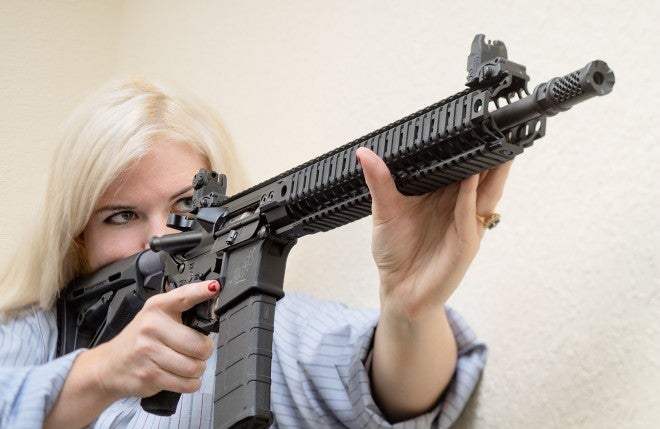 Pure Estrogen's medium weight chrome-lined barrel is stiff enough for respectable long range accuracy, especially with heavier bullets to take advantage  of 1:7″ twist rate.
This rifle may lack for the cutesy touches so beloved of marketing departments, but it's a pretty competent tool for women who like to shoot and prefer reliable gear.