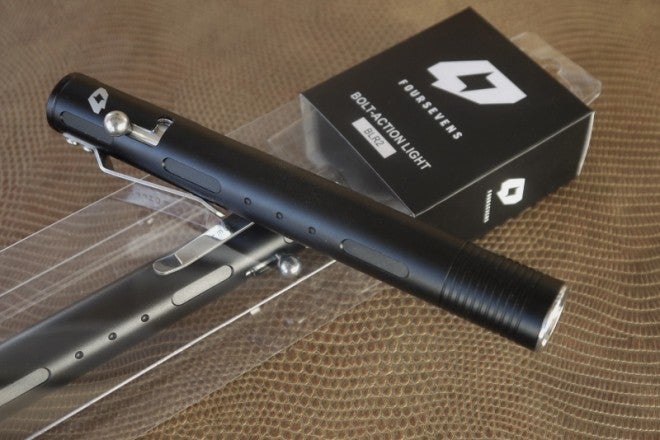 Brain Fellhoelter makes some of my favorite knives in the world. His Compact Dauntless was my grail knife for years until I snagged one in the spring of this year. It did not disappoint, even with the high expectations. TuffWriter makes some of my favorite pens. The Ultimate Clicky has the odd distinction of being the only pen I have ever had that has held up for longer than a year to the torture test that is my work week. Even now, two years later, it still looks amazing (even better because the aluminum has worn in quite nicely), and of course it still works. And we all know 47s, a flashlight brand made for and by flashaholics. So when all three of these folks collaborate on a light, you know it has to be great. And while only a few of them have leaked out, the Bolt Light looks incredibly promising.
Still in very limited release, the Bolt Light was made available to the public at the USN Gathering VI.
It has a body style and design similar to Brian's bolt action pen, which has received much critical acclaim in the gear world, and it runs on two CR2 batteries.
The light is a multimode light with the ability to cycle between modes by depressing the bolt. To hold the mode, you need to slide the bolt over and it will lock into place. The light has a mode memory. The three main modes are a high (of 490 lumens), a low (of 15 lumens), and a strobe (ugh). The light costs $100.  While only hard anodized aluminum versions have been seen in public, given 47s history, it seems likely they will release a titanium version. The light itself has the distinctive body styling seen on Brian's pen–a series of milled dots and dashes that give you a bit of grip and the light a bit of style. The tint on the lights released seems nice and warm, but I could not find actual tint data or emitter information.
There is a lot to like with this light. The bolt action-based UI is completely unique in the flashlight world, and it seems to actually work quite well. The light's styling, given its progenitors, is pretty darn cool. And the pocket clip, something I have not been thrilled with on other 47s lights, is a great looking, bolt on design. On paper and in video form, the light looks like a winner.
There are two things about this light that give me pause and make me want to use one myself to figure out how they work. First, the format is very strange. There are only a handful of 2x CR2 lights out there–a few cheapies, like the Coleman I bought for $4 because of price tag mix up, and high end designs like the Photon Fanatic Tasklight. There is nothing inherently wrong with this set up, but it is odd. It will also be pretty expensive as I am not sure how widely available rechargeables are in that format, and I know that buying primaries locally is a pricey chore. (The Aeon Mk. II and Mk. I uses CR2s, so I have some familiarity with them already.) They do give you a slim package and wallop of power, but if you don't buy them in bulk on the internet, they may send you to the poor house.
Then there is the issue of the modes. In videos of the light online, the strobe is in the main cycle of modes, something that 47s doesn't usually do. (They hide it, requiring you to cycle through the main modes twice before you unlock it.) It might be a prototype thing, but I really hope they hide the strobe mode. I don't like strobe, but if the design has it, it should be hidden. There is nothing more frustrating about modern lights than accidentally accessing strobe.
Overall the Bolt Light looks like a potential winner. The penlight form factor is good, the UI is clever, and the collaborators are second to none.

SHOP NOW