When I was new to carrying guns, I was more concerned with concealment, comfort, and the ability to put the holster on an off quickly. Low price and universal fit were also prized. As a result, I tried Uncle Mike's pocket holsters and Fobus paddle holsters. I soon discovered that such solutions work only for stationary users. The moment I tried to run with a revolver in my pocket, it slipped the rather loose nylon holster and and flew out of my pocket on a high trajectory, fortunately landing in soft grass instead of the asphalt!
The Fobus held a Glock 17 just fine, but it slapped painfully against my side with every stride. The amplitude of the holster motion was so great that it was an even bet between it giving me a serious bruise and snapping the two rivets holding it in place. I eventually upgraded my holsters to such brands as Alessi, Galco, and GCode. Unfortunately, I was not able to find mass production holsters for some of my less common carry guns, and that's where custom holster makers come in.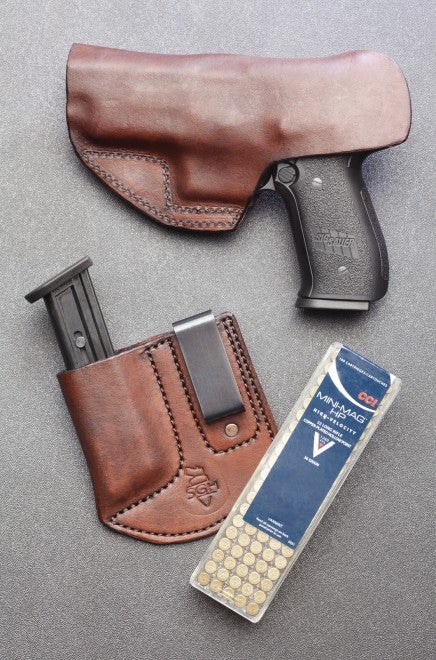 Sig Mosquito is hardly a typical carry pistol, so the holsters for it are usually sport types. When a concealment holster was needed for a friend, I turned to Sideguard in Minnesota for a one of a kind solution.
Side Guard Holsters LLC was founded in 2008 by Erik Srigley. Prior to making his own, Erik always found holsters lacking for comfort and concealment. Comfort because the top of the slide or hammer was not covered. Concealment because most holsters felt like a floppy tumor on the side. As the company name suggests, the Mosquito holster was made with a prominent sweat guard. Its job was not just to protect the pistol from the sweat but also to make re-holstering safer by keeping shirt-tails out of the trigger guard.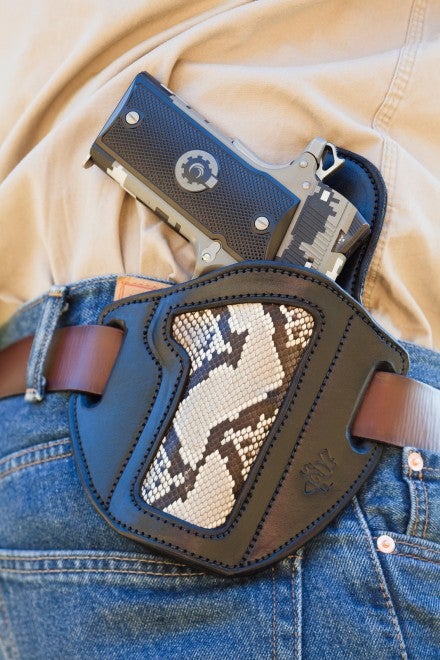 The real test of the holster design is its ability to support a full size, full weight pistol comfortably. In this case, a Coonan .357 Magnum auto pistol, a match to the full size M1911 in size and weight, could be carried comfortably all day long. One a run, the weapon stayed put rather than bounce up and down with each step. The pistol remained discreet under a sweater despite the large angular grip.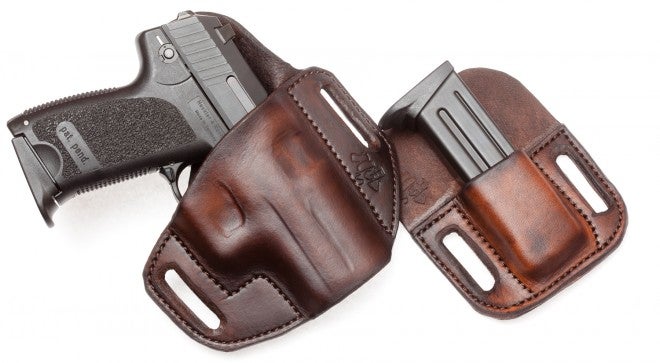 I recently borrowed this holster and pouch for the USP9 Compact and had to check more than once to verify that it and the spare magazine were loaded. The pistol just felt too light on the belt, thanks mainly to the widely spaced loops and rigid leather boning that kept the weight right by the hip without torquing away from the body.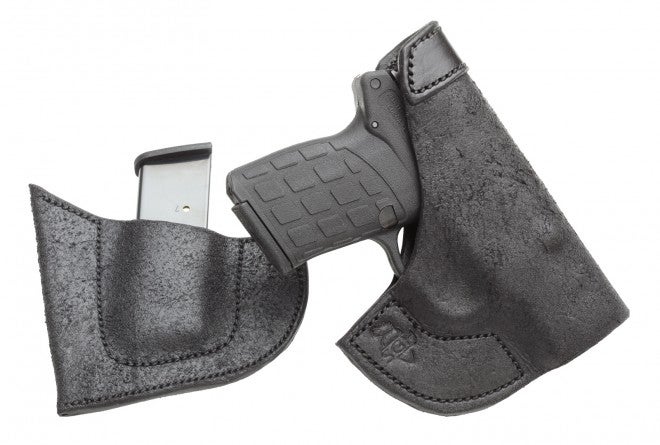 Pocket holsters from Sideguard are equally comfortable. Rough and angular on the outside, they stay in firmly for the draw. The smooth texture inside is easy on the pistol finish. The tension from the sculpted leather holds the sidearm securely until it is drawn with enthusiasm.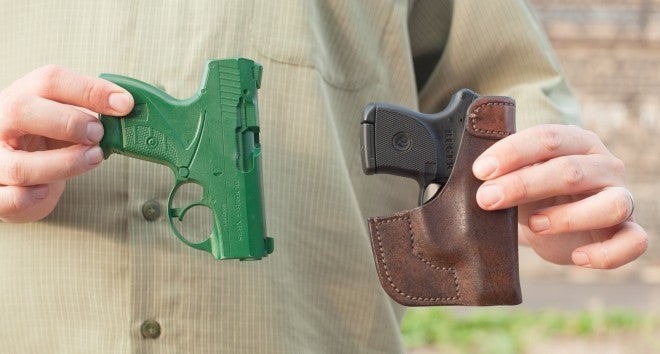 The idea for Side Guard started in 2006, when a local Twin Cities, MN based carry forum had a "Make your own holster class." Erik met with nice other local carry forum members at Tandy leather and created two of his standard holsters in that class, the Slide OWB and the Minimal Clip/Snap. Erik posted photos of the first attempts in forms like Twin Cities Carry, Defensive Carry, and S&W Forum. Soon forum members started asking, "Can you make me one?" He got help from other holster makers, like UBG. That started holster making as a serious hobby.
In 2008 Erik invested in a stitching machine and forms, turning his passion into a serious family business. Today, Sideguard offers 18 different holster models and belt accessories. I've come to prefer their designs and manufacturing quality for serious use. The holsters they make are safe, comfortable, and very durable.