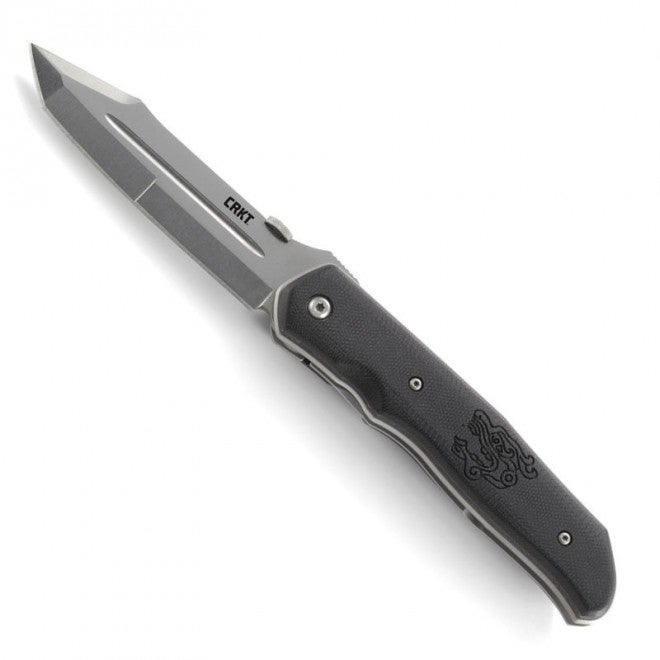 The mountain of SHOT Show information keeps growing as CRKT joins Cold Steel, Spyderco, and Benchmade with some preshow releases.
Disclaimer: I was one of the testers for one of the new CRKT blades, the No Time Off (review on Everyday Commentary on Monday), so I might be a bit biased.
Unlike Spyderco or Benchmade, CRKT launched a bunch of new products–there are more than twenty five new things to discuss, so like with Cold Steel, I am going to hit the highlights. I got a bit of a preview a few months ago when Doug Flagg was on my podcast Gear Geeks Live (episode here).
Over the past three years, since the signing of Ken Onion, Rod Bremmer and Doug Flagg have transformed CRKT from a lesser known budget brand into a major force. They are on shelves in major retail outlets like Dick's Sporting Goods and Lowes, and they play to the high end with releases like the Hi Jinx. This transition has been almost flawless and is worth a paper from Wharton student. Their 2015 offerings are not just solid, there are some real gems.
First, like Cold Steel, they have heard the siren's call of new steels, and also like Cold Steel, that includes Carpenter's BD-1. As I referenced in my Cold Steel coverage, this is a very good steel with decent (though not superior) edge retention, great corrosion resistance, and good toughness. It's real trick is sharpenability, as even the most ham-fisted blade sharpener can get a razor edge in no time. It's an excellent value steel and a good fit for many of CRKT's knives.
They also have collaborations with some of the best names in the custom knife world. The BT-70, shown above, is a knife designed by the legendary Bob Terzuola.
It is a classic Terzuola shape, with a long blade (a multi-grind tanto), a fuller, and a thumb disk. Not my thing, but a unique piece within CRKT's catalog. They also have a few designs from Liong Mah, including my personal favorite from the new blades, the Get S**t Done.
Aside from the name and the awkwardness of typing out two asterisks every time, there is very little to dislike. The blade has a clean look–no vestigal thumb studs or silly ornamentations. It's a framelock flipper (the frame is made of steel, though) and it runs on IKBS bearings. It's a hefty 5.3 ounces and runs AUS-8 steel. The blade is around 3 1/3 inches long. All of this makes it quite a tempting EDC for folks that can carry bigger blades and don't mind a bit more weight. If you can't do that, CRKT has you covered with a production version of Lucas Burnley's Squid.
Long one of the more coveted custom blades for easy carry, the Squid is a small blade in a stout handle, and the CRKT version is no different. This is an extreme budget blade, with an MSRP of $29.99, but it still has a nice deep carry pocket clip and comes in a stonewash or black stonewash finish. The knife's three ounce weight is a good sign, as is CRKT's ability to make good low-cost folders, like they do with my favorite budget blade the CRKT Drifter.
Finally, there is the Ken Onion Hootenanny.
What the Hootenanny lacks in name, it makes up for in form–an organic, Onion-style flipper, the Hootenanny looks like a solid addition to the CRKT/Onion stable. I still like the Swindle better, but this is a well-sized knife.
They have a few new fixed blades. including a Liong Mah designed machete, punnily named the Mah-Chete, and they have a small bushcrafting fixed blade called the Saker. Both are made of 1075 steel, a good but not great fixed blade steel. Both look to be a bit better than offerings from Condor, and I have found those knives to be quite acceptable for the price. Having those style blades more readily available is a good thing. The Saker would be a great thing to offer at the Big Boxes.
There are a bunch of odds and ends too, some small kiridashi sized fixed blades, a James William pieces that looks, unsurprisingly, like a Japanese katana, and a few slipjoints: one in a tactical style designed by Liong Mah called the Journeyer and another called the Northcliffe. The Northcliffe actually has a nice touch–an ebony inlay–in the handle that makes it much nicer than a typical budget slipjoint. There is also a new Tighe knife, the Tighe Rade. Tighe's ability to put a good flipper on a button lock is quite impressive, having used and reviewed one before. I also have a soft spot for the AG Russell/CRKT collaboration, the Sting. This is an update of a classic and the boot knife form has always intrigued me with its clean, muscular lines even if it has low practical value.
The final piece is the Flavio Ikoma designed No Time Off.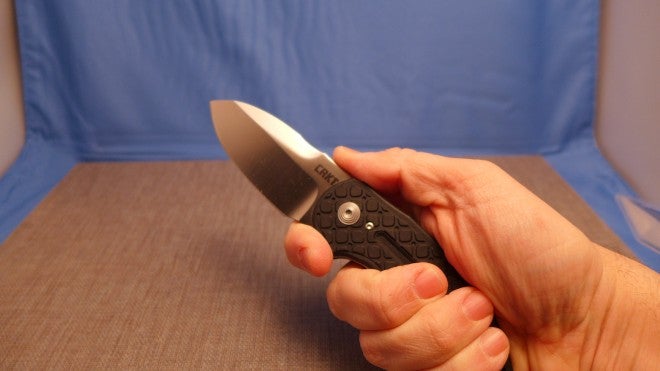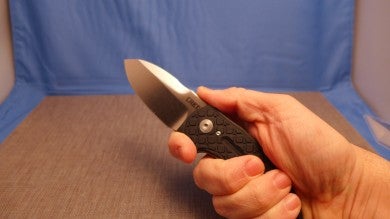 An unusual knife–a 100% purpose built work blade–it has some ingenious touches and a new lock safety device that is quite easy to use. The clip is tucked down in to the handle a bit and it is a flipper riding on Ikoma's IKBS. Overall, despite is weight (5.9 ounces), I liked it quite a bit. This is one of the knives running BD-1, and for this role that is a perfect steel choice. It's also one of the most expensive of the new offerings coming in at $125 MSRP.
As Spyderco raises its prices, pushing it into the premium production knife category, CRKT has moved in nicely to fill the void in the mid-price range, but unlike Spyderco they are releasing new knives in a bunch of different price ranges, following the KAI USA model.
CRKT has made this move on the back of good collaborations, solid designs, and some of the best flipper action in the production world (with Doug Flagg attributes to guidance provided by the recently departed Kit Carson, the father of the modern flipper). This line-up shows real promise–lots of different lock types and knife designs. The No Time Off has a bevy of innovative features, and GSD and Squid look like super solid EDC choices. I am not 100% stoked about the fixed blades, especially with the premium Karen Hood designs also in the CRKT line up, but I think these are aimed at Box Store customers. A very solid showing.
Grade: B