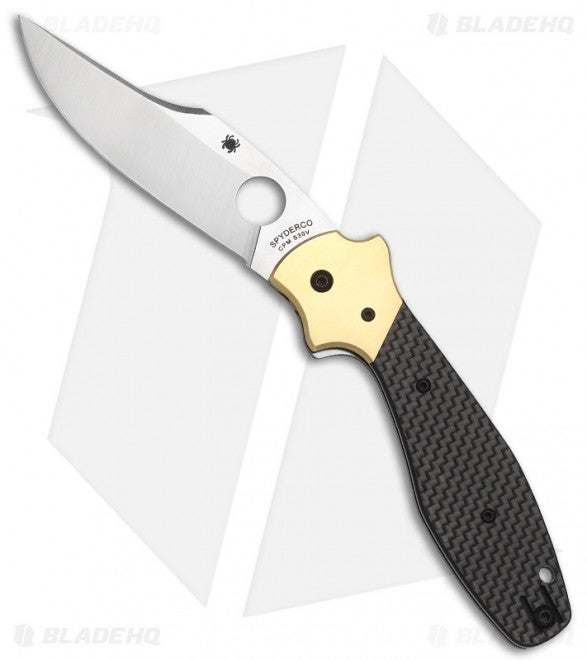 The next set of knife offerings that we'll look at for SHOT 2015 are from industry stalwarts Spyderco and Benchmade. They have radically different showings and none were as large or as important as the upgrades Cold Steel had, so they'll share the preview.
Spyderco
Spyderco treats SHOT as a second tier show, reserving their truly new stuff for the European equivalent called IWA. A lot of what they are showing is merely the second preview of stuff from IWA 2014. There are a few things that caught my eye, but in general, it is a very weak showing.
They had absolutely uninspiring stuff like a purple handled Dragonfly 2, four variants of the Roadie (a knife that started its life as a TSA-compliant blade, before the TSA dropped their permissive knife rules in favor of maintaining the ban), and some upscale SlipIts like the amazing Pingo and the Squeak.
The Pingo and Squeak both have titanium handles and Elmax blades, and both are quite expensive for what they are. The PPT is back in a blacked out version, which looks cool but is pretty bland compared to what other knife companies are showing. The same could be said for the new Matriarch and the Salt Knives. I like the Schempp Bowie and its unusual style.
There is a fixed blade called the Ronin 2, which looks serious, and a Bowie by the cut master Gayle Bradley that runs an exotic steel, which is very much like an upgraded powder D2.
They also have the Foundry, a titanium framelock with Carpenter Steel's logo on it. The Draper is also new and, frankly, is the ugliest knife I have ever seen–a true insult to Mike Draper's catalog of custom work.
They also had a Spyderco tomahawk that was positively amazing, but 100% impractical. As a weapon for a movie, it would be killer. As something I am likely to use, it's a meh.
Spyderco's showing is depressing, but we know that in a few months we'll get the real new stuff at IWA. That said, for an American company, it might be a good idea to have a good showing at one of the two major American shows (the other being Blade), and Spyderco hasn't done that in a while. This is not the Spyderco of ten years ago, and it is not heartening to see this year's offerings.
Grade: Incomplete
Benchmade
Benchmade is by far the most conservative of the knife companies in terms of design. Lots of Axis lock thumb stud blades. They do them well, of course, but variety is, well, you know. This year's showing is not a huge departure from that paradigm, but there are few different things and some really solid Axis lock, thumb stud knives. For the first time in a few years there are two guaranteed buys in the Benchmade offerings.
The first comes in the form of one of Benchmade's two fixed blades–both are big choppers with 1095 blades that are 9.69 inches long. One is a bolo design and the other is a clip point.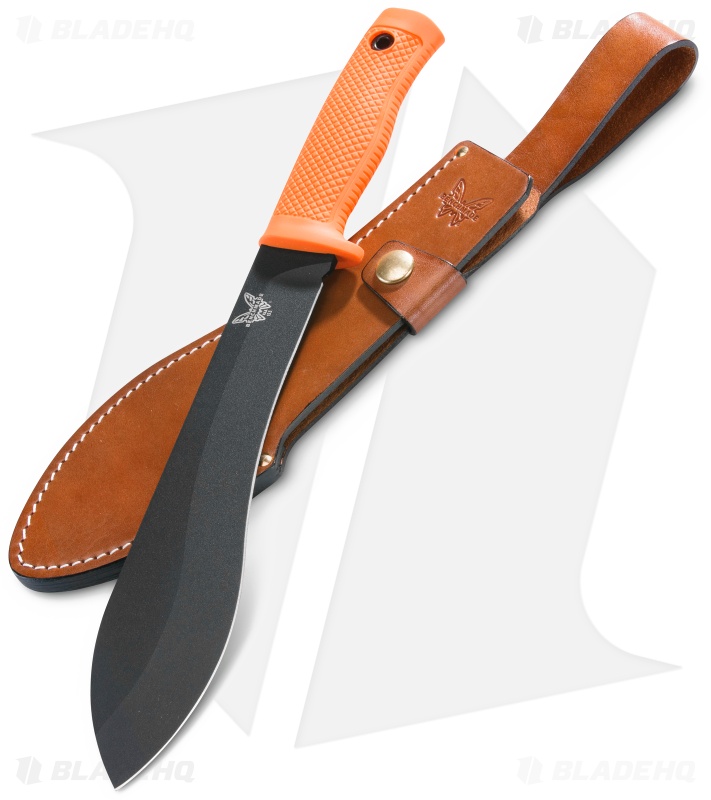 Both are clearly designed to tap into the chopper craze and both look good. The thickness is just right too at .20 inches. A leather sheath is included and looks decent, though I'd prefer a kydex number. The handles are Santoprene and, in a pleasant and smart move, they are orange instead of the obligatory black. One is coming my way as a challenger to my BK-9. I am just not sure which blade shape I prefer.
There are few variants: a new colored handled on the Emissary and a Nakamura designs (CF handle scales, S90V and a 3.08 blade).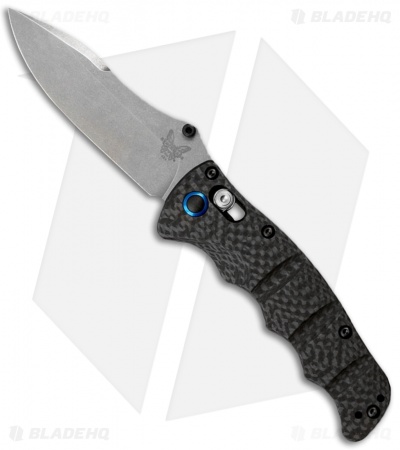 There is also the 761 that I covered last month, but the variants end there. First is a knife called the XAS (the 665), and it has what Benchmade is calling a push button Axis-Assist (edging ever closer to being a switchblade). It looks pretty classically Benchmade, but the blue and black G10 is hideous. The Loco is a very un-Benchmade looking Benchmade, with an oval thumb opener (ugh) and an aggressive handle and blade shape. It's different and looks quite nice.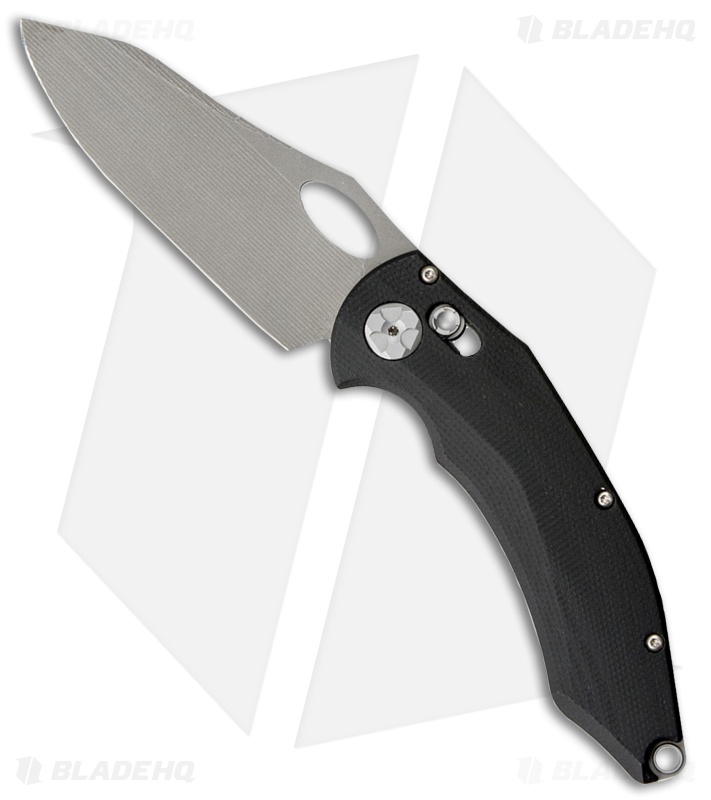 There are some nice autos, all along the same line as the XAS, but there is one interesting addition–the Paragon. The Paragon is definitely in the same style as the Infidel and Mini Infidel with some styling changes and a chisel ground blade. The Infidel is one of the slickest blades out there, a knife I have a deep love but no use for. It is, simply put, the paradigm of an OTF knife. Making something in that style, but different, is a huge challenge. It's either going to be an instant classic or perceived as an also-ran. Tough spot, but probably worth the risk.
The final offering worth mentioning is the Benchmade Valet.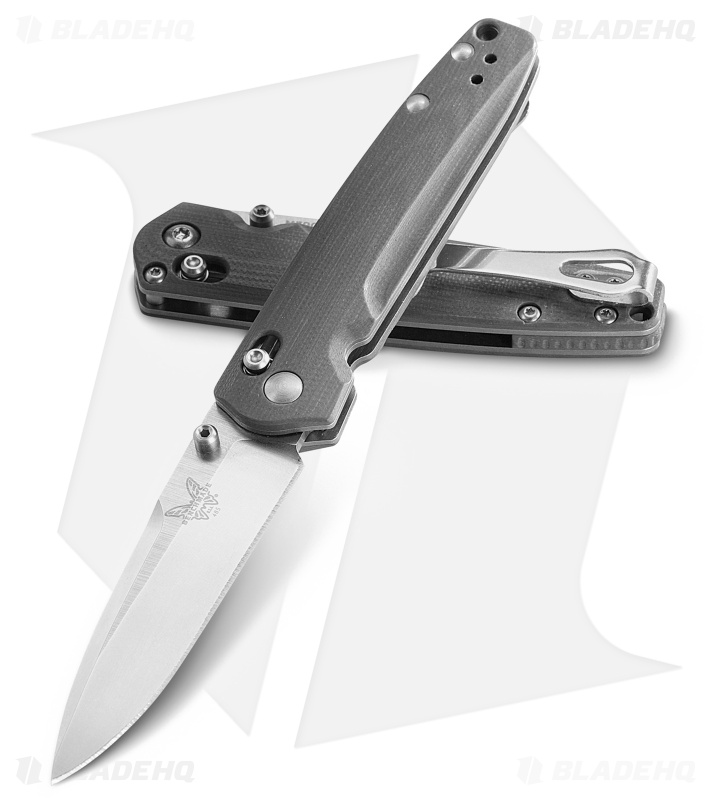 In terms of an EDC knife, this thing is an absolute Spec Monster–Axis lock, over the top deep carry clip, 2.96 inch blade, 2.18 ounces, M390 steel. It looks absolutely perfect on paper, but there is one thing that pushed this over the top for me. Street looks like it will be around $170. That is an unprecedentedly good price for a knife of this quality with this steel. Benchmade just knows how to do fit and finish, and the size and steel are just right. This is a 100% guaranteed buy. It has the specs to be one of the best EDC knives on the market, and for the first time in my personal memory, it's a Benchmade where the price is a plus.
Benchmade's showing is substantially better than last year (the release of a dozen Benchmade Hunt aka Benchmade Munt knives). The choppers look sweet and street for around $110. They are experimenting with the wonderful Axis lock, and while some of those experiments go awry, some look cool. The Nakamura looks like an awesome EDC blade, but the Valet easily steals (and steels) the show. A slender, light knife with a premium steel is an almost guaranteed winner from an EDC perspective. It's not a sweeping change or a kitchen sink approach like KAI had last year, but this is a very good line up of gear.
Grade: B+