Breakthrough Advanced Firearms Cleaning Technology
Russ Chastain 01.19.15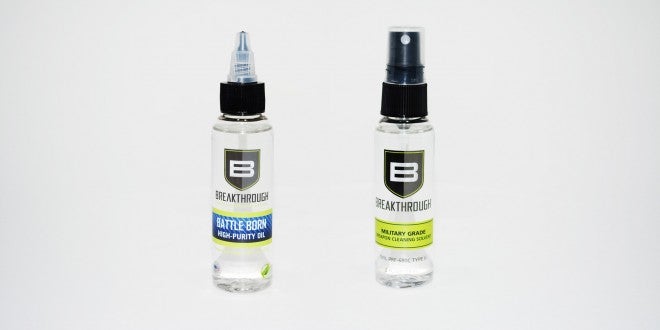 This stuff looks like it has great potential, and I'll definitely be putting my hands on some to test in depth. But for now let's look at what it is and what the manufacturer says it'll do.
It's called Breakthrough Advanced Firearms Cleaning Technology, and currently there's a solvent, oil, and grease available.
The solvent is most impressive, and I detected no odor at all. Yes, I know all you old Hoppe's No. 9 addicts will cringe at the thought of a gun cleaning solvent that doesn't stink, but most of us don't really want smelly guns, especially hunters.
The solvent is "green," but it's not water based and won't freeze. It's a petroleum distillate, but with "all carcinogens and hazardous waste materials, which all petroleum based solvents of the past carry" removed. This, they claim, makes Breakthrough "the world's best odorless, low toxicity, high-purity hydrocarbon solvent available on the market today. Breakthrough solvent is benzene-free and has low vapor pressure control to regulate volatile organic compound (VOC) emissions."
They say that Breakthrough solvent will remove brass, carbon, copper, dirt, grease, lead, and whatnot, and they say it's PH neutral so it's safe for wood finishes, plastics, and such.
What's not to like?
After cleaning, you need some oil. Enter Breakthrough Oil, crystal clear and with almost no odor. It has a wide temperature range, is biodegradable (but 100% synthetic), resists water and steam, protects from rust, lubricates without attracting grit, is non-flammable, non-toxic, and non-staining.
This is one of the most unique product lines of this kind that I've seen, and it may indeed be a notable Breakthrough in firearms care. I'm really looking forward to trying it for myself.