flexSHOT Shotgun Shell Holder From Fold 'em Gear
Russ Chastain 01.19.15

The flexSHOT shell holder from Fold 'em Gear caught my eye at the 2015 SHOT Show Range Day, so I gave it a try.
It holds as many as three 12 gauge shotgun shells, 2.75″ to 3.5″ long. The front end of each shell is slipped into a keeper, which is essentially a plastic hole, and is secured in place by a magnet that latches onto the shell's rim when you slip the rim into a slot made for it.
A Velcro strap allows the user to strap it to his or her arm, thus keeping spare shells very handy. I could see myself using it on the dove field, when the birds are coming fast and I need to feed my over/under shotgun quickly.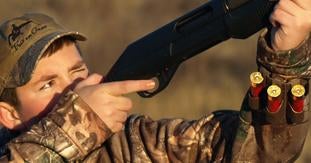 It's also useful for shotgun competitions like three-gun. A shooter can keep long-range shells in the Flex Shot (aka flxSHOT) and feed them into the scattergun as needed.
Check out the Fold 'em Gear website for more info. They also have a simplified duck decoy jerk butt system and are working on a shotgun shell container to keep your shells from getting wet and skanky while hunting waterfowl.