Hands-on with H&K's MR556A1 Competition Rifle
Jon Stokes 01.19.15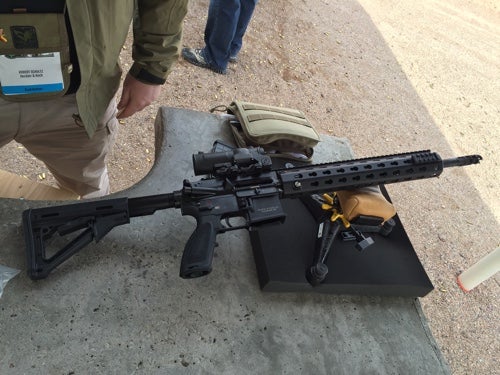 I stopped by the H&K booth at SHOT 2015 Range Day and put a few rounds through the company's $3,100 MR556A1 Competition rifle. The gun was topped with an Elcan SpecterDR. Truth be told, I was more interested in checking out the optic than I was the gun.
Speaking of the gun, it's time for some Real Talk. It is a best-in-class firearm, no doubt, but $3,100? I'm pretty sure if someone were to wrap the gun in tape and similarly camouflage my LMT piston gun and maybe an LWRC piston gun, few people would be able to tell the difference. I know I sure couldn't. I have no beef with H&K or H&K fandom, and as my choice of a daily driver will testify I love me some German engineering and am willing to pay a premium for it. But there comes a point, people, where it's just nuts. When the rep told me the price and I was like, "Wow, that's steep." He actually bragged that it doesn't even come with sights. Classic H&K. Proud of the fact that, for whatever reasons of cost, practicality, or basic availability, their guns are out of reach for civilians.
I wanted to ask him, "How's that whole looming bankruptcy thing working out for you guys?"
As for the SpecterDR, one word: want.