A Look at the Walther CCP at the 2015 SHOT Show
Rob Reed 01.23.15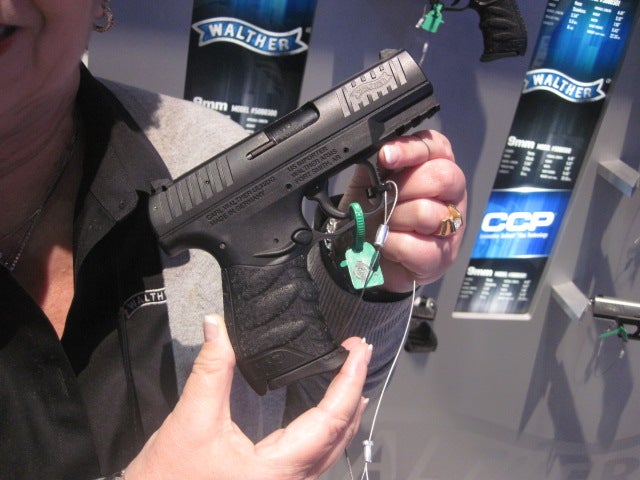 The Walther CCP (Concealed Carry Pistol) is one of the more interesting small defensive pistols to come out recently. This polymer, striker-fired pistol utilizes an unusual operating system designed to reduce felt recoil and aid controllability.
Fans of the out-of-production HK P7 pistol will recognize the origins of the CCP's gas delayed piston system. The system diverts some of the hot gasses generated by the cartridge to push against a piston and delay the unlocking of the slide. This setup allows the barrel to be fixed to the frame and, in theory at least, allows for greater accuracy than the more common Browning tilting barrel system. Another benefit is reduced felt recoil.
The CCP weighs in at 22 1/4 ounces with a 3.54″ barrel. The single stack magazines hold eight rounds. The trigger pull is rated at 4 1/2 pounds by the factory. An unobtrusive left-side only thumb safety is mounted on the frame and goes down for "Fire."
I was able to put a couple magazines through the CCP at the Shot Show Industry Day at the Range. While 16 rounds is not enough to even begin to fully evaluate a pistol, it was enough for a taste. In that abbreviated trial I found the pistol felt good in my hand and the controls were easy to operate. The recoil seemed mild for a light gun, but without having a similar gun to compare it against, it was hard to quantify. As far as accuracy, while it seemed to hit where I was shooting, the target was already so shot up by other shooters that it was hard to tell. In any event, the distance was too close to really wring out the accuracy potential.
Watch the video to see an enthusiastic Walther rep describe the features and advantages of this new offering from the German company.