CZ-USA Scorpion EVO 3 S1 and 805 Bren PS1Pistols at the 2015 SHOT Show
Rob Reed 01.30.15

The CZ Scorpion EVO 3 S1 and 805 Bren PS1 pistols are two Czech designed long guns being imported as pistols by CZ-USA.
The Scorpion EVO 3 S1 is a 9mm semi-auto pistol version of what was originally designed as a full-auto subgun. The Scorpion is blowback operated with a 7.72″ barrel and an overall length of 16″. The gun uses a polymer frame and feeds from 20 round polymer magazines. Sights are an adjustable rear and post front. The empty pistol weighs five pounds. The MSRP is $849.99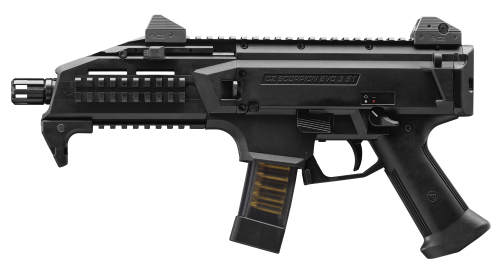 The 805 Bren PS1 pistol is a piston-driven firearm chambered for the .223 cartridge. It feeds from standard M16/AR15 mags. The gun is made on an aluminum frame with polymer furniture. The safety and charging handle are ambidextrous. The sights are an adjustable rear and post front. The cold hammer-forged barrel is 11″. The MSRP is $1,982.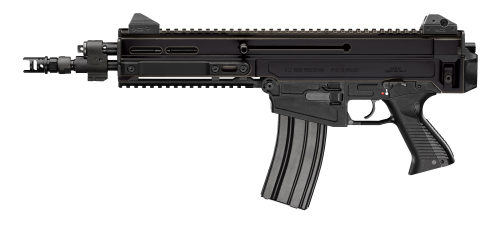 Both pistols will accept accessories, including the SIG pistol stabilizing brace. While these pistols would have worked well with the brace used as a "substitute stock," the recent ATF opinion letter effectively closes down that option by pointing out that this would create an illegal SBR.
A CZ-USA rep I spoke too at the SHOT Show said current import regs would prohibit the company from importing these with full 16″ barrels and standard stocks without redesigning the firearms to comply with 922 (r) and probably changing parts after importation. He added that CZ may consider the possibility of offering them in a SBR configuration for those willing to pay the tax and do the paperwork–once the ATF clarifies how 922 (r) applies to the import or manufacture of SBR's, that is.
Watch the video for more info on the features of these pistols.