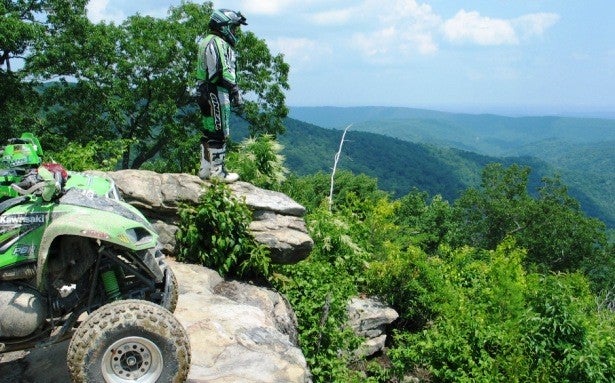 By: Posted 04-18-2014 OutdoorChannel.com in Stories by Steve Casper, NOHVCC Director of Communications
Permitted use provided by: OutdoorChannel.com.
In many cases these off-road adventures turn out to be a boon for the landowners, nearby towns, and of course, the riders.
Like most things, off-highway vehicle recreation in America is a constantly evolving situation. Back in the late '60s and early '70s, when dirt bikes were first becoming popular, riders pretty much rode wherever they could get away with it, which as it turned out, was just about everywhere!
For those of us who were around back then, memories of wheelying down the middle of your street to the empty lot behind the gas station now seem pretty nostalgic. Finding places to ride was laughably easy back then.
It's certainly a much different story now. If you don't happen to have your own 40 acres of woodlands behind your house, finding a place to legally ride can be quite difficult. These days, many folks throughout the country have to trailer their OHVs several hours in order to hit the trails.
Some states (mostly in the West) have huge tracts of public lands that are in many cases open to OHV recreation. Other states, such as Pennsylvania and New York, have very little public lands with which to work with and guess who gets the short end of the stick when trail user groups collide. And the strange thing is that many eastern states like Pennsylvania and New York have huge numbers of ATV owners who are thirsting for legal places to ride.
HARDER TO FIND NEW PUBLIC LANDS
Over the past several decades, OHV user groups have seen many public land ride areas disappear, but some new ones have popped up as well. This is usually due to the hard work of organized riding clubs and advocacy groups such as the BlueRibbon Coalition, the American Motorcyclist Association (AMA) and the National Off-Highway Vehicle Conservation Council (NOHVCC).
A trend that has taken hold fairly recently is that of private landowners (individuals or corporations) who open their land to OHV recreation. Sometimes fees are involved, sometimes not. Sometimes alliances are worked out with city and township governments or ATV riding clubs who manage the areas and become the stewards and protectors of the trails. When all is said and done, most of these arrangements turn out to be quite profitable for the landowners and the nearby communities who derive lots of economic input from the visiting OHVers.
WELL-PLANNED TRAIL SYSTEMS WORK
What folks have found is that a well-planned OHV trail system actually has very little environmental impact and little or no impact on the lands ability to produce other commodities like stock grazing, timber, coal and wildlife.
Following are a few examples of private lands that are now open to the public for OHV recreation: The Coal Creek Mining and Manufacturing Company in eastern Tennessee have owned huge tracts of mountain land for over 100 years. Currently, they have 72,000 open to OHV riding in their "working" forest where some mining and logging activities are still taking place.
The owners of CCMMC worked out an agreement with a strong local organization, the Windrock ATV Club, to become partners in the venture. It has become very successful with hundreds of riders every summer weekend enjoying the challenging trails located near the town of Oak Ridge. All riders must purchase a permit from CCMMC for the right to ride.
SUCCESS STORIES
A favorite public ride spot on private lands for Minneapolis/St. Paul area riders is the Arkansaw Creek Park near Arkansaw, Wis. The Big Rock ATV and Dirt Bike Park near Maysville, Ky., consists of nearly 2,000 acres of family-owned land. A longstanding, privately owned riding area, the Badlands Off-Road Park near Attica, Indiana, has been visited by many Midwestern OHV owners over the past decade and has proven to be very beneficial to the local economy.
Red Creek Off-Road Park in southern Mississippi is a family-owned business that offers riding for ATV, dirt bike and 4×4 enthusiasts. A relatively new OHV park is located near the southern Illinois town Crab Orchard. Called Little Egypt Off-Road OHV Park, it currently consists of 411 acres with another 320 acres planned for the future.
Many privately owned and operated OHV parks have gone the next step by building motocross and woods racing courses on the land. Most have relationships with local riding clubs, so several events happen each year. Some of the areas have annual memberships, camping and other amenities that make them as attractive as riding on government-owned land.
Perhaps the biggest and best shining example of private lands being utilized by the OHV public is the massive and ever-growing Hatfield- McCoy Trail system in West Virginia. The wheels started rolling on this project way back in the early '90s but it wasn't until just before the new millennium that the park became a reality. It currently boasts over 500 miles of trails in the challenging Appalachian terrain with plans to expand to 2000 miles of trails.
The list of private (mostly corporate) landowners who signed on with the architects of the trail system is huge and is still growing. Plans are that the trails will eventually spill over into Kentucky and Virginia as well. The tremendous boost to the economies of the surrounding communities has been well documented and may well serve to inspire other parts of the country to follow suit with similar projects.
For more information on utilizing private lands for OHV recreation, please contact the National Off-Highway Vehicle Conservation Council (NOHVCC) at (800) 348-6487 or check out their web site at www.nohvcc.org