Ontario's Eagle Lake: Muskie Heaven
Bob McNally 02.16.15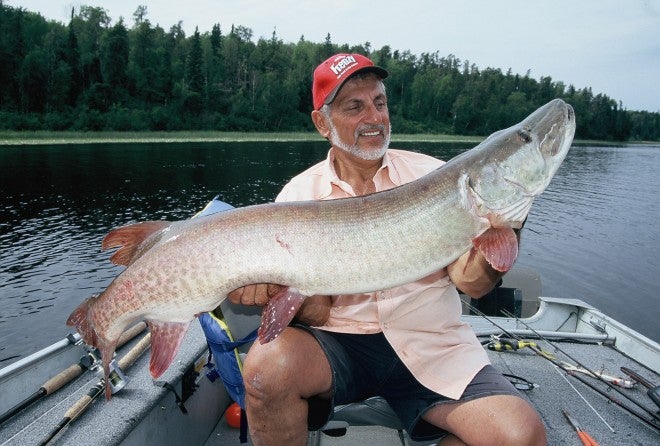 Hall-of-fame freshwater angler Spence Petros of Chicago was fishing with a buddy one summer day on sprawling 70,000-acre Eagle Lake, located due north of International Falls, Minnesota, near Dryden, Ontario. They had good success catching a number of nice fish, when suddenly a heavy northern pike struck, and after a tough fight was brought to the boat.
Petros collared the hefty pike, which was a prized catch for anyone, and after carefully unhooking it, released the tired fish to fight another day.
The whipped pike hung at the surface for a moment as it gathered its senses, not quite realizing what had occurred. Petros and his pal watched the fish carefully, ready to aid in its recovery. That's when a huge boil welled up in the water below and beside the pike.
"Something's there under the big pike, quick, make a cast," Petros barked to his buddy.
The angler tossed a lure to the spot, and immediately a savage strike resulted, with water, foam, fish heads, fins and tails flailing beside the boat.
"It's a muskie, a monster–LOOK AT THE SIZE OF THAT FISH!" screamed Petros.
The muskie had taken the heavy pike that had just been released, and was holding it crosswise in its mouth when Petros' pal cast his lure to the spot. That triggered the reaction from the pike and muskie, and in short order the line broke, the lure was gone, and the pike fluttered weakly at the surface.
The monster muskie had left, leaving a dying northern pike and pounding angler hearts in its wake.
"That was the biggest muskie I've ever seen, nothing even close to that fish have I spotted in over 50 years of fishing for them," exclaims the well-respected and widely traveled Petros. "The pike was dead at the surface, so we brought it in.
"The pike had been bitten several times by the muskie, and its bite teeth marks on the pike were 8-inches across. That pike weighed 19 pounds–a helluva meal for another fish, a muskie that was of record-class proportions, for sure."
Eagle Lake is an honored fishing site in muskie lore, since it has produced two world-record size fish, each weighing over a jaw-dropping 60 pounds. Petros believes such size fish swim in the lake even today, and he ranks it as perhaps the best big muskie spot on the planet.
"I've caught a number of 40-pound-and-better muskies from Eagle over the years, including fish of 54 inches, and a couple at 53.5 inches," he says. "The muskie I saw that day try an eat a 19-pound pike was MUCH bigger than those other fish. How much bigger I don't know, but it shows just how good a muskie spot Eagle Lake is. Frankly, I think it's a better lake today than 10 or 15 years ago.
"It's also got great fishing for walleyes, pike, bass, and lake trout, but I personally target muskies because Eagle is THAT good."
Muskie season opens in mid-June, and fast fishing can be found until mid-summer near spawning flats having extensive food shelves. Island clusters, reefs, and flats with weeds, rocks, and open areas between them can hold plenty of fish. Big plugs imitating minnows in walleye and perch patterns produce stout fish, with bucktail spinners and top-water lures also good.
In August heat, Eagle Lake weed beds continue to harbor muskies. Summer hot spots also include flat reefs in mid-lake areas, plus main lake points and islands with deep water nearby. Crankbaits and oversize soft plastic lures such as tubes and 6- to 8-inch jerk baits are good.
By late summer, cool nights trigger a muskie move out of weeds, and the fish begin holding around steep banks and rock bluff walls. Points, rock walls, and reefs that top out at 15 to 20 feet are key fishing structures from mid-September until mid-October. Oversize crankbaits and soft plastic lures on jig heads are productive muskie medicine.
"Although I fished the western end of Eagle Lake for years and caught muskies to 40 pounds there, I've recently become a real fan of the darker, easier-to-fish waters on the east end," says Petros. "From mid-July through early August, I fish fast, covering a lot of water with a run and gun approach. My main pattern is fishing weeds in darker water, concentrating on anything different such as edges into the wind, points, inside turns, funnels, or changes in weed thickness."
For a week every summer, Petros hosts a summer fishing trip and seminar school on Eagle at North Shore Lodge. Fishing is usually very good at that time for all species, plus he holds nightly seminars on where and how to fish the lake.
"The first trip I hosted to North Shore Lodge during the summer of 1996, only 5 out of the 40 anglers on the trip fished for muskies, yet we caught 6 fish each around 30 pounds, plus a few smaller ones. I had three, plus several 15-18 pounders in my boat, and had never fished this end of Eagle before. We had 14 muskies in my boat in 2010 and 2011, and I swear I think Eagle Lake fishing just keeps getting better and better."
North Shore Lodge (www.northshorelodge.ca, owned by Scott Jaeger) is open for walleye, pike, and bass fishing beginning the third Saturday in May, with musky fishing opening the third Saturday in June. The lodge remains open until mid-October, providing the opportunity to catch an Eagle Lake monster during the prime fall muskie time.
Anglers can drive or fly to the lake, and Petros charters a bus for attendees out of Chicago.
For more information on the lake, camp, seminars, and fishing, contact Scott Jaeger, phone 1-800-976-9779, 807-755-2441 (summer), or 807-755-1468 (winter).