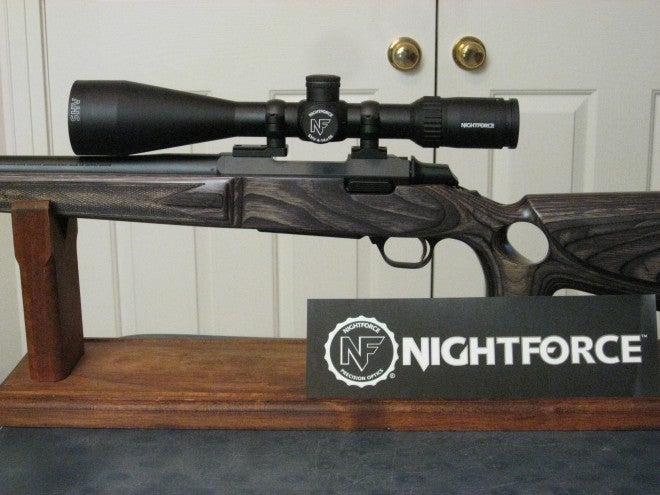 Yeah, I know it is a cheesy reference to the movie series, but with a new Star Wars movie coming out real soon, I thought it appropriate. More importantly I really think Luke Skywalker would love this new optical riflescope and could put it to good use on his exploits.
To be more specific, let the Nightforce SHV-4-14×56 heavy duty riflescope be with you. With you in the field hunting, popping long range steel, or even so far as protecting private turf from uninvited guests of all kinds. This scope nearly maxes out the full design potential for an optical scope in its class. Yes, it is that good. And affordable, too. It retails for right around $1,000.
This relatively new rifle scope from Nightforce has opened the door for new dimensions of optical refinement, but with all the desired features that advanced rifle hunters want in a rugged, rough duty service package.
This is not a light or light duty scope, so make sure the adaptation for it suits your needs with an appropriate rifle to mount it on. Skip the 18-20 inch barreled carbines, vanilla ARs, lever guns, and feather weight single shots and such. This is a real rifleman's rifle scope and needs to be mated accordingly.
Specification wise, the SHV (Shooter-Hunter-Varminter) is 14.8 inches long and weighs in at 28.5 ounces (1.78 pounds) in the illuminated reticle version. The non-illuminated model is slightly lighter in weight, but the lighted reticle is certainly worth the extra scooch of carry weight. It is not a bother at all.
The objective lens diameter is huge at 56mm or 2.56 inches. Can you say "light gathering?" The magnification range adjusts from 4x to 14x. This gives the shooter-hunter a fully functional, comprehensive power range for all field shooting opportunities. There is also a parallax adjustment from 25 yards to infinity. The tube diameter is 30mm. The field of view at 100 yards at 4x is 24.9 feet. At 14x, it is 7.3 feet. Amazing!
The mounting length is 5.75 inches over all with 2.05 inches to the front and 2 inches to the rear of the center control/adjustment module. The controls include fine click adjustment dials for windage and elevation. The left side controls are for the illumination control, battery compartment, and the side parallax adjustment. These adjustment controls are under a secure, screw down cap with easy grip machined grooves on the caps that can be easily handled with gloves on.
To the rear of the scope is the power zoom ring setting, and on the eyepiece end is the special European style Fast Focus Ring. With aging eyes and wearing eyeglasses, I really like the Fast Focus Ring and the +/0/- markings to get a clear and resettable focus adjustment point of reference. This may seem a small detail, but trust me it is of great value for precision focus.
The Nightforce SHV's lighted reticle model gives an added feature of high value to shooting during low light hunts or on cloudy overcast days. The watch-type battery is easy to install and change out under the left side "NF" cap. The illumination control is marked for intensity from 0-11 steps. The rheostat can be rotated with clockwise or counterclockwise. Between each illumination step is an "Off" setting so the dial does not have to be turned all the way around back to a zero off position.
The illuminated reticle is a red "+" in the center of the crosshairs for a clear definition of the internal reticles. If you have never before used a hunting riflescope with illuminated reticles, then you will become quickly acclimated to the clear advantages of having the center of the crosshairs lighted. It is a sweet feature indeed.
Mounting the Nightforce SHV is just as straight forward as mounting any other high quality optical riflescope. The trick may be finding an appropriate mount and rings for the rifle you use. This can be a challenge, trying to find a mounting system for 30mm rings for a standard hunting type rifle.
The rifle of choice for this project is pretty unique. I was able to acquire a brand new Browning A-Bolt heavy hunting rifle almost a varminter type model with a grey laminated thumbhole stock. The black matte finish against the stock is striking. So is the rifle's chambering in 300 Winchester Short Magnum, my personal favorite deer cartridge.
The issue in mounting the Nightforce scope, though, came in finding a mount and rings to accommodate it. Nightforce's owner's manual specifically states "under no circumstances do we recommend the use of turn-in style rotary/dovetail type ring and base designs especially those equipped with windage adjustment." Hmmm, that eliminates a lot of options, including most of what's available for a Browning A-bolt rifle.
I am not certain what this recommendation is all about, but I guess the factory knows. If this was a combat application or perhaps for law enforcement SWAT use, I might understand, but for a standard hunting rifle, I don't know the issues. I do not consider the 300 WSM a heavy recoiling rifle and have never had issues with other scopes using this hunting round extensively in the exact same mounting system I used for this project.
Whatever the concerns are, I am taking that risk because after an exhausted search from numerous supply sources and product web sites, the only feasible mount and rings I could find for this Browning A-Bolt are made by Leupold. So, I have my Nightforce mounted nicely and quite securely in a set of Dual-Dovetail 30mm rings and two-piece mounts.
Everything went together nicely and with extra high rings, I got good scope clearance above the rifle's action and barrel. There was plenty of front to rear mounting space available to acquire good eye relief, and there is no contact with the bolt charging action.
At the range, this set up is punch on. I have always had good success with Browning A-Bolt rifles and in particular the 300 WSM. My other A-Bolt in this configuration has taken 14 whitetail bucks and six does in 21 shots. Hey, the sun was in my eyes on the one miss.
Using my standard choice Winchester ammo for my A-Bolts, I have never failed to get excellent hunting groups at 100 yards with this load. The Winchester ammo is their exceptional Ballistic SilverTip rifle ammo in 150 grain Nosler Ballistic Tip bullets. Sighting in at a catalog standard 3-inches high at 100 yards, I have easily taken white-tailed deer out to 200 yards without so much as a flinch. I fully expect my new Browning with the thumbhole stock and Nightforce scope to perform likewise. That test is coming soon now that hunting season is here.
The Nightforce SHV scope is a prime piece of hunting gear. It is precision in every way, getting high ratings in the four "Fs": fit, finish, features, and function. You may think this scope for a hunting rifle to be excessively expensive, but what price do you put on a dead-on kill shot on a once in a lifetime trophy white-tailed buck or bull elk? I thought so.