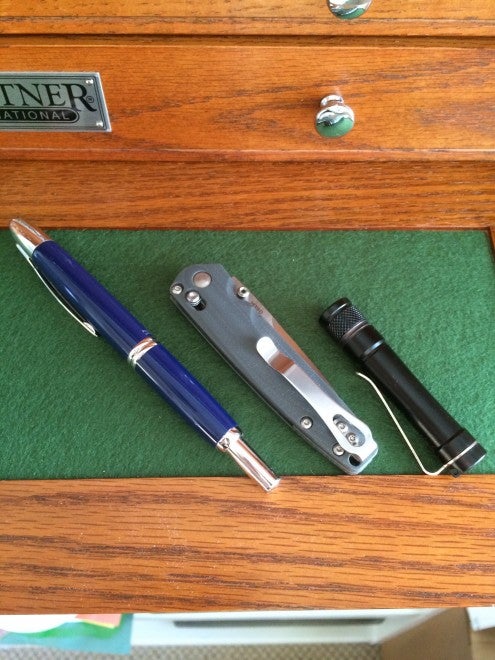 In a recent article, the commenters rightly pointed out that I used a lot of jargon without defining it. So in an effort to return to square one, and in response to Major Pandemic's Batman post, I am going to run through what I carry everyday and why.
Major Pandemic carries a lot of stuff. He is well-equipped for a variety of defensive scenarios. I have no idea what his day job or living situation is like, but I skew more towards the utility end of the EDC spectrum. His rundown was pretty thorough, so if you want defensive gear, take a look at his write up here.
Part I is my weekday carry, and Part II is my weekend carry. I am a trial lawyer and so my work week setup is very different from my weekend setup, when I am mostly at home, in the workshop, or out on the trails. They are very different, so it's worth detailing them separately. This is my weekday setup.
Knife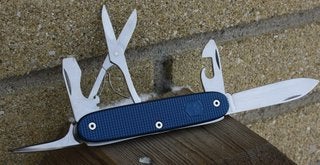 There are very few tasks that I do during the week that require any sort of force. I am also mostly in my car and so I tend to carry something very small. I can't take a knife in to court or a correctional facility, so most of the time the knife lives in my car and is used to open packages of food, keep clothes looking presentable, or on semi-rare occasions, clipping out things from the paper or online articles. Our city's switch to recycling bins also means that the tool needs to be able to break down cardboard boxes–a surprisingly tough cutting medium. These are all low force tasks, and so what I carry doesn't need to be beastly. I do, on occasion, open beverages. As such, I prefer to carry either a small folder or an Alox SAK. Here are some of my favorite options:
Light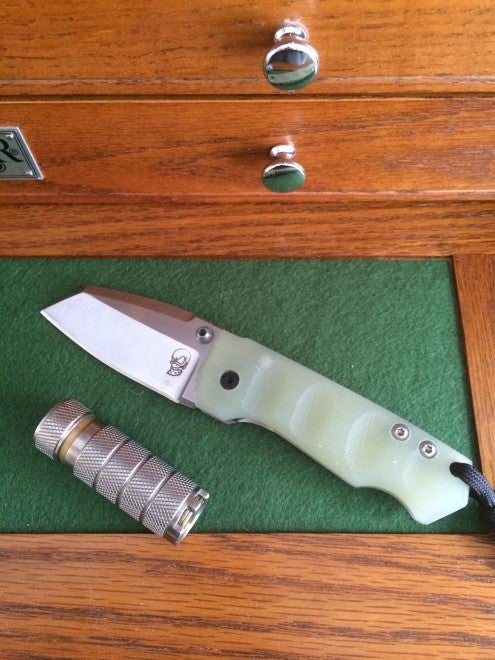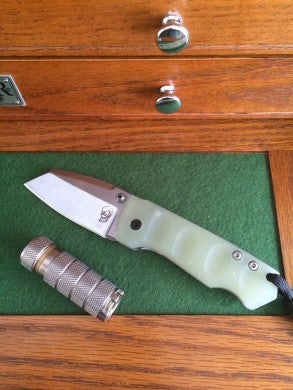 During daylight savings, both my morning and evening commute are in the dark, and so a small pocket light helps get me to my car. I also use it for general lighting tasks–finding dropped items, hunting for my son's toys, and the occasional computer or stereo hook up for presentations and the like. These, again, are low effort tasks, but there is a priority on color rendering ("Is it the orange or yellow cable that goes in the output?"). Single cell lights have gotten so good that even out of work I still carry them exclusively, but during the week, I favor small lights. The L3 Illumination L10C is about as big I regularly carry, though an abundance of outside work this winter has pressed the uber tough HDS Rotary in to service quite a bit. Here are some of my favorite options for lights:
Pen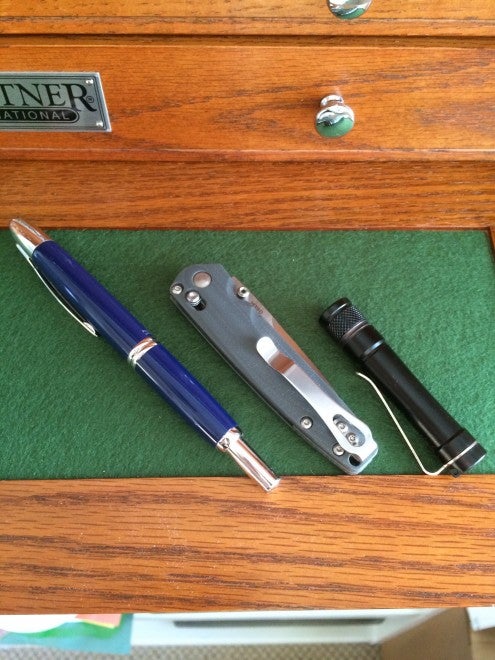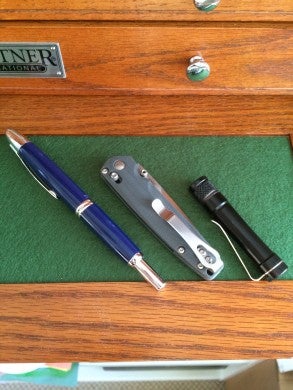 As a lawyer I write each and every day. I don't write a little, I write a lot. Like 20-30 pages of notes a day. Hours and hours of note taking is not uncommon. Everything is reduced to handwritten notes–a hearing, a client meeting, a phone call. Ten years in to being a lawyer, and it is just a habit. But in those ten years my hands have gotten tired and cramped–until I discovered the low effort writing of a fountain pen. Fountain pens aren't the toughest thing in the world, and I do need to write on surfaces in crazy places (cinder block walls in jail, for example), so I typically carry two pens–one of which is my writer–a fountain pen, and the other of which is either a loaner or a tough places writer–a retractable design with a Fisher refill. Here are some pens I like:
Fountain Pens:
Bag
A lawyer needs to be able to do a trial and live for a week on the road out of his bag (I don't mean surviving out in the woods, I just mean regular travel from place to place) and in the years I have been lawyering, no bag has been better than my Tom Bihn Cadet. I have had bags that were over $1,000 (screw you Tumi and your dumb Tumi Tax) and bags that were half the price of the Bihn, but nothing comes even close. It is supremely durable, doesn't look like a ratty bike messenger bag, and is just organized enough to be useful but not so complex as to consume pens and USB drives weekly. I have carried a bunch of briefcase type bags, but none are worth recommending over the Tom Bihn Cadet.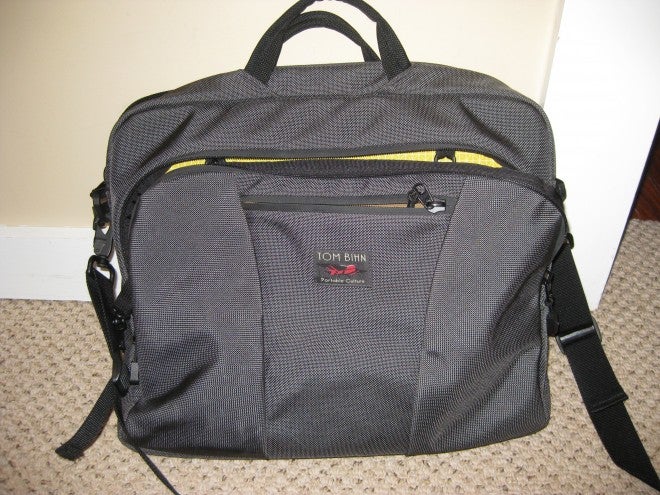 Wallet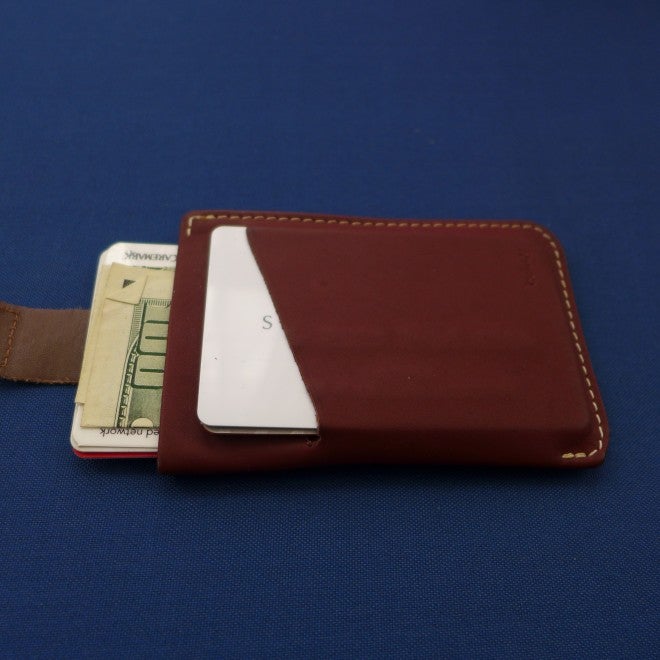 Ugh…wallets. They are a necessary evil, at least for a few more years until digital consumes them and they become part of our smartphones (ten years…that's how long I think it will be until we can go completely wallet free). I am not in the George Costanza camp, so I try very hard to keep my wallet free of junk and as slim as possible. Over the years I have tried a bunch of designs, including a sail fabric wallet and a super slim leather number. None were perfect, but the Bellroy Card Sleeve is my current wallet and it is pretty darn good. I also had a Big Skinny I liked before the ID window got cruddy looking. Here are a few wallets I'd recommend:
Watch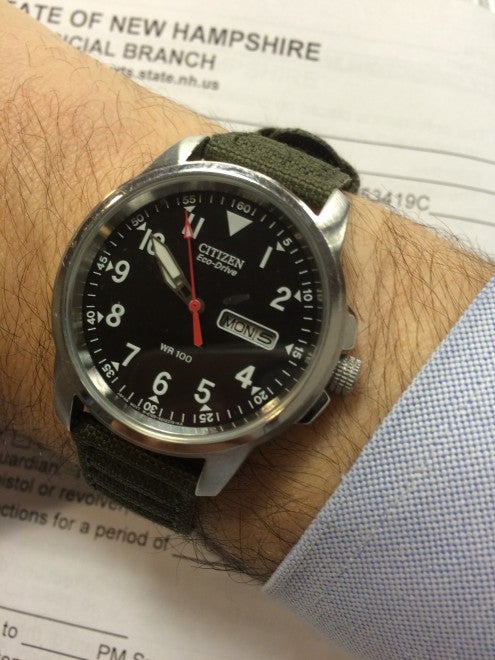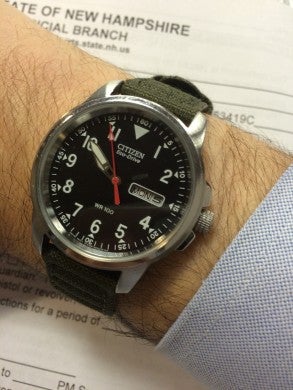 I am a watch neophyte so I can't really do a recommendation, but my podcast partner 555 Gear has a ton of info on his YouTube channel. The Hamilton Khaki is a watch I keep coming back to on my hunt for my first high end-ish watch. Right now I am running a Citizen BM8180-03E and an E760. I know it's a gimmick, but I really like the Eco Drive feature. The quartz movement is very accurate and both are exceedingly low maintenance–the Honda Civics of the watch world. It's just that I want, I don't know, maybe the BMW of the watch world. Given my lack of experience, I am not going to make any recommendations.
Bottle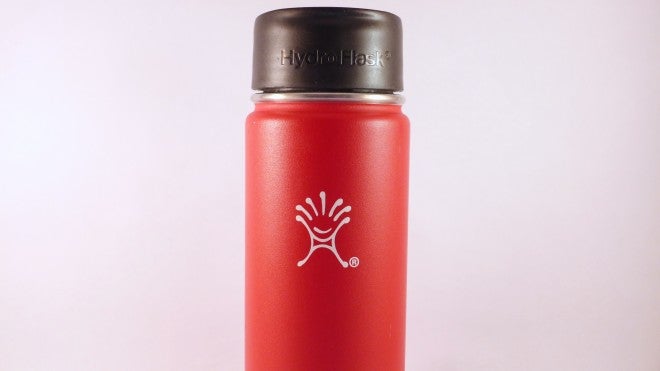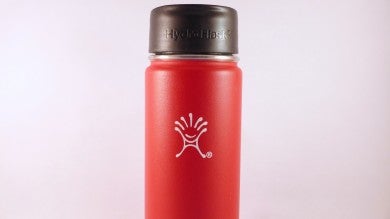 The search for the best water bottle has been as difficult as the search for the best wallet. The problem is that the three main materials used all do different things better or worse than the other. I want a bottle with a glass rim, a stainless insulation configuration, and a Tritan outer shell for impact resistance. Alas that bottle does not exist. There are a few that I really like, one, the Square, is uninsulated, but so well designed it makes the cut:
Keys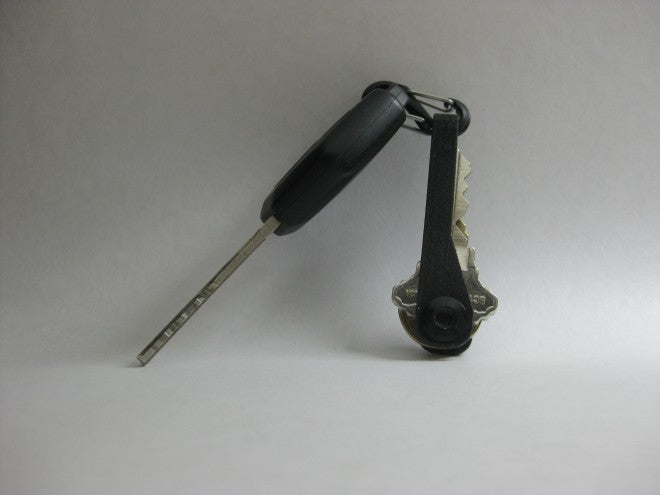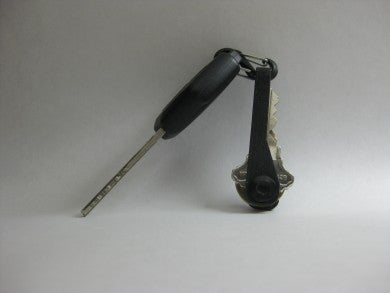 If wallets are a necessary evil, keys are worse–pure evil. They are difficult to carry, beat up everything else you carry, and are useful (but necessary) for a collective 30 seconds a day. There are a myriad of key holder options, like the Key-Bar and the Key Smart. There are also a bevy of pocket hooks and key wallet silencers. But the best, hands down the best, I have used is the BladeKey.
The Bladekey is much smaller and more discrete than everything else on the market. It functions a lot like the Leatherman Micra Keyman mod. It also happens to be truly tiny. Unlike some of the other options, the BladeKey does a very good job of keeping everything slim and trim. I don't need another bulky metal object in my pocket and in that regard the BladeKey works well.
Up next–my weekend setup.