StormR: Protective Clothing for Waterfowl Hunters
Dr. John Woods 03.10.15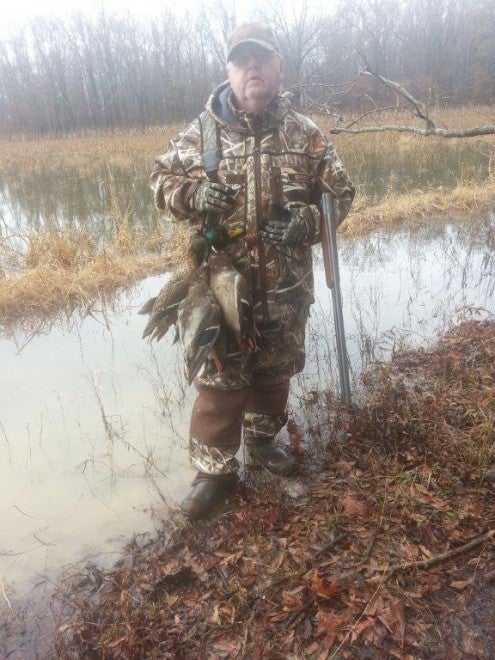 If you love hunting in some of the worst inclement weather on earth, then you need to take up duck hunting. Among other environmental displeasures, the best duck hunting takes place when it is super cold, raining, sleeting, snowing, blowing a gale out of the north, and everything around you is frozen including your feet, hands, and generally your whole body. Duck hunting is some of the most fun you can have with a shotgun, a good dog, and a blind full of friends.
Waterfowl hunters need as much protection from the elements they can get. Right now is some of the best duck hunting going on in the country that we have had all season long, but of course, we are getting some of the absolute coldest worst weather, too.
Traditional hunting clothing just does not stand up to this kind of cold weather and precipitation that usually blows in the windows or tops of a duck blind. In order to survive duck days in the these conditions and stay warm enough to withstand the time in the blind as well as being able to shoot effectively and efficiently, then you have to wear special waterfowl clothing.
There are a lot of good duck and goose hunting clothing products out there these days, but frankly nothing beats the outfits developed by StormR. I love their advertising motto, "Defy the Elements." That does in effect sum up the whole mission when it comes to waterfowl hunting this time of year.
The StormR Stealth coats and bibs are made from their proprietary Neoprene Core Technology, which are constructed by affixing an ultra-thin neoprene core with proven outdoor fabrics in a special lamination process. The process produces outerwear that provides superior warmth, inherent flotation, and incredible flexibility.
The interior moisture wicking fleece keeps hunters warm while the exterior windproof, waterproof shell beads water on impact. And duck hunting and water are synonymous. Between what Mother Nature can dish out plus boat or ATV/UTV rides to the blind, wet dogs, and everything else, duck hunters need protection from water as much as anything else.
The list of garment features for their jacket is simply amazing. These include a two-way adjustable hood, fleece-lined interior, interior cell phone pocket, extended interior collar, non-corrosive splash proof zipper, glued blind stitched and thermal taped seams, call holder and tether, two chest pockets, full length interior storm flap, two large shell pockets, two interior mesh gear pockets, internal neoprene cuffs, adjustable waistband with two interior cord locks, adjustable Velcro® cuffs, and an abrasion resistant seat reinforcement. I need a breath after all that. Trust me, this is one complete, well thought out hunting garment. Oh by the way, the jacket and bibs also come in the excellent Realtree Max-4 camouflage, perfect for waterfowl hunting.
And then there are the bibs to go along with the jacket with long, pant leg zippers making it easy to slip on boots, adjustable shoulder straps, and many other features like the jacket.
Since I have not yet gotten the time away from holiday commitments and work to try this jacket and bibs out in the field, I loaned them out to a chronic duck hunter, Jim Harper from Vicksburg, Mississippi. His nephew runs the famed Beaver Dam Hunting Services (.com if you are interested in a terrific duck hunt) in Tunica, Mississippi right on the Mississippi Flyway.
"I took my two sons up to Beaver Dam over the Christmas break, and this outfit did a superb job of keeping me warm and dry. We got there just in time for a classic polar blast that blew across the mid-section of the country then swept across Northern Arkansas right into our laps. Of course, the coarse winds brought lots of ducks with it," says Jim Harper.
"While my boys sat there shivering and getting wet from blowing rain and near sleet conditions, I just sat on the blind bench and chuckled to myself, noting I was completely dry inside and totally toasty as well. There is plenty of arm and shoulder room in this jacket to allow free movement for shooting my shotgun at passing ducks. I highly recommend the StormR outfit for any serious waterfowl hunter."
I can just barely remember when my dad duck hunted back in Missouri when I was a kid, merely eight years old. All he had to wear for a hunting coat was an old cotton duck jacket and some rubber (real rubber) waders that were not insulated. Heck it was hard enough back in those days to even find a good pair of wool socks to wear in the blind. The only thing that kept us from totally freezing out waiting for the ducks to flare out was an old charcoal pot glowing red hot in the corner of the blind. What he would have given for a StormR jacket and bibs.
If you duck hunt or frequent such nasty venues as duck blinds, frozen deer shooting houses, or I suppose even riding a snowmobile around the countryside, then look into getting a set of StormR clothing. They were designed, created, and decked out just for waterfowl hunters because these guys know what hunting in nasty weather means. It ain't pretty, as they say.